Smokin' the Grass...
...and we don't mean the grass at Palace Gardens! Prague has been called "the Amsterdam of the east" for good reason; its liberal laws and liberal policies mean that the city has earned a reputation of being pot-friendly, and an estimated 400,000 marijuana users are largely ignored by the authorities and tolerated by most everyone - not that we recommend that sort of thing...
However, if you're inclined to toke the chronic, we recommend, err, we heard that it's best not to buy it off the street, but rather ask around, particularly at more chill bars or at concerts. If you get a whiff of some wacky tobacky while you're at a concert or bar, politely ask the holder of said hippie lettuce if he knows where to buy, or perhaps if he'll sell you some of his. Some bars even have their own dealers who hang around, so courteously asking the barman may work as well. Whatever you do, never buy from a dealer who walks up to you in the street, or most often the train station. Next to cabbies ripping off tourists, so-called "dealers" are the most notorious for taking your green with no green in return, often giving you a half-second peek at something that looks like ganja but is more likely oregano, and running off with your cash after mumbling something about seeing a cop. Remember, if it looks and feels shady, it probably is.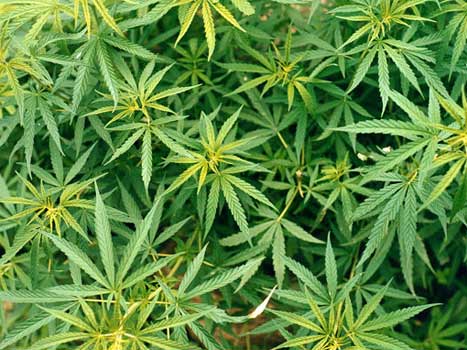 So is it legal? Well, here are the facts:
Section 187a (1) A person who keeps, without authorization, a narcotic or psychotropic substance or a poison in a quantity greater than small shall be punished by imprisonment for a term of up to two years or by a pecuniary penalty.
Technically, smoking and possessing marijuana is illegal in Prague and the Czech Republic, though the marijuana legalization movement in the city is highly active. Under the current law on drugs, people can possess "not more than a small amount" of marijuana, though what constitutes a "small amount" is not specified, but it's generally understood as less than 4 grams. If caught, the fine is a slap on the hand costing you 1000 kc, and you might even get to keep the weed if you're lucky. The 1999 law is under pressure to be changed, particularly to separate marijuana from "hard" drugs, both in definition and punishment.
But what's the reality?
In practice, small amounts for personal use are generally allowed or might land you a minor fine at worst. In fact, even if a cop happens to walk into a bar as you're lighting up, just discreetly put it out and most likely they won't even say anything to you. And, most pubs and non-tourist bars outside of the center allow you to smoke inside, though it's polite to ask the barman first. We've heard rumours of U Sudu being weed-friendly, for example. Don't try lighting some skunk at a dance club though, unless you want Jiri the bouncer's fists to send you on a trip stronger than any chronic.
What about quality and price?
At the moment, the going rate for herb is about 250 kc per gram, though tourists tend to be charged double. Even at the double rate, it's more affordable than Amsterdam or the usual prices in the U.S. or UK. As far as quality, it's definitely more kind bud than shwag - usually straight from the cannabis capital itself, Amsterdam, and packing a punch. Unlike Americans, Europeans mix their skunk with tobacco when making joints, so don't try to smoke it straight unless you'd like to see pink elephants doing the tango around Wenceslas Square. If hash is more your bag than bud, it can be obtained from reputable dealers, though it's more rare and might be more pricey than plain old reefer.
Basically, if you're planning to get high in Prague, be kind and respectful to authorities and owners of establishments, and the bud will be kind to you. If you're not causing a problem, no one will mind if you bring your friend Mary Jane to a concert or park.
If you've decided to skip the herb but still want an out-of-body experience, check out the crazy Prague Medieval Dinner with unlimited drinks. You'll get a 6-course feast, in an amazing cellar with fire dancers, mad musicians, the lot! Feels like being in an episode of Game of Thrones, and what's not to love about endless beer!
Comments
Comments are disabled on this page
Many people have been messaging us asking if we are still active. So this is just a quick note to update everybody :) Yes! we are still very much active and operating at our

signal app+420 775 162 821

Telegram) mcweed mcweed 

Wicker) Praguebudlife 

We continue to be the best in Prague recommended contact in Prague. No we never ask for payment in advance. You will always receive a reply to your texts within 20minute so please be patient and don't spam us with messages! please always remember we the best in Prague
Do not bother with Bobs Bud or Bud in Prague. They tried to get me to pay up front with western union.
Absolute rubbish. There is another guy out there mascarading as Bob! Don't be fooled by this bullshit folks!
Who's on WickrMe? Im looking for smth
I use SAM almost every week, had some great blue dream last time. Christopher
You sell weed in Prague ??
Yeah Fraud Watch. You are a fool. Weed has hot you mentally retarded
LIES LIES LIES....These guys are my suppliers with numerous strains. They're more than legit. Stop hallucinating & giving sending out negative vibes about Good people.
Hey bob it's irish niall can you drop t jury's inn 3.5 of ur strongest please
thanks for last night bro. i will hook ya up wit some friends of mine coming from the UK. though was really scared it was fast one on me due to the delay and payment before delivery. jak bless bro
thank you for the choice of strains you mixed for me. i felt the magic
Looking for THCA crystalline
My reservation for some quality MaryJane has already been made with GoGreen Prague.
Hi guys If you need good weed and more goodies Please call me and I will get you sorted in 20 minutes time alright
Hey, anyone selling chocolate haze? Or any sativa tbh i don't mind. I need a gram
A Grammy award for his lies! Admin, seriously can you not see this is a exact copy of a previous post?
I'm in Prague and I would like to buy some. How I can get?
Thanks and huge thumbs up Bob! Wappa was off the chain! Will defo be back for more ;)
Hi Bob, how can i get some good stuff?
Thanks man. I will come back for more
thanks buddy, your stuff was the best in my whole years of smoothing.
you did the magic by delivering the awesome sativas and indicas. thanks bra.
will be coming over for the weekend with friends. do you also supply pills and MDMA. do you give discount on large orders ???
No prepayment, just quality bud. Hit me up Bob
Don't know if he still delivers but I can confirm that Michael with his Amnesia it's a good guy. Good stuff deliver at exact time. Worth the extra CZK for sure. He helped me while I had to catch a train, coming from airport. 5*
Hey man how do I get hold of you
Love your work Bob, will defo hit you up next time I am in town!
Can only say positive things about Bob and his guys, great buds, great service and highly recommend
Hey Bob, id like to buy a gram if possible
Try Bob and the team at Budinprague, you won't be disappointed, 420legit and highly recommended
Best buds in town. Always great gear and good service!
thanks team BestCannabis. you know the exact good green that is best for my health. jah be praise
jah bless bra. will be needing more this weekend. i will be coming with friends
thanks buddy, we did enjoy the gud stuff. hoping to deal with you many times. keep it up
These guys were great, dank buds and good all round service, check them out kids!
It was an amazing experience! The tasty chocolate haze from Bob its great! Thanks a lot Bob!
That chocolate haze is sooooo good!
On to share my positive experience with Bob, great team amazing smoke and nice and friendly, recommend Bob and budinprague
Hey Gogreen Prague, I will be there by the end of this month. I have heard alot of good things about you from my friends who recommended you to me. Can't wait to meet with you
Why Diego? Why post a review before meeting someone! Because it is fake review!
Looking for blue dream, train wreck and green crack strains
Must write my pleasure at dealing with Bob and team over the weekend, exceeded my expectations. Thank you guys
My comment that people should not prepay as it is a sign of being scammed, especially when there are people who don't demand being paid by Western Union first, still stands. Be wise and don't fall for scams. Admin please allow only posts with my name that had my email address.
Everything you post, I will always reply, you scam, you lie, you steal, give it up
Isn't it funny how GoGreen always thanks people for the reviews that were published at the same time. Almost as if they were lining up at the same computer and writing the reviews one after the other.
Cultivate420@protonmail.com Send this guy email. Fast felivery and one of the best buds i had in prague.
Scammers gonna hate, and can call me anything you like. I tell the truth. So, with admins kind permission, I will post screenshots of every message I have received from these scammers, including the threats and those who were as legitimate as you can get in this business
Apologies Sam, Nastya and Bob, these scammers are trying to dirty your name. You know I have nothing but respect for you guys.
Trust no one here. So I will advise anyone to follow the instructions of your dealer and get your stuff. This is just web and everyone who comes here knows what he is looking for. It's a page for laying down complains or telling others what to do or who not yo buy from. One love
I couldn't agree more with you Admin. I have pointed out those who, in my experience, have scammed and I am more than happy to provide access to my inbox to those who wish to see.
"Tim Roberts" is such a miserable fool. Learn how to deal with your problems rather than coming here to spam this page No matter how much you say or write, things will still be the way it is. This page has been for years now and it will never change. So you just a time waster.
I'm sorry, am I hurting your bank balance by being truthful? Because everyone can see you are one of the scammers
People say shit because it's true. You scam and lie
Been using Sam since i arrived, he recently started selling blue dream, great strain :) thanks man.
Always be wary of the fake reviews on here. BudManiac, BestConnection, GoGreen, they always ask for prepayment and they scammers. Don't do the same mistake I did
That's not true. I just received good quality from BudManiac. You must have been scammed by someone else not BudManiac. Stop tarnishing the image of legit people. Take your frustration to any other place. Wtf!!!
You must have been cheated by someone else not by these guys you mentioned. We received packages without any stress and no funds went missing anywhere. You must be miserable. Sorry about that Pal.
I agree, i emailed Sam and Bob so far, they were the only ones who didn't ask for money first. Would recommend both of these guys to anyone looking.
Lol you just a lunatic . Everyone knows all the dealers you just mentioned are real. So no matter what you say, the game is still rolling.
I looking foor 1g today in Prague please guys.
Im looking for 1g in Prague, can somebody help me?
Thanks BudManiac. I owe for the quality services and awesome goodies. Happy New Week People. Bless Up!!!
Love the copy and paste job GoGreen!
Folks, here we can see how GoGreen writes themselves fake reviews, because seriously, what are the odds if two people, supposedly living in Chile and Poland writing the exact same review?
Get ripped off and scammed, as he asks for prepayment, go see for yourself!
I do admire your efforts you put this line of business ''BudManiac'' . You're quite exceptional and always competent. Thanks for the good stuffs you sent over. I really appreciate. I was really dry for days. You wanna feel same way, contact the guy on Telegram @BudManiac. He does this smoothly without stress.
Nothing good comes from clowns who think Budmaniac is some kind of lazy dude. Am part of a good experience dealing with this guy. He's so smart but very quiet. Got nice and varieties of strains that would make you always order for me. Keep it going Buddy. You're a winner
Am keeping real for TeleGram ID @BudManiac. Thanks Bro. You made my stay here a joyous one. I'd always recommend you to the fellows. Peace!!!
Top vibes!!! Am Jane from Ireland, just came here for some business meeting, couldn't know where to get some weed and hash buh had to contact some pals who referred me to BudManiac. Hooked up with the guy on Telegram @BudManiac & received some sweet quality strains and Glass Bongs cuz I left mine at home. Thank you BudManiac. Keep real Hommie
caute. da sa kupit aj online. a poslat na slovensko?
Don't trust these guys here, they're out there selling fake weed, trust me!!
Thanks again for taking care of us when we were in town. Great service and great icky wicky
Hi pal, I'm in Prague and looking. Staying at sir Toby's hostel, are you able to drop off? Thanks :)
Believe you or not this sounds exactly like a comment previously posted. Update your scripts Budmaniac
thanks RED. i was delivered on time and his green was the best i ever took. one love bra
Is that cash only as in through Western Union or cash on delivery?
Bob on here is 420 legit!
Init, Bob and the team were always great to deal with! Defo big up to Bobncrew
I made payments and my package was delivered. I highly support upfront payment. That's how it goes even in the US
"George" Which state? Prepayment is often advised if you want to be scammed.
Just tried BudManic, asked for prepayment saying I prefer wire untraceable/discrete transactions ( Western Union ) for Both our security & delivery I've just been burnt twice recently by dudes who claim to be tourist & locals & issues with undercover cops. The other was a new buyer who refused to pay and attacked my delivery guy so i am very cautious when it comes to first time buyers, thus no Cash on Delivery. scam - avoid
Certainly not true cuz I made the same western union payment and got my stuff delivered in less than 20mins. He's a real genius and he's got high quality strains. You must be mistaken. No hard feelings
BOOM!!! Budmaniac got me feeling good. I love your supplies hommie. I'd always bet you've got high quality strains buddy. Am recommending Telegram ID @Budmaniac to any stoner
Merci BudManiac. You're the best . Guys hit BudManiac up on Telegram @BudManiac. He's got awesome weed. Had a good time thanks to him
Telepathy skills again Best? Folks, read on these guys ask for prepayment
Stupid. It's illegal. Take your habit OFF THE STREET & into your room (if tourist), car or home (if local). It's illegal. Did I just mention that? It's illegal. You have absolutely NO RESPECT for others. Beit tourists or locals.
Dear admin, please let this be posted. Hi folks, Tim here again. Please use some common intelligence and think before replying to any of these guys. A lot of these "reviews" are clearly faked. Remember do not prepay, that is a scam.
Dear admin, please let this be posted. Hi folks, Tim here again. Please use some common intelligence and think before replying to any of these guys. A lot of these "reviews" are clearly faked. Remember do not prepay, that is a scam.
Amazing telepath skills here! This forum is updated once a day, and let you are able to have a conversation, it's like you are in the same room, or even in the second head.
Active at scamming, active at stealing peoples money.
How is Cameroon a convenient area?
Poor GoGreen! You are typing these fake reviews so much you've forgotten you wrote Believe me or not in soany previously