The Gay Side of Prague
Prague and the Czech Republic have earned a (generally accurate) reputation of being more liberal than its neighbours to the east like Poland or the Baltic States, and Czechs' attitudes towards issues like gay rights or drugs are far more tolerant. The biggest example of the Czech Republic's progressive policies towards the homosexual community would be its passing of historic legislation legalizing registered partnerships for same-sex couples in July 2006.
This means that Prague has far more gay and gay-friendly clubs than most Eastern European cities, and is quickly becoming a popular travel destination for gay tourists. By some estimates, nearly 600,000 visitors to Prague per year have used services aimed at the homosexual community - though those numbers might be overblown, as most gay clubs don't deny entrance to heterosexual guests. Either way, gay tourism has definitely been on the rise since the 1990s, and with gay clubs and hotels opening up on a regular basis, we at Prague Life have developed our own guide, so you can get the most out of the gay side of Prague.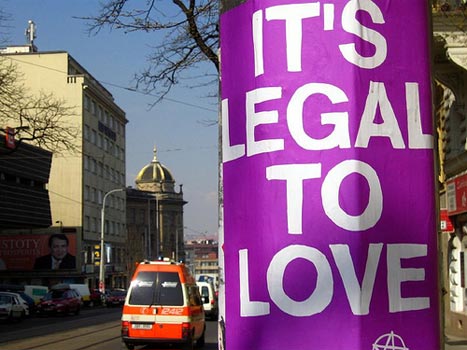 Above: It's legal, but it's not always easy...

Prague's gay and gay-friendly venues:
Bars and Clubs

Club Termix:
Trebizskeho 4a
An intimate club full of locals and a dance floor that's the centre of the action.
The Saints:
Polska 32
This British-owned gay bar is located right in the middle of Prague's gay quarter in Vinohrady, next to several other clubs and gay hotels.
Escape to Paradise:
V Jame 8
Sexy cabaret shows every night, and a variety of escorts for your pleasure.
Valentino:
Vinohradska 40
The biggest gay club in Prague, Valentino draws plenty of patrons every day of the week.
Geyzee...r:
Vinohradska 40
Part of Valentino, Geyzee...r is open only on Thursdays, Fridays and Saturdays, and their dance floor and dark room always draws in plenty of ex-pats as well as locals.
Friends Prague Bar & Club:
Bartolomejska 11
Friends is a relaxed venue where you can sit comfortably and have a drink, or reserve a private lounge for a party. They have a state of the art sound and lighting system and a large dance floor as well.
Drake's:
Zborovska 50
A free buffet on Sunday nights and an extensive drink menu keep this club packed on the weekends.
Piano Bar:
Milesovska 10
Piano Bar is a relaxed place featuring frequent art and photography exhibitions, billiards, and a general classy and laid-back atmosphere.
Accommodation and Tours
Villa Mansland:
Stepnicna 9
+420 286884405
www.villa-mansland.eu
This villa-turned-hotel features a variety of rooms and its own restaurant and bar.
Arco Guest House:
Voronezska
+36 (309)323334
Arco is a gay owned and operated guesthouse in a quiet neighbourhood in the district of Vinohrady. Close to the hotel are several gay clubs and bars.
Nouvum Garden:
Zernovska 1195/2
+420 274773464
www.nouvum.com
This gay owned and operated guest house is only for gay male guests, and offers 11 elegantly furnished rooms, a sauna, and massage services.
Old Town Apartments:
+36 (309) 323334
Old Town Apartments offer a choice of several apartments in different parts of the city, and the company is gay owned and operated.
Czech GLBT Organizations and Websites:
Below, we have compiled a list of websites of GLBT organizations and different portals where Prague's homosexual community communicates on the web, and are good starting points for meeting people before coming to Prague. The main gay rights movement in the Czech Republic for 17 years was Gay Initiative (GI), but they dissolved at the end of 2006 after the legalization of same-sex unions. However, there are many active online communities for meeting people and learning even more about gay life in Prague. So if you're a gay visitor to the Czech Republic, we welcome you, and hope you'll only experience the positive side of life in Prague.
Gay Initiative in Czech Republic (GI): www.gay.iniciativa.cz
Gay and Lesbian League (GLL): www.international.gll.cz
European Region of the International Lesbian and Gay Association (ILGA): www.ilga-europe.org
Czech Republic's gay portal: www.gay.cz
Czech lesbian portal: www.lesba.cz
Gay sport portal: www.gaysport.cz
Gay forum and news: www.kosmik.cz
Honilek, a Czech and English gay portal: www.honilek.cz
Czech gay portal: www.gayportal.cz
Czech Gay Guide: www.czechgayguide.org
A gay guide for Prague: www.praguegaycity.com
GayGuide Prague: www.prague.gayguide.net - A guide specially catering to the gay or lesbian traveller. Also available for Warsaw, Cracow, Sofia, and Budapest.
If you know of other particularly gay-friendly places in Prague, please let us know; and feel free to post your comments about gay Prague on this page below. We encourage different viewpoints and want to hear your thoughts about the gay cause in Prague (though we won't tolerate abusive or hateful comments). We've included a few Prague-specific GLBT websites above, though many are only in Czech. We hope they'll be a helpful resource; if you know of any other helpful websites, let us know as well!
ANGEL Club - temporarily closed!!! A new party venue located in Andel. Address: Kmochova 8, Prague 5 Getting there: Metro B to Anděl or trams 4, 7, 9 or 10 to Bertramka Hours: Wed-Sat 16.00 - ?? Website: www.angel-club.info Pinocchio Gay Center A large Prague gay center - bar, disco, games, a small pension. Live shows. Address: Seifertova 3, Prague 3 Getting there: Metro C to Hlavn? n?dra?? Hours: 15.00 - 6.00 Website: www.volny.cz/pinocchio/ Stella's A comfortable, friendly gay and lesbian bar and caf?. Address: Lu?ick? 10, Prague 2 Getting there: Tram 4, 22, or 23 to Jana Masaryka Hours: 20.00 - 5.00 Tingl Tangl Cabaret and transvestite shows. Music club, cocktail bar. Restaurant with garden. Address: Karol?ny Světl? 12, Prague 1 Getting there: Metro B to N?rodn? tř?da or tram 9, 18, 22, 23, or 26 to N?rodn? divadlo Hours: Cabaret: Wed, Fri, Sat 21.00 - 5.00; Restaurant: Mon-Sat 11.00 - 22.00, Sun 12.00 - 22.00 Website: www.tingltangl.cz
Comments