Mechanical Love
A magnificent castle, a fairy-tale Old Town, splendid Gothic churches and riverside walks... There's only so much picture-postcard jollity any self-respecting tourist can take before it all gets too much. If you're in need of an antidote and fancy investigating an altogether seedier attraction in Prague then step right up to the Sex Machines Museum!
Berlin, Barcelona, Madrid and, unsurprisingly, Amsterdam all boast museums pertaining to sex and erotica but Prague can stake the dubious claim of being the first city in the world to have a museum specifically dedicated to 'sex machines'. And we're not talking the James Brown variety...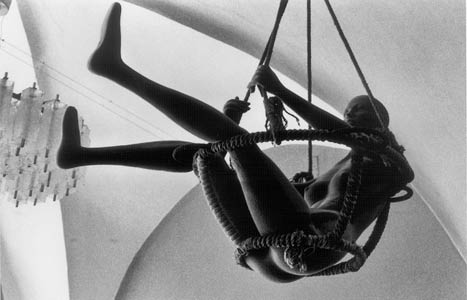 No, no Prague's 'Sex Machines Museum' is the real thing! A veritable treasure box of goodies for anyone interested in sexual pleasure ... Which let's face it is all of us! Three floors in one of Prague's historic tenement houses are used to display the hundreds of artefacts in the museum's collection. Some exhibits even come complete with mannequins to show you how they were supposed to operate. And yes, in many cases you do need to be shown - they're that bizarre!
Just as amusing as the many creative devices man has invented in order to increase the fun of the 'love act', are the devices that man has invented to prevent it from ever happening. Girdles, corsets and chastity belts show us a glimpse of mankind at his most sexually repressed.
All of this begs the question of course, how did this little tawdry gem spring up in the heart of Prague's Old Town? Well, not without attracting a bit of controversy. The powers that be were certainly not too pleased when Prague's new tourist attraction opened its raunchy doors with city spokesperson Martin Kupka telling journalists: "It's bad that these establishments are in the historical center of Prague ... Foreigners might think we just leaped out of the bush."
In fairness however the SMM did co-operate with some of the city hall's complaints and removed from their window display a machine featuring leather-clad mannequins tied up in a complex system of posts and pulleys and operated by a figure in a latex nun's outfit. Personally we can't see how that could have offended anyone ...
The Sex Machines Museum is open 10:00-23:00 daily. Find it on Melantrichova 18.

Meanwhile for a lesson on sexual politics, why not nip over to Moscow and read up on Russian brides?
[save for listing] Apparently James Brown has expressed a wish to be embalmed and exhibited at the museum in the unfortunate event of his death. And no you can't buy the exhibits... But there is a shop!
Comments