Wierzynek - Krakow's Oldest Restaurant
Back in the year of our Lord 1364, Nicholas Wierzynek (a flamboyant Cracovian merchant who was noted for his flair for throwing tremendous parties) welcomed a panoply of monarchs to his mansion on the square. All the big names were there: Charlie of Luxemberg (the Holy Roman Emperor), Otto of Bavaria, Louis of Hungary and not forgetting the gallant Bolko of Swidnica and Boguslaw of Slupsk. The banquet was held at the request of the noble Polish King Kazimierz the Great, who was planning a crusade to beat up the dastardly Turks.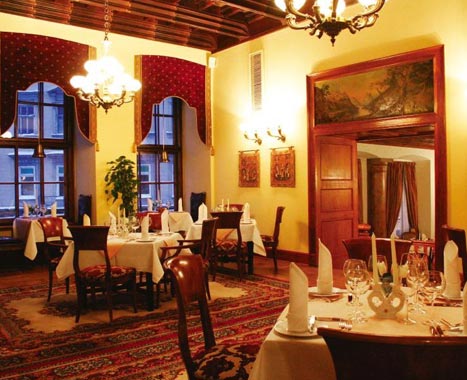 As it was, the mansion of Nicholas Wierzynek never entirely lost its tradition of fine food and fine wines. And in more recent times, the restaurant's classic interiors have hosted several more crowned heads of state, including Queen Elizabeth II, Juan Carlos of Spain and Haile Selassie, Emperor of Ethiopia. Even some lowly commoners have been admitted from time to time, such as President George Bush and film director Stephen Spielberg. And in a grand echo of times past, a second historic meeting of world leaders was held here on 26th January 2005, attended by over a dozen heads of state from across the globe. On that memorable day, the distinguished guests included Prince Joachim of Denmark, President Katsav of Israel, President Viktor Yushchenko of the Ukraine and of course the Polish host, President Aleksander Kwasniewski.
Today the restaurant is having something of a Renaissance. During the Cold War era, Wierzynek was in fact open but it's splendid halls were largely the preserve of communist apparatchiks and visiting state dignitaries. It was not until 2001 - when the restaurant ceased to be state owned - that Wierzynek began to shrug off its stiff, fusty image.
Under its new owners Wierzynek has several tricks up its sleeve. First and foremost there are the upper floors, which boast the Italianate Pompeii Room, the Tatra Room and the Knights Room. Ornate wooden ceilings and florid frescoes on the walls echo the era of Cracow's Golden Age. Here you can settle in for an encounter with some tasty Polish dishes, just as all those kings did six hundred years ago. That famed meeting was certainly not lacking in liquid refreshments, and you'll find a decent selection of wines to peruse today. Besides the Old World decor and the traditional Polish cuisine, a stunning view over the square wraps things up.
On a less formal note, visitors can head into the summer courtyard for a barbecue and a beer, or if Mother Nature is in a bad mood, you can saunter down into the medieval cellars. In these charming caverns you might give the house speciality a try - fondues. Regular jazz and popular music concerts are staged here at weekends. And back on the ground floor there is a cafe where you can kick back with an iced coffee or a cappuccino.
Will Wierzynek still be here in another 600 years time? Let's hope so.
Comments
I visited the Wierzynek several times in the summer of 1987 with very close Polish friends and classmates from the Kosciuszko Foundation. I went again several times throughout 1988-89 also through the Kosciuszko Foundation. I visited again at Christmas of 1992. Each year was a different experience, but each time the food and ombiance were perfect. I couldn't have better memories of a nicer place. My favorite restaurant in the world.
Reply
We requested traditional Polish cuisine and were escorted up several flights of stairs to a candle-lit table for two overlooking the square. High ceilings, polished woodwork, tapestries, swords and other fighting instruments (we didn't use them), marble, mirrors... We each ordered a different version of the set menu and then sampled each other's items: smoked fish pate', herring, pierogies, beet root soup, borscht, and then the main courses: boar and duck. Superb service. After dining, we explored other rooms. Highly recommend.
Reply
I lunched here alone on purpose so that I could take in this lovely atmosphere that took me back to 1365. The courtesy and manners were so other-worldly I wanted to stay there forever. I looked at every painting as escorted on my way up the staircase to the second floor. I was handed over to a gentleman with the most impeccable manners, who invited me to choose any table in any room I wished. I chose the middle table in the middle room overlooking Cracow Square. As I walked over to that beautifully-draperied window, I felt very special. The smiling white-gloved waiter brought out this tapistried-chair, I sat down, and was presented with the menu. I chose a nutty red wine, and the waiter then brought me an appetizer prepared especially for me (he said). Followed was the entree with the tenderest pork au jus I have ever eaten anywhere. It was artistically creative. I did have a testy dessert, which I could not finish. All the while I peered through the draperies at the Polish wedding entourage. The bride and groom had been wed in St. Mary's Church on the square and were riding around the square with some of their guests walking behind. Great food! Plush enivonment! Gracious staff! I thought I was in Heaven! The next time I'm in Poland, guess where I treat moyself! Do not miss this restaurant
Reply