Krakow Second Hand Shopping Guide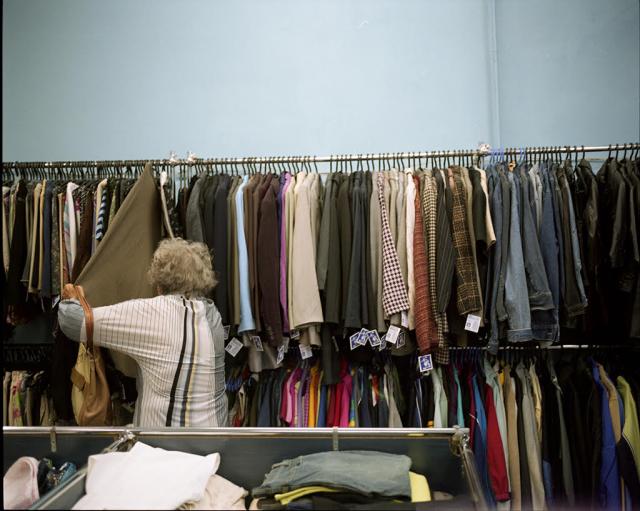 (All photographs borrowed from the project "Z drugiej reki" by Michał Lichtański / Mili Studio )
While Krakow's local designer clothing stores are crafting some very beautiful pieces of fashion, their products do tend be on the pricey side. With the average boutique dress costing upwards of 200zl and global chain stores (H&M, Zara, Pull&Bear, etc.) being priced the same for the Polish market as they are for the much higher earning UK market - most Cracovians simply don't have the budget to keep up. However, we don't need to start to a nudist colony just yet as the dark horse of the Krakow fashion scene is rearing it's gorgeously re-purposed head, fast taking over the streets and the trends.
The second hand shops of Krakow are thriving to the point where on the day of their weekly deliveries, you can see an actual line forming at the door before opening time; old ladies looking like there are only a few tickets left to see Mieczyslaw Fog (He's the Polish version of Frank Sinatra). Keep an eye out for the words 'Odziez Na Wage' or 'Tania Odziez' emblazoned upon the front of a store and you will be surprised by how often you come across these dens of denim; these caverns of cloth. Tucked into tenement courtyards, neighbouring bakeries on main streets, next to tram stops - they are absolutely everywhere and absolutely packed to the brim with thrifty threads.
Look no further than the Odziez Na Wage to find a brand new forest green Marks & Spencer jacket with satin lining… for 1zl, or, a dusky brown leather motorcycle bomber with bonus out of currency German coins hidden in the pocket for 5zl. For a last minute halloween run, a complete pirates costume in the first box of the first store visited (not a tacky one either - still wearing the suede shirt). Good condition snow boots (9zl as opposed to 300zl+ for new) to transform an unexpectedly snowy winter holiday (which might have otherwise ended in frost bitten toes or much less adventuring) into a cavalcade of fond snowflake memories. And, with those extra hundreds of zloty you've saved on winter clothing - you can afford to spend another week in the mountains, take your mum out to dinner and the opera, or even to give a homeless person a week in warm bed, with warm food in his belly.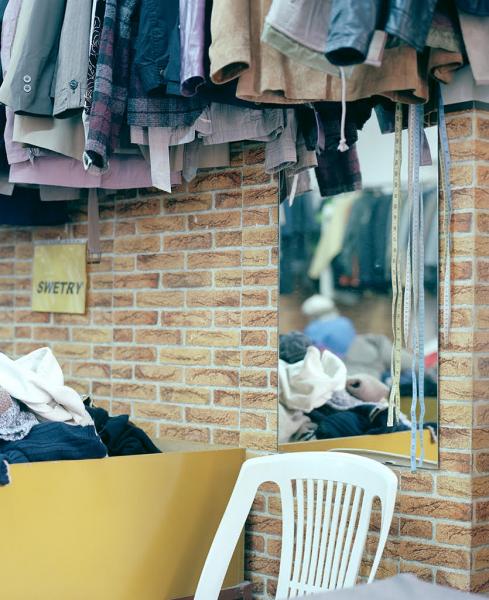 Not only do these second hand stores seem to magically provide exactly what you need in exactly your size at any given time, but due to the diversity in shape, size, age and taste of the donators - you are probably more likely to find something that suits your creative vision and fits your body perfectly than if you are looking for clothes in a store designed with a specific vision for specific measurements. But also, beautiful fabrics a plenty, some usually looked over items might only need a tiny bit of modernising/repurposing/re-adjusting and some basic sewing know-how, in order to blossom like a flower into your own personal vision of fashion glory.
Now, the most important reason to shop second hand? Planet Earth simply cannot handle any more rubbish from our ever increasing rate of production/destruction and growing need for disposable goods and fast fashion. Buying used clothes that still have a lot of life and a lot of purpose left in them as opposed to creating more waste by buying brand new will actually help to save our environment and thusly our entire world. W.W.J.D? Probably shop at an O.N.W.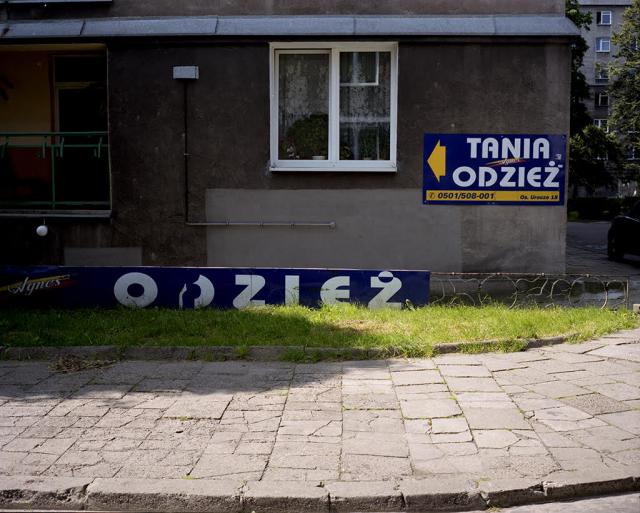 Where to find them? (click street names for map)
Podgorze is ablaze with the Odziez fire - a hot spot for reincarnated clothing, it's the best area in regards to pure shop density. By the time you have walked down the main street, Ul. Kalwaryska / Limanowskiego you might consider getting a wheelbarrow for your treasures. Soon you will find yourself at Plac Bohaterow Getta, from were you can turn left, cross the bridge over the Vistula river and continue down Ul. Starowislna for an equally abundant quantity of O.N.W lining the streets.
To the left of Starowislna is the suburb of Kazimierz. Here, Ul. Josefa has several "vintage stores". Remember how we said the old ladies line up on new delivery days? Pretty sure the reason is that they love to sneak away all the most beautiful pieces and sell them here, and at Plac Nowy Market, for thrice the price. However, if you walk right past this tourist trap and through to Ul. Krakowska, you'll find another generously Odziez laden road.
Head to the right of Starowislna, down Ul. Dietla and you second hand scourers are in for a treat. Whilst not technically an Odziez Na Wage, Hala Targowa Flea Market is a sprawling metropolis of previously owned wares, excited for new owners to find them, like puppies at the R.S.P.C.A. Every Sunday (although through the week there will still be a few stalls), bright and early, professional hagglers flock to Hala Targowa to claim a patch of ground on which to display their odds and ends. You can find just all kinds of Communist and Nazi, general war-time gear such as guns, hats, binoculars, badges etc. alongside matchboxes, postcards, family photo albums, suitcases, bicycles, lamps, cutlery, musical instruments, puzzles and, well, you name it. Sometimes ancient, sometimes artificial; sometimes magical, sometimes mouldy; sometimes vintage, sometimes virginal - it's up to you to decipher the treasure from the trash and to cut yourself a fair deal. But you'll have a hell of a good time trying.
As for the rest of the city - you'll find Odziez na Wage's dotted everywhere from next door to Rossman at Teatr Bagatela, to bordering Stary Kleparz, a few along Ul.Zwierzyniecka - Ul. Kosciuszki, Ul. Krolewska, Ul. Balicka, loads of them around Biprostal and even in Nowa Huta.
>>>It's almost impossible not to find them.<<<
Much like mushroom hunting, as soon as your eyes get a taste for spotting Odziez Na Wages, you'll be seeing them on every damn corner, also much like mushroom hunting, you can get a real high from finding the special ones, or find yourself drowning in a fungus if you pick the wrong ones.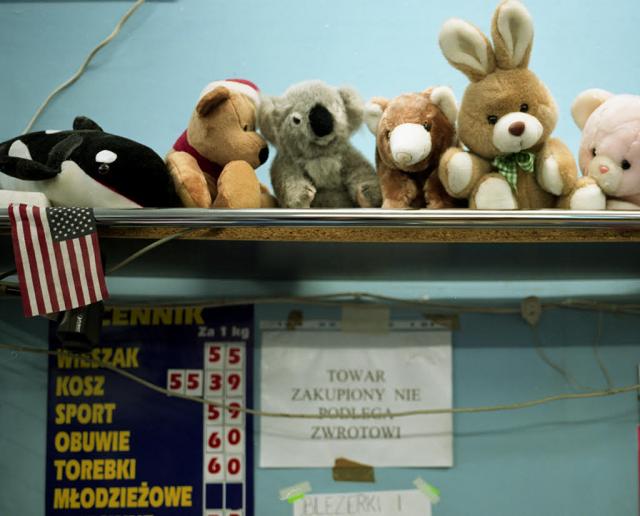 Hot Tips:
1. Most Odziez Na Wage's have different prices for different days. They will usually display a sign in the window stating what they offer Mon-Sat (Closed on Sundays). It will actually make a huge difference to your wallet if you go on the right day as prices can range from 'Everything is 1zl' to '45zl per kilo', although some stores do also have racks with permanent prices. The right day will bring you the right price.
2. They will only accept cash and quite often don't have too much change in the till, so don't expect to use VISA pay pass or to buy a 5zl shirt with a 100zl note.
3. The elderly Queens ruling over the operations of the Odziez Na Wage, while usually kindly, have not usually had much reason to learn English. However, these lovely ladies of the linen will be over the moon if you even try to speak some Polish. So here are a few phrase that might help you out. Read it out loud with our phonetical translations and it should be understandable.
How much?: ile? (ee-leh?)

Can I see that?: Czy mogę to zobaczyć? (Cheh moh-geh toh zoh-bah-chich)
I want to buy this: Chcę to kupić ('ch'seteh koo-pich)

Please / Thank You: Proszę / dziękuję (Prosh-sheh / jen-koo-yeh)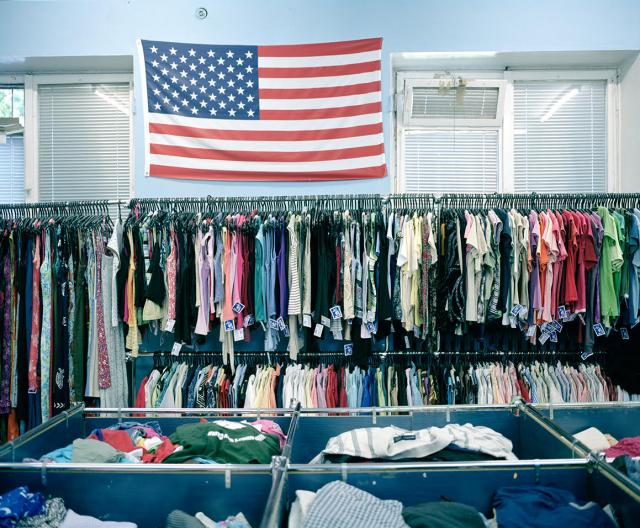 Comments