God Gave Rock and Roll to Us...
The Krakow live music scene, after years of relative inactivity, is finally on the rise. Despite being a city of artists, Krakow has traditionally underperformed in the field of producing exciting live acts and hosting great music events (with the notable exception of jazz). Cynics would say that this is at least partly due to the fact that it is a lot easier to call yourself an 'artist' than actually learn an instrument and play in a band! A kinder appraisal of the situation however might lay the blame at both the cost of equipment being out of reach for most budding rockers, and the fact that club owners are often reluctant to book a band for a fee, as they're scared of seeing their profits slump at the end of the night - Krakovians are not used to paying entrance fees to music clubs, making cash logistics pretty tough!
Things are changing however, slowly but noticeably. Kids are richer, small entrance fees are becoming the norm for night clubs, and in general there's a heightened interest as live music as a form of entertainment. Some of the credit must go to the Krakow's expat community, which seems to be particularly active in the field of live music. Perhaps they can better afford the equipment; perhaps they have the confidence to try knew things (they've already moved to a foreign country, so how difficult can it be to start a band?), or perhaps - again the cynic speaks - it's because the majority of expats in Krakow spend ten hours a week teaching English and need something else to do in their extensive free time... Whatever the reason, a healthy percentage of Krakow's most prominent bands are expat led, even if talented Poles are brought in to bolster the ranks.
In this article Cracow Life intends to shine a spotlight on some of the bands that are generating excitement in the city right now, whether local boys done good, or out-of-towners who regular tour here. Plus we'll give you the low down on the best venues in which to catch them at play! Peace out, tune in, cop off... just be sure to rock on!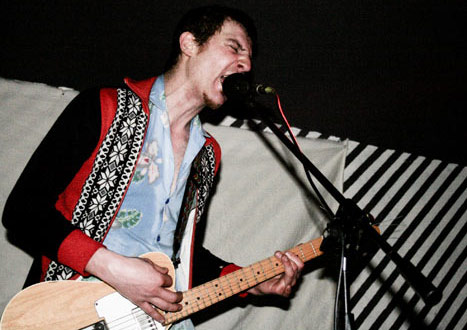 One man band, Bajzel, does his thing at B-side in Kazimierz
Krakow Bands
Officially the most ambitious band in Krakow, despite only forming towards the back end of 2006 these guys have already composed an impressive collection of songs, released an EP and gained a loyal fanbase - they wait for no man! A five piece consisting of lead and bass guitar, keyboards, drums and violin, New Century Classics are light on vocals and choreographed dance moves but heavy on haunting melodies and roof-raising crescendos. Safe to say that if you like Sigur Ros, you'll love these guys.
Cracow Life: You don't sound much like the average indie rock band. What was your 'mission statement' when you were creating your sound?
Anna Spysz (keyboards, guitar, egg): We never really had a mission statement or anything like that, it was more a matter of our influences and our abilities determining our sound, plus quite a bit of luck in it all coming together. Even being classified in the genre of post-rock is a bit limiting, as our influences range from electro-indie to shoegaze to (obviously) post-rock to classical music - from the Postal Service to the Arcade Fire to Mono to Radiohead - and everything except disco-Polo in between.
One of Krakow's most established live acts, Crodad & 100 Years are the brainchild of American expatriot Crodad (real name unknown) who handpicked quality Polish musicians to help him realise his project. They have gained a cult following thanks to their theatrical performances, which rely as much on props and showmanship as they do on their highly distinctive songwriting. Alternative, experimental and fun in equal measure, you won't leave a Crodad concert feeling jaded.
Cracow Life: Your performances are known for their dramatic aspect. Why is drama important to what you're doing?
CroDad (Vocals): It's all about getting into the moment as deeply as possible. When I go to a concert I like to let it all go and just be in that moment with the performer and the audience as much as possible. The more the performance demands of me the more capable I am of being exactly in that time and head space. I think the dramatic element of my shows is my way of reaching out to give the audience exactly what I would like to receive myself. At the very least I want to create a memorable experience which will allow the minds of the audience to do a little travelling.
The most prodigious band in Krakow by a fair distance, the Fox Gang boys played a good sixty gigs last year, and are still averaging more than one a week as we speak! (They even managed to cram in a UK tour!). Despite this their loyal following never tire of turning out in force to support them, and a Fox Gang concert is as much an orgy of beer, dancing and good times as it a rock concert. A human beatbox and trumpet help create their uniquely funky sound, as do some distinctly humourous British lyrics... All together now: "Easyjet, Easyjet, down to Mallorca, Easyjet Magaluf town... There's enough time for another bucket of Sangria before the plane touches down!"
Eluktrick is a prime example of a band fronted by an ex-pat but featuring talented Polish musicians in a unique combination. Their melodies range from touching on jazzy to New York-y indie rock to just plain rocking out with the intensity of a hurricane. Composed of guitar, bass, percussion, and keys that go from traditional piano to blips and beeps layered with effects, Eluktrick never fail to bring intensity to every show.
Cracow Life: You've taken a keen interest in the live music scene since your arrival in Krakow. How have you seen it develop?
Thymn Chase (vocals, keyboards): Since arriving in Krakow roughly two and a half years ago it has been truly invigorating, challenging and rewarding being part of the growing live music scene. This city is quite unique and in recent years has inspired a truly eclectic mix of bands, groups, soloists, songwriters, projects, experimentalists, and freaks to create and write some equally fascinating music. The truly interesting thing about what is going on around town is that it is an actual "music scene" in which a lot of musicians are supporting, collaborating with and even playing with each other. And like any true music scene: money is short, freedom is absolute and the possibilities are endless.
Say hello to Krakow's own answer to Conor Oberst. But don't get your razorblades out yet; while Grafty's music may not be the most cheerful, his lyrics are insightful and his melodies carefully weave together stories to compliment his words. His style is classic singer-songwriter, along the lines of Bright Eyes, Kevin Divine, or Nick Drake. Complimented only by guitar and the occasional harmonica, Graftmann's voice carries the show, from stories of penguins and sharks to the everyday complexities of human relations. Plus, his covers aren't to be missed - you'll never look at Ace of Base the same way...
Bajzel
Coming Soon!
Formed from the remnants of one of Krakow's most popular 80s punk bands, and led by energetic frontman Pazur, Chupacabras play a spunky, energetic hardcore set that always gets the crowd going. Their biggest influence is The Dead Kennedys, which should give punk cognescenti amongst you an idea of what to expect. Alternatively you could check out their website at www.chupacabras.art.pl

Concerts and Gigs
Fancy catching any of these bands live? Simply head to our regularly updated events calendar for all the latest gigs and concerts in Krakow - plus a whole lot more in fact. Know a band that we don't mention here? If you're rockers (or even ravers) from Krakow then simply invite us to one of your gigs, ply us with free beer, send over some of your groupies, and hey presto your own band profile will magically appear on this page...

Live Music Venues
Here's a list of venues that frequently, or infrequently, host live music acts, which are currently listed on our site. Want to add your venue? Get in touch.
Showtime
Live music on the Square every night!
Rotunda
Frequent concerts by touring bands at this students' club.
Harris Piano Jazz Bar
Not only jazz, but an assortment of rock and alternative acts.
Alchemia
Cult bar in Kazimierz which hosts regular concerts downstairs.
Lubu Dubu
A discotheque wreck most nights, occasionally showcases live acts.
Folia Concept Club
DJs, art exhibitions and live music too.
Comments