Internet Cafés
Internet cafes? Well, of course, we love them, and Cracow has a few great ones right in the City Centre and within the Planty. But these days you're far more likely to catch a WIFI signal from dozens of cafes then find one with a computer kiosk. Prices to use a computer with internet access are very reasonable - expect to pay around 4 zloty per hour (that's about one English pound or 2 US dollars) and there are rock-bottom price deals if you plan to spend a lot of time surfing or for the night owls who want to work through during the dead hours.
A few years ago, you could find an Internet cafe on just about every corner, as both Poles and visitors explored the Internet together. Now, though, the number of Poles with internet connections at home has jumped to just under half so they don't go hunting for the cafes anymore. That means only visitors without a computer or WIFI tend to use them. Internet cafes worldwide are becoming less popular while free WIFI has exploded. That doesn't mean you won't still find some good places just dedicated to the internet user. There are several good traditional internet cafes in the Old Town. We've listed several of the best internet cafes. We've chosen them for their reasonable prices, decent systems and friendly staff. If you think we've overlooked someplace special, do contact us and let us know!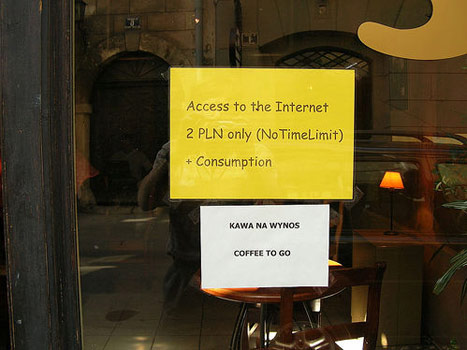 Internet Cafes
Old Town
Internet Planet
Rynek Glowny 24
One of the best bets in town, and right on the Market Square. There are dozens of computers available in this second-floor cafe and it's anything but cramped as they are spread across two nineteenth-century drawing rooms. Good service, good value with prices starting at 4 PLN an hour. Open 10.00 to 22.00.
Internet Cafe Hetmanska
Rynek Glowny 18
You'll find this little internet den hidden away in a little courtyard off Bracka street. It's a popular port of call with backpackers from neighbouring Krakow hostels. You can drop by here after terrorising your fellow travellers with the mysterious contents from the bottom of your backpack. Yes, those socks really haven't been washed since Sicily. In the meantime, you can escape the ire of your room-mates and make the most of the high-speed access of this internet cafe. Best of all internet at Hetmanska starts at 4 PLN, and you can get a 10-hour card for only 28 PLN and a 3-hour card for 10 PLN. A steal, really. Open 24 hours.
Garinet Internet Club
18 Florianska Street (back courtyard)
One of our readers recommended this place recently, so we've added it to the list. Garinet features a bit of Poland's "artistic spirit", says Thomas. It's easy to see that they've taken some care with the place. Good computers, reliable and fast internet, drinks to order and open from 9.00 to 22.00. All in all a nice place to surf for the standard 4 PLN and hour. Garinet also offers cards starting at 10 hours for 30 PLN and offers big discounts for groups. It also has something we like to see from an internet cafe ... a website
Comments