Corpus Christi Church
Many hundreds of years ago, when Kazimierz was little more than marshland, there was a theft at the Collegiate Church of All Saints. A crafty villain saw fit to swipe the monstrance of that church, and having done the deed, he made off into the wilderness. Yet, once out on the marshes he became wracked with guilt and soon abandoned the casket. The priests began a search for the jewelled box which, as was the custom, contained a fragment of the holy wafer. They were naturally very anxious about its recovery, but they did not hold out much hope, as the thief had had plenty of time to make his getaway. But the search did not last long. For when darkness fell, a mysterious light emanated from the spot where the treasure had been abandoned. The monstrance was saved. Giving thanks for this miracle, the clergy rejoiced and a church was built on the point of its discovery.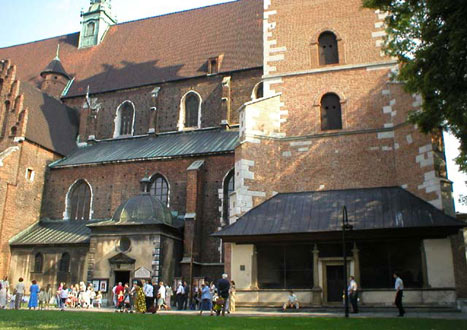 The Corpus Christi is one of the city's largest and finest churches. Whether sitting in its ornate choir-stalls or wandering about the draughty aisles, it is here that you can feel the spirits of those that have gone before us more powerfully than in any other church in Cracow. It is an enchanting, mystical place.
The church was founded in 1342 by King Kazimierz the Great. Conceived in the Gothic style, its stark, lofty interiors are given a surprising and marvellous dash by the gilded furniture and altar-piece. These elements were largely added during the 17th century by the rich burghers who patronized this mighty parish church. An evocative statue of one of these fellows emerges from the wall of the southern aisle. He is carved in stone with a plumed helmet at his feet and a sword brandished in his right hand. A delightful touch can also be found in the pulpit. This golden boat, replete with oars and a mast, appears to sail across the church. It is held up by two bronze mermaids and a couple of over-weight looking fish.
Whilst there are many fine details in this church, it is the altar-piece that really dazzles - a towering structure that thrusts all the way to the vaults above. And if one arrives in time for the midday mass on a sunny morning, the light pours in from the high gothic windows, playing magically on the gilding. Altar-pieces were designed to offer a glimpse of paradise, and this one is an absolute gem. It is like a magnificent gateway to the promised land - the crowning element of this wonderful church.
Comments