Sopot Pier
Since the pleasant climate and restorative properties of Sopot were discovered in the 1500's, people have come to its quiet shores for reflection and recuperation. Many wealthy visitors built summer homes and bathing centers, but it wasn't until Napoleon's defeat in Russia that the city's future took shape. What does Napoleon have to do with it? Well, during the retreat from Moscow, a surgeon named J.J. Haffner left the army and settled in Gdansk. In 1823 he bought some land in Sopot and began building bathhouses, parks, and eventually, the first pier, which stretched 41 beautiful meters into the sea!
Sopot's economy and reputation took off and soon the 'Riviera of the North' had everything from fine villas to tennis courts, and by 1927, a casino and Grand Hotel. A number of extensions had been made to the Pier by that time, but during that year Sopot pulled out all the stops, went big, and elongated the Pier to its present length of 516 meters making it the longest wooden pier in Europe.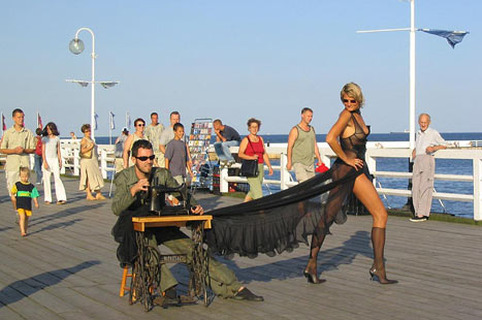 Today, visitors must shed a meager two zloty for a walk on this famed plank, a fee that goes towards the maintenance of the aging structure. During the day, it's crowded with families, tourists, and people relaxing on the ergonomically pleasing wooden benches. When the sun sets, the Pier is well-lit, and young couples flock to its smooth surface like moths to a flame. The dark waters and cool air are certainly romantic, especially after a glass of wine at one of Sopot's fine restaurants.
Many seaside cities have boardwalks or piers that are crowded with shops or vendors. These places often become overrun with screaming kids, tired-looking tourists, and seagulls swooping down to snatch up that slice of overpriced pizza you just bought. The Sopot Pier is clean, peaceful, and a pleasure to experience. A walk down Monte Cassino must end with a stroll out over the water upon this famed Baltic landmark!
Comments