Travelling to Bucharest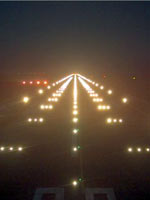 Above: The lights of the landing strip at Otopeni airport



Below: Come on, baby. Sweet Daddy needs a ride...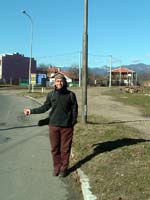 By air
Bucharest has two airports, both of which lie north of the city centre. The main airport is Henri Coanda Otopeni International Airport, but generally referred to as Otopeni airport. Unless you're on a budget airline, this is where you'll arrive. 17km from the centre, it's a small airport but with everything you'd expect to find: bankomats, exchange offices we advise you avoid if possible, cafes, car rentals and taxi ranks. A taxi will cost you an outlandish 100 lei (about 28), so unless you get off on needlessly dropping cash like that, why not take the airport bus for 5 lei? Bus 783 leaves from the domestic flight terminal underneath the arrivals hall. Buy a ticket (good for the return journey as well) from the kiosk by the busstop and punch it in the ticket-puncher once on-board. The bus runs from 5:30 to 22:30 and stops at each of Bucharest's main piatas: Victoriei, Romana, Universitatii and Unirii.
Buch's other airport is most often referred to as Baneasa due to it's location (10km from centre), though it's official designation is Aurel Vlaicu International Airport. This basic airport is used mainly by budget airlines or not at all. If you find yourself here take bus 133 to Piata Romana. Tickets are 1 lei and should be bought at the kiosk before boarding.

By rail
Oh boy. So you know, Romanian trains are generally dirty, slow, overpriced and inefficient; but that's not to say you shouldn't arrive on one. With all sincerity the train ride from anywhere in Transylvania towards Bucharest is an absolutely stunning feast for the eyes (until you hit Ploesti where things get dreary real fast). And the conductors never close the doors, allowing you to stand in the entryways and soak up the Carpathians, hay bails, horse-carts, shepherds and whatever else you might see out there (it's pretty unpredictable).
So in Romania you've got four types of trains (bear with us). First there's the 'Personnel' which is dirt cheap, dirty and painfully slow. You get what you pay for in terms of service and a lot more in terms of variables. For the intrepid, patient and poor. 'Acelerat' trains serve bigger cities and make less stops, but cost more and are still dirty and slow, so what's the point? 'Rapid' trains are a bit faster and cleaner, but are they? Really? Then you have the Intercity which is clean, fast, modern, smooth and services almost nowhere except the major cities (connections available to Buch from Brasov and Cluj). If you're fussy and your budget can afford an Intercity, it's the obvious winner so go for it (how unRomanian of you).
Bucharest's main train station is Gare de Nord, just a bit northwest of the centre. There's a handy metro station below the station that can get you wherever you need to go, or take trolleybus 85 from outside the station to Piata Universitatii.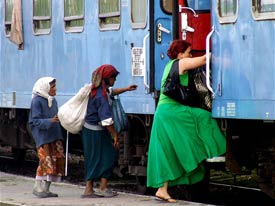 Above: The Intercity to Bucharest - no less colourful an experience
By bus
Taking a bus to Bucharest may be cheaper, but will also be a pain. Filaret bus station is east of the city centre and the only way out of there is by taxi or bus 232 to Piata Unirii. Make sure you have some Romanian currency on you before you arrive as there are no ATMs, exchange offices, left luggage or anything for that matter.

By car
Travelling to Bucharest by car is a beautiful drive, despite being dangerous. Keep in mind that Romanian drivers use the centre line as a third lane for passing in either direction and be extremely careful of dogs and horse-carts, especially at night. Though the landscape through the Carpathians is stunning, you'll want to ditch that ride right away upon arrival. Bucharest has more cars than any other city in Europe, making travel around the centre in one a damnable pursuit. Not recommended.

By hitchhiking
Hitchhiking in Romania is incredibly safe, reliable and an integral part of the country's transportation system. By far the easiest country in which to hitchhike within Europe, catching a free ride to Bucharest is a reasonable option for anyone already within the country and on a tight budget. Because of the city's size, chances are you'll get dropped off outside the centre somewhere and have to take a bus in, but who's complaining? Though foreigners are generally exempt, it's wise to have some small bills on hand in case the driver expects a payment. As always with hitchhiking, use caution and common sense.
Comments