The Treasures of Warsaw
The levelling of Warsaw during the war has left gaping holes in the city's historic collections. And although a considerable amount of treasures were spirited away to safety as the storm clouds gathered in 1939, it is also true that a great number of collections from palaces and museums in the countryside were brought to Warsaw at that time as the capital was considered a safer place than some remote castle in the borderlands. Thus losses were heavy.
Yet in spite of this, Warsaw still boasts some wonderful museums, many of which retain priceless treasures that were saved in 1939. It is an extraordinary experience to stand in the Senators chamber of the Royal Castle, surrounded by the 25 canvases of Bernardo Bellotto - survivors themselves that were studied after the war and referred to in the reconstruction of Warsaw - and consider that this very castle was a heap of rubble in 1945. A fine tribute to the fall of Warsaw can be found in the brand new Museum of the Warsaw Uprising, which was opened to coincide with the sixtieth anniversary of the battle in 2004.
In spite of all this heavy historical baggage, one shouldn't imagine for a moment though that it's all doom and gloom in the city's museums. Warsaw is a lively city with an irrepressible spirit. It's got its fair share of modern marvels, and a visit to the groovy gallery of contemporary art in the Zamek Ujastowski is a must. Fans of Chopin will find there's plenty to enjoy here, whilst the city also possesses some marvellous oddities such as the Museum of Caricature (the only one of its kind in the world) and a magnificent Museum of the Motor Car, which has everything from 1930's classics to cars that were owned by Elvis himself.
Of the classics, the collections of Lazienki and Wilanow palaces (both buildings came through the war in good shape) are a delight, as are those of the Royal Castle, whilst the National Museum holds one of the best collections of paintings in the country. Poland's own highpoint in the arts came in the nineteenth century, and Warsaw's collection of paintings from this golden age constitutes a little known yet wonderful treasure.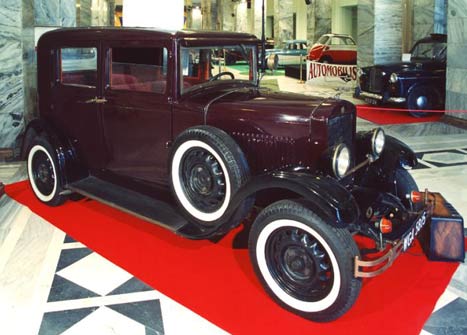 Generally, Warsaw's museums stay open a little later than their Cracovian counterparts, which is good news. However, as in most of Poland, Monday tends to be a no-go day, so check in advance to avoid disappointments.

Warsaw Museums
Adam Mickiewicz Museum of Literature
Rynek Starego Miasta 20
This museum has a delightful location inside two merchants houses on the Old Town Square. Named after Poland's bard of bards, the much-loved Mickiewicz, this museum has a panoply of curios relating to that great nineteenth century adventurer. But there's plenty more besides, with treasures from the world of Sienkiewicz, Slowacki, Tuwim and more. Regular exhibitions.
Archaeological Museum
ul. Dluga 52
Warsaw's archaeological epicentre can be found in the 17th century Arsenal building. The fruits of many generations of digs within Poland's pre-war historic borders can be discovered, as well as a smattering of exhibits from across the world. For a more hands on insight into the ways of our hairy ancestors, you can arrange for a clay pot making session and get down and dirty prehistoric style.
The Caricature Museum
ul. Kozia 11
A cracker of a museum and the only one of its kind anywhere. Founded by cartoonist Eryk Lipinski in 1978, this museum is housed in the former gardener's house of the Primate's palace. The lion's share of the collection is of Polish artists, and the hilarious work of figures such as Kazimierz Sichulski is certainly deserving of wider recognition. The museum also owns a growing collection of international works.
Centre for Contemporary Art
al. Ujazdowskie 6
Although more a gallery than a museum this oasis of modern art deserves a shout regardless, as it hosts some first class exhibitions. It's without doubt one of the most happening places in town and a must for culture vultures. It's located in the stark interiors of the Ujazowski Castle and there's a fine bookshop and restaurant attached.
Chopin Museum
ul. Okolnik 1
Chopin is perhaps Warsaw's most famous son and so it won't come as a surprise to find that the city has a museum in his honour. You'll find it in an appropriately exquisite venue; the baroque Ostrogski palace, the kind of place where the composer cut his teeth as a young performer. Concerts of the great man's music are still held here, whilst there's also a panoply of Chopin memorabilia, from portraits, letters and manuscripts to a grand piano on which the maestro composed his wondrous works.
Ethnographic Museum
ul. Kredytowa 1
Founded in 1888, this belter of a museum is a perfect introduction to the weird and wonderful world of Polish folk art. With everything from folk costumes to hand painted wooden curios, it's a fair consolation if time doesn't allow for a trip to the countryside itself. Regular exhibitions of international art too, especially African and Oriental.
Katyn Museum
ul. Powsinska 13
The word Katyn was out of bounds in Poland's post-war press. Hundreds of thousands of Poland's officer class perished during the war at the hands of the Soviets, some were shot, others died during the trials of deportation. Katyn has come to symbolize all these crimes. In March 1940 Stalin gave the order for the execution of 25,700 Polish reserve officers. The first victims were discovered by the Germans in 1943, buried in the Russian forest of Katyn. This museum preserves the memory of the crime, and a host of personal effects that were discovered in the graves lend an intimate dimension to the fate of thousands.
Museum of Horseriding and Hunting
ul. Szwolezerow 9
This slightly old-fashioned museum is hardly a showstopper. Allthesame, it's a rare and not charmless tribute to a culture that was pretty much desecrated during the war (as evidenced by the Katyn Museum above). The cult of the horse was especially strong in Poland, where cavalry attained a mythical status owing to the heroic escapades of generations of warriors. Take a nostalgic trip through the worlds of the Polish manor and into the field and forest. Carriages, guns and trophies galore, but definitely not a place to come if you're unamused by stuffed bison.
Museum of Independence
al. Solidarnosci 62
An old nineteenth century saying goes: "The Poles rebel against a mild oppressor, because they can, against a harsh one, because they must". From the late eighteenth century onwards, the Poles certainly put this theory into practice, rising up against occupying powers with seemingly unbreakable resolve. Apart from the Solidarity movement of 1980's (the only non-military endeavours documented here) these Uprisings commonly resulted in horrendous reprisals, thus adding a distinctly melancholic streak to Polish culture. This museum in the former Radziwill palace has a host of sentimental and patriotic paraphernalia connected with these fateful epochs, as well as some invaluable art collections. Plenty to please history buffs.
Museum of the Motorcar
ul. Warszawska 21
A true galaxy of classic cars, this expansive museum will be almost too much to bear for lovers of the vintage vehicle. Ownership of any one of these motors would immediately classify you as the coolest cat in town, be it a 1969 Buick, a 1930's Chrysler or a vintage Rolls. A smattering of historic novelties, such as a limousine used by Stalin and cars owned by celebrities such as Marilyn Monroe add spice to mix.
Museum of the Warsaw Uprising
ul. Przyokopowa 28
A long time in the making, this ambitious new museum has become one of the major fixtures in the city's cultural life. It tells the story of one of the decisive chapters of the second world war, the doomed Uprising of the Polish underground army against the Nazi occupiers. Although the full opening didn't occur until the Autumn of 2005, a section of the museum was opened to coincide with the sixtieth anniversary of the Uprising on August 1st 2004. Located in an imposing building that once housed a power-plant for Warsaw's trams, the museum is aiming for an interactive, fresh approach to historical documentation. Many of the 6,000 surviving veterans witnessed the opening of the project - for fifty years their legacy was suppressed by the Soviet regime.
Museum of Torture
Barbican, ul. Nowomiejska
Located in the bowels of the medieval Barbican edifice. Discover all the charming ways in which our medieval and Renaissance forbears extracted that oh so crucial information. Flaming torches for guests allow you to empathize with those sweet old jailer chappies of yesteryear. An entertaining option for bloodthirsty schoolboys
The National Museum
al. Jerzolimskie 3
The mother of Warsaw's museums, replete with everything from ancient Egyptian, Roman and Greek art to European furniture and decorative arts from the Renaissance. The museum's painting departments are certainly amongst the highlights, not least the nineteenth century Polish rooms, which boast portraits by little known masters such as Piotr Michalowski, Stanislaw Wyspianski and Jan Stanislawski. Edging into the twentieth century, there's a smattering of works by Witkacy - another artist who is sure to start cropping up in Western auction houses as interest in his life snowballs.
Polish Army Museum
al. Jerozolimskie 3
It's a slightly forbidding name, and indeed, this is not the freshest museum in town. However, if you have a bent for the swashbuckling side of history, there are plenty of curios to enjoy here. Those interested in the Napoleonic Wars will find some uniforms of the Polish lancers of the Imperial Guard, who were amongst Bonaparte's most prized cavalry. Your standard selection of medieval arms and armour is also on hand, whilst the latter part of the exhibition focuses on more recent history, not least the Warsaw Uprising.
Wilanow Poster Museum
ul. Potockiego 10/16
Polish poster art has achieved international renown, and justly so. This museum, which is located in an outbuilding of the splendid Wilanow palace complex, has some 30,000 Polish posters from the years 1992-2002 - it's a phenomenal collection. Their collection of international works is also considered one of the world's best so you're unlikely to come away feeling short-changed. Coupled with Wilanow palace and its gardens you've got a veritable feast of a day-out for culture vultures.
Comments
Ted from Canada Reply Feb 17th, 2012
good job, next year Warsaw will have a new jewel in its cultural crown, the new museum of the history of Polish Jews. The building is spectacular befitting an amazing history...
Chris from United States Reply Feb 12th, 2012
Hey Sabrina- Like what are you like writing, like you know, like, look up the museums on the net, like you will see the prices. Stop with all the "like" stuff. It is the most annoying trend in the English language. You make all Americans sound stupid. Also a hint, when you go to a different country don't use "like" and speak slowly in short sentences so people can understand. Don't be the ugly American with slang all the other crap. Also don't use things like plz, no one knows what the hell you are talking about. Mephisto, you're an idiot. Americans are stupid but you would be amazed at some of the idiocy I experienced in 2 and a half years in Poland. Plus you are from Canada, wow, you're so cool. You people are the most secluded and introvert people I have ever seen. Don't get upset because nobody cares about Canada and it's "that place" near the US. Clown!!!!
nimpa.se from Sweden Reply Nov 26th, 2011
Great post! To bad that you didnt write anything about Niebo Kopernika! Im on a visit to Lodz and planing on going to Warzaw, this gave me atleast a couple of more things to do :)
Pickles from United States Reply May 23rd, 2011
mephisto we are not dumb in America!!!!!!!!!!!!! I would give you a rating of zero that is right!
sabirna from United States Reply Apr 13th, 2010
hey can u put like how much does it cost to get in per person plz beacuse im doing a project and i need to know about this museum including how much it cost thank
liang eng from China Reply Mar 15th, 2010
May I know at which year the katyn museum was builded
from United States Reply Dec 30th, 2009
Why is the train museum not on here?
Carol D from United States Reply Dec 19th, 2008
This is a very good site: easy to understand, with short but well-entries. I am currently in Warsaw using this guide and am finding it very helpful. You do omit one important museum, the Jewish Historical Institute Museum adjacent to the site of the Great Synagogue of Warsaw that was blown up by Germans as the last step in their eradication of Jews from Warsaw. There is a fine exhibit on the Warsaw Ghetto, with excellent pictures, films, and documentation in English as well as Polish. It is not to be missed for people who want to understand the tortured history of this city. The address is: ul. Tlomackie 3/5 and there's a web site www.jhi.pl
timmy from United States Reply Aug 9th, 2008
good review (I used this a lot during my trip) but more links would have been useful if possible:)
Mark from United States Reply Jul 30th, 2008
Pathetic, Mephisto.
sophie from United Kingdom Reply May 12th, 2008
Samantha, what in heaven's name are you on about? The article gives a huge range of museums to choose from. If there was a museum that you went to that you think should be on here, maybe if you told the editor about it, it could be added... Constructive comments are more helpful.
mephisto from Canada Reply Apr 12th, 2008
Samantha, apparently you've never heard of a 'review'. The writer isn't forcing you to do anything. It's an evaluation of Warsaw's museums. I thought only Americans were capable of such idiocy, but you show that Brits can be the 'Americans of the East'.
Samantha from United Kingdom Reply Feb 15th, 2008
I think that this is rubbish.you can only look at certain museums and not all of them.i think that you should be able to look at all of the museums and not just the ones that you want us to look at.Thank you and this was Samanthas review.