The cream of culture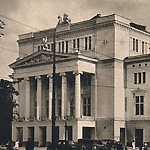 Not for nothing is Riga called "The Land That Sings". Aside from the fact that the renowned Latvian National Opera Company regularly exercise their vocal chords in the capital, there's also the small matter of the Latvian Song Festival held in Mezaparks every five years - the nation's biggest event bar none! With regular classical concerts taking place in the Old Town's finest churches, not to mention ad hoc renditions by Latvia's worthy sports fans and drunkards, you're sure to discover the power of song in Riga. A fine tradition of theatre and a few excellent museums ensure that Riga doesn't disappoint on the culture front. See our directory of venues or click here a fuller flavour of culture in the capital.
Looking for something specific?
See on Map
Top rated culture in Riga