Shops and shopping...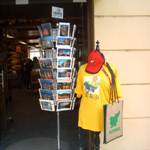 You're other half has given you a list of what you should bring them from Slovenia? Perhaps you're mum has always liked collecting spoons? Or maybe the true love in your life is the (wo)man in the mirror, and you feel the urgent need shower him/her with lavish gifts? Whatever the situation, Ljubljana won't let you down. Many people travel to Slovenia just to do their shopping in fact! Zip straight away to Ljubljana's bevy of markets where you can get classic Slovenian souvenirs like lace, brandy, black pottery, glassware, beehive panels and honey. As well as your standard commercial stores, Ljubljana is also home to BTC - the biggest shopping centre in Europe (no fib!) - ready to fulfill even the strangest of shopping needs. Your pockets look too full, let out some of the load! Spend, spend, spend!!!
Looking for something specific?
See on Map
Top rated shopping in Ljubljana