The Last Mazurka
The Last Mazurka: A Tale of War, Passion and Loss, by Andrew Tarnowski
For the English reader, memoirs or novels that relate to Cracow are few and far between, and whilst this book is by no means set solely within the confines of the old Royal Capital, it offers a portrait of a family with longstanding ties to the city. The Tarnowskis are one of Poland's most ancient aristocratic clans, and the author, Andrew Tarnowski, would have inherited a palace here had history dealt a different set of cards. However, whilst the title and dust-jacket of this book evoke heady romance, this is no rose-tinted record. Far from it. Aside from a few snowy sketches of the forest and an amusing tale about a domesticated wild boar, this is very much a warts and all portrait - even the boar comes to a sticky end. Indeed, the frankness of the book is such that one imagines that the author may well have alienated a good many family members with the end result.
Most of the drama in this book - and there is a lot of drama - focuses on the author's father, Stanislaw Tarnowski, who was born in 1918. A dashing young man with something of an untamed streak, Tarnowski had a distinctive sense of honour and valour, but this was often blighted by his searing temper. Like so many of his generation he distinguished himself in the fight against the Nazis, but his personal life was a terrible mess, exacerbated by the loss of Poland to Stalin's cronies in 1945.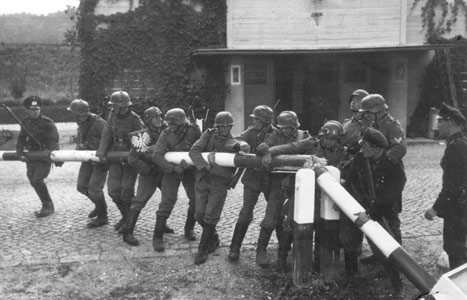 (Above) German soldiers dismantle a Polish border post in September 1939.
'The Last Mazurka' is a calmly and lucidly written book, but the drama and colour of the events described should have most readers hooked once the attention moves to the 1930's and beyond. There are fascinating portraits of the flight from Poland, Bucharest, and above all the stay in Cairo, where the author's young mother and aunt spent much of the war. British Cairo, which film-lovers will recognise from 'The English Patient', was a spicy place in those times, overflowing with officers and secret agents. The fact that one English lady described the Tarnowski girls as 'undoubtedly the belles of Cairo Society' (see M. Musson's: Chistine: Churchill's Favourite Spy), compliments the author's own insights into his family's lively Egyptian adventure.
Another fascinating yet wretched aspect of the odyssey is the account of life in post-war England. In such a multi-cultural country as England, where communities could pass relatively unnoticed by much of the nation, the plight of the Poles was often forgotten (it is a little known fact that the Polish Government in Exile continued to meet once a week in London's Chelsea district right up until 1989). The sheer humiliation of their situation has not often made it onto the pages of books - war heros had to scrape a living cleaning cutlery, stars of the stage and screen were forced into obscurity and penury. Of course, many did make careers in the end, but they could never get over the loss of their country. That said, whilst several of the author's close family decided to stay on in the British Isles, his father, Stanislaw Tarnowski, did return to Poland in 1957. But it was to a crippled stump of what he had known before the war.
This book says a lot about Poland's twentieth century experience, and it does so in a way that is both accessible and captivating. Some will say that it was not really the done thing to publish such a memoir whilst certain family members were still alive. And the idea that his father had not imbued his other children with 'the self-reliance and enterprise needed to grasp the opportunities of modern life' seems a little unfair given that free enterprise was really a non-existent quality in Communist Poland. A smaller cavil relates to the earlier material on Cracow, as there might have been a paragraph or two on the heady world of the fin-de-siecle, as the author's great-grandfather - who features regularly in this memoir - was a celebrated target of the mischievous 'Green Balloon Cabaret'. Nevertheless, the 'bare all' nature of the book does provide a fascinating insight into the lives of those caught up in the storm, and as such it is one of the most memorable personal histories of Poland in recent times - future historians with have much to glean from its pages.
Comments
I knew a young man named Andrew Tarnowski in university (Concordia University, Mechanical Engineering) in the early 1980's. He was a member of the military reserve and was tragically killed in a training accident at Farnham Quebec. Does anybody have any more information about Andrew?
Reply
My father Antoni Zielonka lived in Sniatycze and 1918 until 1941 when he was taken by the Russians to he Arctic circle. He died last year the The Last Mazurka talks to me. It is helping to understand my late father who never returned to Poland. He did not talk much about Poland, but he did keep in contact with my 3 Ukrainian cousins who have died in the last 8 or so years. I am in touch with the descendants of his maternal cousin Teodor Tymczuk who live in Gdansk. Is there a way I can contact Andrew Tarnowski? Thank you
Reply
I was looking through the bookshelves of the Toowoomba library when the Last Mazurka cought my eye. Imagine my surprise when i found out that not only was it about Poland but also about the region where my mother was born. She is now in a nursing home and at 94 cant hear or see very well but she was delighted to hear the story from me. I was born in Krakow and have lived under communism till I was 11. I have had no experience of the nobility of the pre-war Poland. It was fascinating reading for me. Thank you Andrew.
Reply
ok,,,here and there...but my work on Mazurka is better and not the "last"... Ready at last! Our researches of European Social Ballroom Dances are now on a set of 5 CD/DVD-s- data discs. We offer the content to you for free. Although copyrighted by the author, Mr. R. Cwieka, (me), he hereby gives you permission to make copies of the said discs and distribute them to your dance friends, the general public and to libraries. DO YOU WANT THE DISCS? (FIRST, I SHALL SEND THE INITIAL CD.) SHALL I SEND IT TO YOU? Here are the contents: POLONAISE: STORY OF A DANCE MAZUR-MAZURKA: THE BRILLANT GLORIOUS DANCE The title, MAZUR-MAZURKA: THE BRILLANT GLORIOUS DANCE, is a compendium or a catch-all title for the following works, which deal with aspects of the Mazur-Mazurka Dance: MAZUR: THE ELEGANT POLISH RUNNING-SLIDING DANCE POLISH MAZUR-MAZURKA DANCE MANUALS & SUPPLEMENTAL POLISH MAZUR-MAZURKA SOURCES RUSSIAN MAZUR-MAZURKA DANCE MANUALS & SUPPLEMENTAL RUSSIAN MAZUR-MAZURKA SOURCES GERMAN MAZUR-MAZURKA DANCE MANUALS & SUPPLEMENTAL GERMAN MAZUR-MAZURKA SOURCES ITALIAN MAZUR-MAZURKA DANCE MANUALS SWEDISH MAZUR-MAZURKA DANCE MANUALS SUPPLEMENTAL ENGLISH MAZUR-MAZURKA SOURCES SUPPLEMENTAL FRENCH MAZUR-MAZURKA SOURCES SUPPLEMENTAL AUSTRIAN MAZUR-MAZURKA SOURCES THE ŻYWIECKIAN MAZUR THE ELEMENTS OF AND THEIR COMBINATION IN FIGURES FOR POLISH FIGURE DANCING THE MAZUR-MAZURKA DANCE FIGURES WORKBOOK & THE MAZUR-MAZURKA DANCE FIGURES AUDIO INSTRUCTIONS* SUPPLEMENTAL HOŁUBIEC COUPLE-TURN SOURCES SOME MORE MISCELLANEOUS NOTES, FRAGMENTS, ETC., ABOUT THE SLIDING-GLIDING MAZUR STEP: FINALLY DONE 2007 A SUPPLEMENTAL SIMPLE ANALYSIS OF SOME PICTURES OF THE PZDP THE KRAKOWIAK DANCE WORKBOOK THE KUJAWIAK DANCE WORKBOOK THE OBEREK DANCE WORKBOOK THE GORALSKI DANCE WORKBOOK DANCES AND FOLKLORE OF THE ŻYWIECKIAN TOWNSPEOPLE *As of this writing, The Mazur-Mazurka Dance Figures Audio Instructions, do not exist in book form.(But we do have a soft-covered Workbook of all these Figures which is available.) They are a series of 4 DVD-data discs, done as DATA-SOUND RECORDINGS, TALKING, VERBAL INSTRUCTION which are in ENGISH for each of the figure-sequences, that is, of the complete choreographies for almost 300 hundred Contemporary Social Ballroom and Stage choreographies. These are used in conjunction with the THE MAZUR-MAZURKA DANCE FIGURES WORKBOOK which illustrates all of the figure-sequences, that is, the figures are drawn.. This is about forty hours of verbal instructions—a real treat for dance lovers. (To obtain these, for free, contact the author at: R. Cwieka, 5 Manor Drive, 15M, Newark, N. J. 07016, USA. or cwiekara@shu.edu) Would anyone or group of dance-lovers like to make a video record of these complete choreographies? Or donate copies to your local library. Or place any of the works on your web-site OR make computer-animations. Feel free to do so.
Reply
romania also gets a good review in the "fortunes of war" written by olivia manning. Best. a.
Reply
I found this to be a really fantastic book. Firstly, because it really captured my attention and imagination. The pre-war world of the Polish nobility jumps out at you from every page and it is written in a very readable and un-pretentious way. Secondly, I feel that it is very important for the history of Poland, for far too long ignored or marginalised in the West, to be properly spread and I think this book contributes marvellously to that. Finally, I think it was really brave of the author to write in such an objective manner. I am a Warsaw-born immigrant to New Zealand, and for many years I have struggled with my identity as well. At least one branch of my family had noble ancestors so to read about what their lives and world may have been like was really a joy.
Reply
The book isn't particularly fascinating. The writing isn't very good. The analysis isn't gripping... Yet I read it from cover to cover. Maybe the fact that I was born in Tarnobrzeg made me so interested? At the very end I felt no sympathy for the plight of the entire family. The individuals seemed shallow and empty and deserved much worse than they got. What I came to understand was how exceptionally difficult it must have been for my family, my ancestors, to thrive there... Unless they wanted to serve as the 17th hand behind the Lancut magnate's table there were no options, no chances... No future. No hope. On the other hand the reason the family isn't compelling is because they removed themselves so far away from reality they couldn't help sounding stupid. Selling Rembrandt for the land, so it "stays in Polish hands" – am I wrong to assume that the land would have been sold to Jews? Whoever was buying that forest the act of selling the painting was a proof of flabbergasting idiocy! Left me speechless... Why couldn't they build a school instead? Oh yes that's right, the land mattered the people didn't. So perhaps it is fitting that the end of Tarnowskis family would come "Not with a bang but a whimper." I sympathize with the author. I struggle with my own identity as well. From the bottom of the field, no doubt, but the struggle is not easy. We were thrown straight form feudal times into modern world and told to forget the genocide we witnessed on the way ...and it all hurts, it hurts the entire life. Nothing can be done about the unfairness of our heritage. The children of the lords and the servants suffer equally. I wanted to read about that part and I found little, but that I do understand... It is hard for me to talk about it as well...
Reply
Please look at the history of the Tarnowski Family. They did build schools. They promoted higher education. Get your facts before you run your mouth.
Reply
I thoroughly enjoyed the book; probably because I am of Polish heritage. Even though I am third generation (both sets of grandparents came to the US about 1900), the book gave a history how life was during the war. My relatives were no were near the wealth that Andrew's relatives had, but they never discussed life in Poland or the circumstances they left; and no one ever went back to visit. A very good book on a brief history of a betrayed Poland.
Reply
I just finished the book and found the story gripping and worth relating. Andrew seems to have needed to undertand his parents, grandparents, extended family, and their backgrounds in order to come to a better understanding of himself. While he is involved as part of the story, he also has the ability to step aside and see the destructive flaws of his relatives. His writing shows him to have a probing mind with s strong desire to understand the currents that swirled within and around the famliy. From his style, I sense that has been able to forge his own life and avoid the pitfalls of personal indulgence of those about whom he writes. This story would make for an excellent movie, as it has all the necessary ingredients. If this should happen, I hope some of the proceeds go to restore the family homes. Even if a movie is made, I'm sure the book will still remain the better version. I would personally like to thank Andrew for sharing this tale with us.
Reply
First I should declare my interests: Andrew Tarnowski is my godfather. I am from the Scottish part of his family (his mother married my Grandpa) and I really got to know Andy in Delhi and Nicosia, where he was the Reuters correspondent. He taught me a lot about self-reliance and investigative journalism and was something of a mentor. Currently I am living in Romania and am delighted to see the "good review" that Romania gets in this book; Romania behaved honourably towards Polish refugees in WW2 and that is something I have not seen written anywhere. It is also fascinating to read about the Egyptian episode. Not only is it the most gripping part of the book but it fills lots of gaps in my family's knowledge of how my grandfather (who was a British officer in Egypt) met Andrew Tarnowski's beautiful mother. As is typical in British families, we had never been filled in with the details of what went on in Egypt, or the war for that matter, probably because our perents didn't know themselves and also because it wasn't considered relevant. Andy Tarnowski challenges that pervasive sense of not-passing-on-the-family-history and was clearly driven by the need to explain to his own 4 children where they came from (in fact he says as much in his dedication). But I have also met the Tarnowski family in Warsaw and I know how this book must have hurt, as it does expose some old wounds that may have been best forgotten.
Reply
In answer to one of the questions raised above, Andrew Tarnowski has since been expelled from the Tarnowski Family Association.
Reply