Bucharest

Though a city with no true centre, the Lipscani...
5 min read
4 comments
Bucharest's unmistakable Palace of Parliament, due...
5 min read
41 comments
Bustling Bucharest!
Despite the city's charitable translation to "City of Joy" in the local vernacular ('bucurie' means 'joy' in Romanian), most visitors' first impression of Bucharest is of a rather joylessly overcrowded, dilapidated, sprawling communist failure. And we would aptly counter that were you to sustain numerous Turkish invasions, survive two World Wars, two major earthquakes and the idiot instincts of a fanatical dictator, you'd probably look a bit like a shambling abortion yourself. Yes, Bucharest is still rehabilitating its crumbling facades, learning democracy and teaching its citizens how to smile. But all are part of a process that makes the city increasingly fascinating each year as it painstakingly labours to restore its former glory.
As the commercial and governmental centre of Romania, and the site of the country's major airport, chances are if you're coming to Romania, you'll be passing through Bucharest at some point, like it or not. We're here to help you with the former. A dynamic city with a raging pulse and spirited ambition; a captivating city of great architectural, artistic, social and cultural contrasts, Bucharest has much to offer any visitor with the mettle to match its energy with their own. The results can be as rewarding and riveting as they are incomprehensible...
Local Life introduces the intrepid to Bucharest's many hidden charms, including the Secessionist-era survivors of Lipscani, the gorgeous green spaces of Cismigiu Gardens and Herastrau Park, the first-class classical concerts of the Romanian Athenaeum, the traces of folk tradition found at both the Village and Peasant Museums, and the retinue of restaurants, bars, cafes and clubs that make up the city's restless nightlife. Use our directories to find all the best places to eat, drink, sleep, shop, have fun and catch some culture in Bucharest. With travel tips, language help, the latest news and events, Bucharest Life has everything you need - obsessively updated - to help you make the most of your adventure in Romania's capital and hopefully fall in love with its inimitable energy the way we have.
We do our damnedest to keep our site as up to the minute and informed as possible, but if there's something you can't find here or think we need to know, please contact us and call us out. Like the city itself, we can only improve and don't plan on resting until we've created the number one guide to Bucharest on the internet.
And being as you're in the neighbourhood, why not white-knuckle your way through Bulgaria, Hungary, Slovakia and Ukraine with some help from our friends in Sofia, Budapest, Bratislava and Lviv? It's our lot to love these places, and your legacy to leave behind...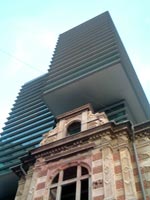 Did you know? Bucharest was known as a "little Paris" in the early 20th century. Unfortunately, this was before many buildings in the city were levelled and replaced with drab, grey structures during the communist era, leaving the city less Parisian and more Varsovian. The worst damage was done during the rule of Ceausescu in the 1980s.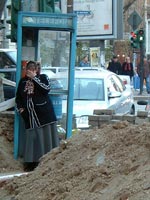 Quicklinks