Lipscani: Bucharest's Beleagured Beauty
Though a city with no true centre, the Lipscani district can be identified as the true heart of Bucharest. Once the political and economic centre of Bucharest, today Lipscani is the most lively and charming area of the city, most representative of the transitions the city is currently undergoing and most representative of its potential. In Lipscani, the true character of Bucharest is revealed through the area's overt contrasts of old and new, east and west, developed and decrepit, chic and shambling, brassy and bohemian. If any area of Bucharest has the potential to be a viable tourist draw, it is Lipscani.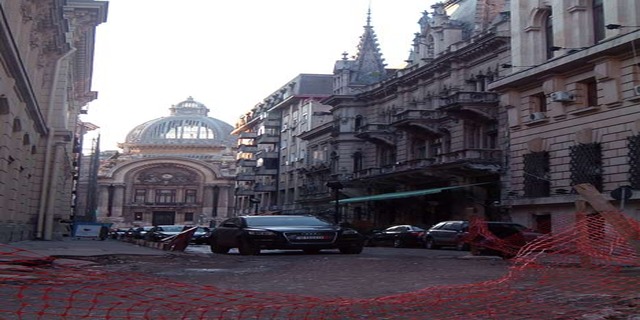 Classic Lipscani, classic Bucharest: fading facades and no one to restore them; expensive cars and nowhere to drive them. A scene from Stravropoleos street...

Lipscani comprises a small area around Lipscani Street, between Calea Victoriei to the east and B-dul I.C. Bratianu to the west, Piata Universitatiei to the north and the Dambovita River to the south. The name comes from 'Lipsca' - a reference to the German city of Leipzig. 'Lipscan' came to refer to the many traders who brought their wares from Western Europe (specifically Leipzig) and sold them on the main street. Long before the official foundation of the city of Bucharest in 1459, the Lipscani area had established itself as the most important commercial centre in all of Wallachia. When Vlad Tepes (the Turk impaler) planted the Princely Court in Lipscani around 1600, the area really began to flourish, populating itself with all manner of trades- and craftsmen, black- and goldsmiths, shoe- and saddlemakers and the like. Today, several of Lipscani's streets still retain the name of these trades, whose merchants sold their wares to one and all on these avenues. Communities of not only Romanian, but Greek, Bulgarian, Serbian, Armenian, Jewish, Albanian and Austrian merchants all developed in the area and this mix of nationalities, commodities, customers and costs all contributed to the contrasts still felt in the area today as a place where East and West, luxury and poverty met and mingled, but never truly mixed.
Bucharest, with Lipscani at its centre, flourished for centuries, becoming known as the 'Paris of the East' at the turn of the century for its romantic veneer, cafe culture and cosmopolitan flair. Hard as it may be to imagine, old photographs of Bucharest (often found in the antique shops of Lipscani) portray it as an incredibly idyllic city bustling with activity before a backdrop of Renaissance, Baroque and Neo Classic architecture. Unfortunately, the only traces of that Bucharest that remain are hidden in Lipscani's small historic quarter.
The more one becomes familiar with Bucharest's history, the more one sympathises with the hardships that have shaped it into the communist shipwreck it is today, and the more Lipscani becomes a haven for those glimpses of what once was. Extensively bombed by the Allies during World War 2, Bucharest was then bombed by the Luftwaffe as a reprisal for the royal coup which resulted in the country turning against Germany during the war. After the devastating earthquake of 1977 (7.4 on the Richter), most of Bucharest's historic centre was in disrepair, making it vulnerable to communist leader Nicolae Ceausescu's maniacal vision of a concrete, communist Utopia. Lipscani entered an age of decay and was scheduled to be demolished along with the rest of Bucharest's historic centre to make way for Ceausescu's Civic Centre project, including the massive Palace of Parliament which razed and replaced a section of the historic district larger than New York's Central Park. Ceausescu himself had a well-known disdain for Lipscani and relished in its deterioration, wanting people to buy into his own megalomaniacal belief that nothing existed in Bucharest before him. As the rest of Bucharest's historic buildings were bulldozed, the by then spoiling beauty of Lipscani managed to survive to see the 1989 Romanian Revolution and Ceausescu's dishonourable execution.
Some restoration work of what remained of Lipscani's old architecture began after communism in 1990, but it has been a slow process, with most of Lipscani's buildings still awaiting investors to restore them to their former glory. Though most of the district has been pedestrianised, a wander through Lipscani is made far more interesting by the fact that entire streets have been torn up, exposing ancient thoroughfares and fortifications. Planks serve as sidewalks along the edges of ornate apartment buildings with baroque balconies opposite empty lots filled forgotten construction materials that have become playgrounds for local children. From a platform of untrustworthy planks one can view the ruins of the former Princely Court with it's bust of Vlad Tepes before broken columns and crumbling brick archways.
Amidst the rubble and ruin, however, many restored relics remain including the famous Stravropoleos Church and the magnificent Neo-gothic facade and interior of Carul cu Bere restaurant, both on Stravropoleos street. Of the many inns built for travelling merchants in the early 19th century, two have survived: the Inn with Lime Trees (1833) and Manuc's Inn (1808) on Franceza street. On Smardan street, several 19th century bank buildings have survived, built in the Neo-Classic French style. The most imposing however, is on Calea Victoriei. The Palace of Savings Bank is an eclectic building with a monumental central dome and entrance archway supported by pillars.
The Lipscani district is also Bucharest's best for finding cheap food, chill cafes, bohemian bars and live music venues. Check out our eat and drink sections to search for places in Lipscani. The area is also rich in antique stores where all manner of obscure treasures can be procured at bargain basement prices, including communist memorabilia, old photographs, strange icons and antiquated apparati. (A concentration of these shops can be found in the rectangular courtyard of Hunul cu Tei between Lipscani and Blanari streets.) Whatever your expectations, Lipscani will shatter them with its steady surprises and incessant inconsistencies. Though currently mired in a maze of unending construction, Lipscani will be undergoing its little Renaissance over the next five to 10 years, and we're confident it will have established itself as Bucharest's showpiece and only viable tourist draw by 2012. How much of its former character will be lost is impossible to predict, but chances are - this being Romania - you won't have to look hard or far to find elements of the city's soul.
Comments