Wroclaw NonStop Festival
Has it really been a year since the good citizens of Silesia were treated to the delights of the Wroclaw NonStop 2007 festival? Indeed it has! And for those who attended last year's amazing cornucopia of events that year couldn't pass quickly enough!
For those still in the dark, the Wroclaw Non-Stop Festival represents the absolute pinnacle of cultural celebration in the capital of Lower Silesia. It is a mammoth fest of crazy cultural goings-on that spans an incredible spectrum of fields - right the way through from concerts of classical music to samba workshops and graffiti art. What's more a heavy sprinkling of international music stars lend the festival the sort of credibility and allure that street theatre and reading groups can't manage alone!
All things considered it really is a coup de grace by Wroclaw city's forward-thinking council, that they manage to arrange such an amazing and innovative event in this relatively small Silesian outpost. It is certainly an event that the whole of Poland, and even beyond, can eye with a great deal of envy.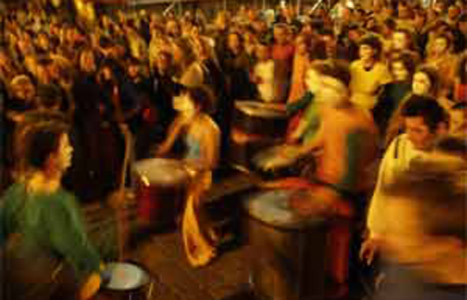 Wroclaw Nonstop 2008
2008 promises to be another classic year for this young and vibrant festival, and for nearly an entire month this summer (29th June to 27th July) tourists and locals will be wowed with a cornucopia of goings-on. Highlights of the programme will include the International Water Project, a series of installations by artists from Poland, USA and Ireland; Luminarium II by the British collective The Architects of Air, a kind of bouncy castle encompassing visual and aural experiences; Del Cel, a choreographed dance routine performed on the towers of St. Elizabeth's Church tower by Spanish group the Deambulants; and of course this year's big concert - Manu Chao. The world famous folk band will perform on the Wyspa Piaskowa.
For a full programme of events please consult the official Wroclaw NonStop Festival 2008 website by clicking here.
Wroclaw Nonstop 2007
Go to our events section for more info on Wroclaw Nonstop 2007
Wroclaw Nonstop 2006
2005 saw a massive expansion in the Wroclaw NonStop Festival - from four to ten days - and was so successful that another ten days, from June 23rd to July 2nd, have been pencilled in for NonStop 2006. The good news is that the programme is even more ambitious than last year's, and - as well as the expected array of workshops, dance and theatre performances, photo exhibition, lectures, conferences and classical concerts - some world class musical acts will be coming to tow to entertain the masses. Names like Buena Vista Social Club, Joe Satriani, Skalpel and Asian Dub Festival will make sure 2006 will be a year no Wroclawian forgets!
Click here for more info on Wroclaw Nonstop 2006
Comments
Dear Sir / Madam, I am from Fullstop Acrobatic Theatre, a new and exciting circus and theatre company from Holland and England. After looking at your website we wish to find out more information about performing our show next year at the Wroclaw non-stop festival. Please could you email us the details of who we have to get in touch with to do this? Thanking you in anticipation, Yours Faithfully, Vicki Steggles
Reply