Gay Tallinn
Despite being viewed as the most liberal and tolerant of the Baltic capitals, Tallinn - like Riga and Vilnius - still has a long way to go toward catching up with neighboring Scandinavian countries and Western Europe when it comes to the atmosphere surrounding homosexuality.
While homophobia is not as entrenched in the media in Estonia as it is in...oh, say uber-Catholic Lithuania and Poland...it is still very much entrenched in the public psyche. As with most Estonian problems, communism can be conveniently blamed for this one as well. After all, homosexuality apparently didn't exist under Stalin; in fact, recently publicised Soviet secret police files have shown that no one in the entire USSR had sex at all from 1946 to 1956 (just kidding). Many elderly Estonians still carry this communist-era intolerance with them, viewing homosexuality as a disease. Homosexuality was not legalised in Estonia until 1992.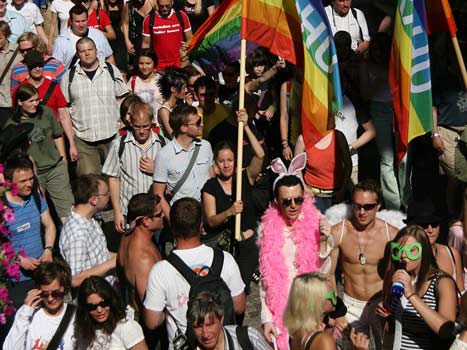 Since joining the EU, the bad track record of the Baltic countries with regard to sexual freedom has been exposed, thanks largely to incidents in Latvia which have gained international criticism. Riga's 2005 Pride Parade was attacked by feces-slinging hooligans, and 2006's event was cancelled outright. Vilnius failed this year (2007) in their first feeble attempt to hold a pride march after opposition from the government and the Church. Tallinn, meanwhile, has fared better by being the first Baltic country to have such an event in 2004. However, violence marred 2006's Tallinn Pride march when 15 people were injured by stick- and stone-wielding skinheads.
Nonetheless, big-picture advocates would point out that major strides have been made and things are moving forward. Several gay activist groups have been formed in Tallinn since 1990, and there is even a Gay and Lesbian Information Office on Tartu mnt in the Old Town. Since 1998, Tallinn has had a large and popular gay club, and today gay-oriented Kapp is one of the hottest clubs in town for people of all persuasions.
Tallinn Pride coordinator Lisette Kampus believes that Baltic people are generally very tolerant of sexual minorities: "It's not fair to say they aren't gay-friendly, they are. The objectors are a small minority who is really radically against gay issues, and they have a very loud voice. What differs us from Western Europe is that, there, society has made it clear that those types of attitudes are not okay. In the Baltics, nobody is reacting against these negative opinions."
Baltic Pride 2011 tooked place on 6th-11th of June in Tallinn. It is the 5th Pride to held in Estonia. In 2004-2007 Pride weeks with Pride marches took place every year. Those Prides brought about necessary discussions and guaranteed more visibility for LGBT people in Estonia. Yet, this year they did it a little bit differently.
Estonia is well known for being a singing nation. Following this tradition, a free open air concert toked place on the 11th of June 2011. It is an opportunity for everyone, regardless of their identities, to come together and show their solidarity toward LGBT people and support a caring and tolerant society.
Baltic Pride is a tradition initiated in 2009 by Mozaika (Latvia), Lithuanian Gay League, Tolerant Youth Association (Lithuania) and Estonian Gay Youth.
Though gay tourists coming to Tallinn may feel a marked difference in Estonia in terms of the country's openness toward gays, travellers generally have little to fear in terms of gay-bashing. Nonetheless, discretion is a good defense and one still employed by most of Tallinn's gay-oriented nightclubs, the number of which continues to grow, and there is no doubt that Tallinn outshines both Riga and Vilnius (perhaps both combined) when it comes to gay nightlife.
Gay or Gay-Friendly Clubs in Tallinn:
X-Baar - Local gay culture control room loved by locals
Other Gay-Oriented Services and Websites:
Sauna Club 69 - Popular sauna and pool facility for men only
Pink Baltics - The first gay travel company in the Baltics (in English)
www.pinkbaltics.com
Sven Vaher - Gay personals and forum for Tallinn area
www.svenvaher.ee
Baltic Pride - Info on annual Baltic Pride festival (in English)
www.facebook.com/BalticPride
Gayguide.net - Global gay guide network with info on Tallinn gay clubs (in English)
GayMap - Comprehensive travel guide (in English)
www.tallinn.gaymap.ee/
If you know of any related resources that should not be missing from this list, please let us know. Also, we encourage you to leave your comments about gay Tallinn below; we encourage different viewpoints and want to hear your thoughts about the gay cause in Estonia and Tallinn (though abusive or hateful comments will not be tolerated). Thanks!
Comments