Gay Guide to Riga
Gay rights in Riga have a long way to go before the country catches up with its Western European counterparts, so don't pack your bags expecting anything as raucous as the gay scene in Barcelona or Berlin. Though Riga itself is not as deeply Catholic as Vilnius, another Baltic city, it is nevertheless a relatively conservative place politically, and public officials (and of course church officials) have been known to openly speak out against homosexuality and homosexual organizations.

Riga tried to organize its first pride event in 2005, but government and church leaders and even several important public figures denounced the event and homosexuality in general, and the parade went off with more protesters than participants, with eggs, tomatoes, and even faeces being thrown and reports of violence being common. In 2006, the parade was unlawfully banned by the government under the pretext that it would threaten the peace of the country. Even after the ban, a conference was organized by the gay rights group Mozaika instead, but the participants were again faced with protesters throwing faeces and holy water at the participants. Perhaps the greatest sign of change is the fact that this year's Riga Pride Parade was the first one to go off successfully - if you count success as the lack of violence and throwing of faeces. Today, the gay rights groups are better organized and have the support of European officials and participants, and the potential for change and understanding is higher than ever.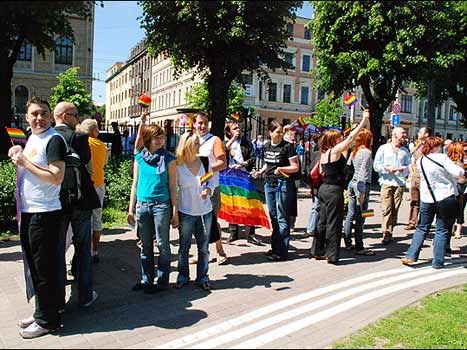 Above: The 2007 Riga Pride parade, the first successful gay pride march in Riga
Riga's gay and gay-friendly venues:
Bars and Clubs

XXL:
A. Kalnina iela 4
The first and biggest gay club in Riga, XXL features a loud and colourful dance floor, labyrinth, darkroom, and even private video cabins.
Purvs:
Matisa 60/62
Purvs, "The Swamp", is a gay-friendly club popular with straight clients as well.
Accommodation and Tours:
Centrum Gay Hotel:
A. Kalnina iela 4
+371 28861634
Centrum is the only gay hotel in Riga, and is conveniently located next to XXL club and Riga's only gay sauna. The hotel is friendly and discreet with luxurious rooms and includes all the amenities of a high class hotel.
Pink Baltics features several options for gay tours: pinkbaltics.com

Other Services
Varaviksne:
A. Kalnina iela 4
Varaviksne is the first gay sauna in Latvia. It's open daily from 3 pm until 2 am weekdays, and until 7 am Fridays and Saturdays. The sauna has its own bar, and features steam and dry saunas, a jacuzzi, cruising area, cabins and video rooms, and showers. Entrance is 7 Ls for under 25, 10 for over, and the entrance fee includes a towel, and even condom and lubricant.
Latvian GLBT Organizations and Websites:
Mozaika, the main GLBT alliance of Latvia, and organizer of the "March for Equality": mozaika.lv
Latvian Gay Portal: gay.lv
Pink Baltics, the first gay travel company for the Baltics: pinkbaltics.com
ILGA Europe, the European Region of the International Lesbian and Gay Association: ilga-europe.org
If you know of other particularly gay-friendly places in Riga, please let us know; and feel free to post your comments about gay Riga on this page below. We encourage different viewpoints and want to hear your thoughts about the gay cause in Riga and Latvia (though we won't tolerate abusive or hateful comments). For more information about pro-gay organisations and events in Latvia, visit mozaika.lv. We've included a few Lativa-specific GLBT websites above, though a few are only in Latvian. We hope they'll be a helpful resource; if you know of any other helpful websites, let us know as well!
Comments