Annual Festivals in Riga
While it's obvious on arrival that Riga is a city with a lot going on, some of the most exciting events in the city are its many varied festivals. We'll try to present a comprehensive list of festivals that occur annually in the city. As always, check our events calendar for all the details of a particular festival, and if you think we've missed something, don't hesitate to let us know!
For film festivals, see our page on film festivals in Riga.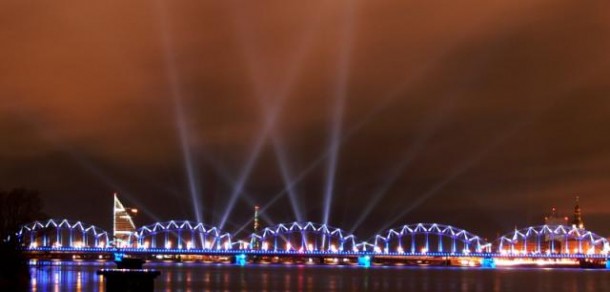 Riga Music Festival
The festival is officially called the International Festival of Music Traditions "Riga Music" and celebrates traditional music, both Latvian and foreign.
When: January
Bach Music Festival
This music festival celebrates the German composer and organist's works in an event lasting over a month and involving numerous concerts by esteemed musicians.
When: February-March
Official festival website: music.lv/bachfestival
Latvian Contemporary Drama Festival "Insight"
March is the month for drama, and this festival celebrates some of the rising stars in contemporary drama.
When: March
Riga Opera Festival
This annual festival takes place in the Latvian National Opera and features the best in international and Latvian opera.
When: June
Official festival website: opera.lv
Early Music Festival
A celebration of traditional and folk music.
When: June-July
Official festival website: smf.lv
Latvian Song and Dance Festival
The Latvian Song and Dance Festival festival is the mother of them all when it comes to huge events in Riga. The festival is over a century old, and is as much a celebration of Latvian pride as it is of music - though the music consists of huge choirs and dance groups singing and dancing their hearts out, as well as a large number of art exhibitions, parades and also some contemporary rock and pop concerts taking place.
When: Summer every five years (next festival: July 2013)
Riga Salsa Festival
Get ready to Salsa! Classes and performances will take place with some experts from around the world.
When: August-September
Official festival website: http://www.rigasalsafestival.com/
Autumn Chamber Music Days
The International Festival "Autumn Chamber Music Days" features a month of chamber music performances in some of the most beautiful halls in the city.
When: September-October
Official festival website: latvijaskoncerti.lv
Porta World Music Festival
The International World Music Festival "Porta" celebrates music from around the world with a month of special performances.
When: November
Official festival website: festivalporta.lv
Winterfest
Chamber Music Festival "Winterfest" offers a way to keep warm during the cold winter months while listening to beautiful chamber music from some of the world's most renowned composers and performers.
When: November-February
Official festival website: hbf.lv
Photo by www.guigo.eu (CC by-sa 3.0)
Comments