Getting around Minsk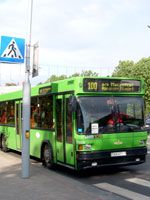 Above: No. 100 - a tourist favourite Left: Taking the metro Below: Bus tickets can be purchased on board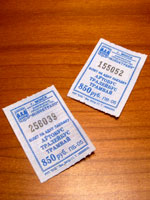 By metro
The metro is by far the easiest way to get around Minsk, even if you don't speak a word of Russian or Belarusian. With two lines criss-crossing the city in an X shape, the metro can get you nearly anywhere. Tickets can be purchased from booths in the station for 850 rubles. Don't even worry about asking for a ticket, since the vast majority of locals only buy one at a time, words are rarely wasted at the ticket cashier. Simply push through some cash and you'll receive a purple plastic token, and your change, in return. Drop the purple token in a nearby turnstile and you're on your way.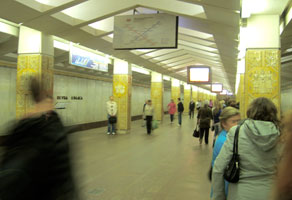 By bus, trolleybus, tram
Bus stops are not well marked in Minsk, and it can be difficult to figure out which bus goes where from a given stop. If the metro, which is much easier to navigate, doesn't serve your destination, try using the Minsk public transport website to work out the best route. A useful bus is number 100 which goes up and down Minsk's central thoroughfare Nezavisimosti avenue. Single tickets can be purchased at kiosks or often directly on the bus from a ticket controller. Bus singles do not transfer over to metro lines - you must purchase a metro ticket separately, and vice-versa.
By taxi
Taxis in Minsk are cheap and convenient, but it's important to ensure you're catching an official yellow cab. Make sure the meter is running, and if you don't speak any Russian or Belarusian, write down the address of your destination in Cyrillic on a piece of paper to avoid any possible misunderstandings. Fare is about 1500 BYR (0.20) per km within the city.
By car
Unless you plan on leaving Minsk, there really is no need to rent a car to get around. However, there are several well-known car rental companies set up in Minsk such as Avis or Hertz which will rent you a small passenger car for about 50 euro per day. But add to the price the fact that street signs in Minsk are exclusively in Cyrillic, sticking to public transportation and the occasional taxi ride is probably a better deal.

Comments
Can I get round Minsk without knowing Russian
Reply
Yeah, of course :) You'll have an adventure. Great time to get a phrase book and learn how to ask basic questions. I travelled in more rural city (Grodno) and also forest area of Belarus and everyone was very helpful and friendly and super kind. There were enough people who spoke a little English to get advice and directions. In a big city like Minsk, there will usually be someone around with enough English to communicate with you. But you'll really have a great time and no trouble, or the only the nice kind that makes a good story :)
Reply