Cafe Camelot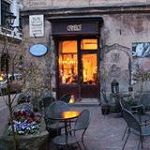 Phone

-

Website

-

Address

ul. św. Tomasza 17
Local Life Krakow is about to select candidates for Best Places awards, dedicated to rewarding and encouraging excellence in products, service and ideas. You are helping us to make the best choice.


Cafe Camelot has 19 votes. Click here to see the results.


You can vote once a day for your favourite place.
Editor's review
There's something about this corner of the Old Town which has instant appeal, possibly because it is on one of the few crooked streets in an old town which is relentlessly geometric. Whatever the reason, Cafe Camelot (with its drinking, cabareting, jazz-celebrating alter ego Loch Camelot in the cellar) has drawn plenty of admirers. Its all coffee, sandwiches, cakes and plenty of current foreign language newspapers in a cosy old-fashioned cafe. Sit at the window-table and feel terribly fin-de-siecle.
Editor
Editor & Krakow Local
Reviews