Amber, The Gold of the Baltic
For most of us, it's a certain film scene that comes to mind at the mention of the word amber. Yes, a diligent worker is chiselling away, deep in some cave in a far-flung jungle. And then there it is. A honeyish, transparent treasure, and at its heart a single mosquito. The professor is over the moon, a whiz scientist gets to work, and before you know it an entire carnival of dinosaurs has been created....
But Alas! Did we not learn the lessons of Mary Shelley's Frankenstein? It seems not. Indeed, cruel fortune strikes and in no time at all T-Rex has gone on a human-munching spree. It's now up to Jeff Goldblum in his slick shades to come and save the day.....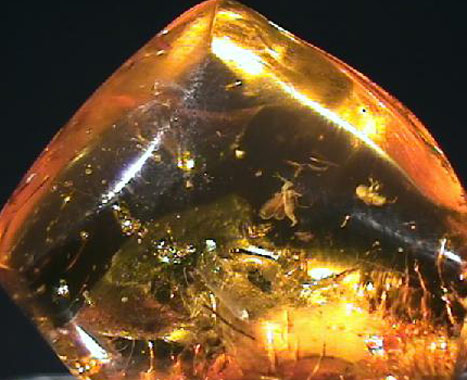 OK, enough of Jurassic Park. And whilst it is true that amber can perfectly preserve all kinds of creatures, from mosquitoes to lizards, the value of amber is not confined to the extraction of dinosaur DNA.
Far from it. Here on the continent amber has been venerated since time immemorial. However, this was for its artistic rather than its magical or scientific qualities. The so-called 'Gold from the Baltic' was prized by kings and magnates for its versatility and beauty. Artists were showered with privileges if they were able to rustle up an amber sensation. Polish King Sigismund Vasa (1587-1682), had an especially soft spot for the stuff, and he enjoyed having a go at crafting the material after a long day spent annoying the Polish nobles. One of the wonders of Russia was Peter the Great's 'Amber Room', an exquisitely crafted chamber fashioned entirely from different shades of amber. The 'Amber Room' disappeared into thin air during the Second World War, prompting a host of speculation from historians and who-dunnit theorists.
Yet before we get carried away on historical tangents, just what exactly is amber? Well, any authentic Gold from the Baltic should be of the grand old age of 40 million years old. Baltic amber is fossilized resin that was washed down ancient rivers from prehistoric forests in the whereabouts of today's Scandinavia. There are major deposits out at sea off Russia's Sambian Peninsula. Most of the stuff that gets washed up on beaches is erroneously sold as copal. Craftsmen call this material 'young amber' but the best stuff comes from further out to sea.
The crafting of amber has been big business in Poland since medieval times. The bustling Baltic port city of Gdansk played a key role in this. Gdansk had a reputation in Europe for its superb artisans products, and the city created some of the finest furniture and jewellery in Europe. Polish King Kazimierz Jagiellonczyk enhanced the rights of Gdansk's amber craftsmen in 1477 by allowing them to form their own guild. Some of the treasures from the Renaissance and Baroque eras can still be found in the treasuries of the Royal Castle and Cathedral at Wawel, not least the venerable 'hobbler' goblet, which was designed by none other than King Sigismund himself.
Travellers to Poland today will be relieved to hear that amber concoctions don't necessarily cost the earth. And whilst dedicated collectors can fork out for a little galleon that's crafted entirely from amber, you can also pick up individual pieces of jewellery for very reasonable prices. A fitting place to begin your search would be the Cloth Hall at the heart of the Main Market Square. This splendid building has housed merchants stalls for hundreds of years. If you're looking for something more specific, or something that's out of the ordinary, Tomasz Mikolajczyki's 'Boruni' galleries are well worth a look. Amber jewellery is one of the standouts of Polish contemporary design, and a trip to Mr. Mikolajczyki's galleries will demonstrate why. Marvellous stuff.
Comments