Heineken Opener Festival 2007
After last year's festivities - with an incredible line-up any festival would be hard-pressed to oust - there can be no doubt about the Heineken Opener Festival's status as Poland's best festival. In fact, Heineken Opener Festival can boldly brag to be one of the premier music festivals in all of Europe! Gdynia's three-day event has seen some of the best live acts in the world, the likes of Franz Ferdinand, the Chemical Brothers, Sigur Ros, Massive Attack, Fatboy Slim, White Stripes and even Snoop Doggy Dogg among them. This year's festival will hardly be a disappointment with an amazing variety of top international dance, rock, pop and hip-hop artists being supported by Poland's finest acts. Check below to see who's coming, and make sure you've got those tickets before they're gone!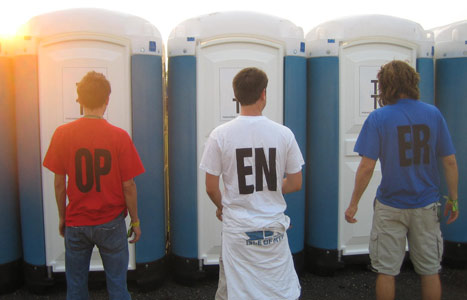 June 29th
Sonic Youth
These legends of American independent music have been melding experimental noise-rock with a performance art aesthetic since they formed in NYC in 1981. Sonic Youth's abandonment of rock and roll convention from the outset destroyed the sonic landscape of popular music in the 80s and in the 90s almost every American indie band and many British underground groups displayed a huge debt to Sonic Youth. The group's sound has become more palatably dissonant of late, and last year's Rather Ripped album showed that the band is still in a comfortable, creative groove.
The Roots
Coming "all the way live from the 215," Philadelphia's The Roots are regarded as one of the greatest live hip-hop acts in the world, and Heineken Opener 2007 is their first-ever appearance in Poland! Coming from humble beginnings in 1989, their shows in Philly have now become so hype (with countless unannounced guest appearances from the hip-hop community) it's almost impossible to get in, much less afford the ticket these days - so seeing them in Gdynia is a coup! Showing the way for live hip-hop, it is The Roots' long-standing focus on live instrumentation in the studio that has made their live shows so seamless. With commercial success finally coming with 1999's Things Fall Apart, The Roots blend of funk, soul, rock and jazz with MC Black Thought's provocative lyrics has earned them Grammy awards and created legendary tracks like You Got Me (featuring E Badu) and The Seed (with Cody ChestnuTT). Don't miss their rare appearance in PL.
Dizzee Rascal
Dizzee Rascal was one of the U.K.'s most prominent music subjects during the latter half of 2003, hyped for his astonishing debut album Boy in da Corner, media-hounded about his criminal past and media-headlined after being stabbed several times just before the release of his album. Despite his young age (Dizzee was only 18 when he released Boy...), Dizzee Rascal's often introspective lyrics drew from his own life and various mind states in a way that few other MCs had done before, and his debut was awarded the prestigious Mercury Prize. Opener audiences will get an early listen at some of the tracks from Dizzee's forthcoming album, Maths and English.
Laurent Garnier
French DJ and producer, Laurent Garnier, has been a legend of the electronic scene since 1980, pioneering techno music with his eclectic mix of deep house, funk, rock, jazz and acid/trance. One of the first Europeans to begin mixing American house music in Britain, Garnier was one of the prime cogs in the late-80s Madchester scene. His DJing at Manchester's legendary Hacienda Club provided a major inspiration for the Stone Roses and Happy Mondays to begin adding house rhythms to rock music. Since touring the globe making DJ appearances throughout the late-90s, Monsieur Garnier has more recently produced some brilliant LPs with a healthy penchant for diversity, 2005's The Cloud Making Machine being the latest. At Opener, Garnier will play a special live solo set.
Freeform Five
Not the most famous name on this year's Opener programme, we at Gdansk Life happen to think them one of the best! Freeform Five are a London outfit whose fun-tastic blend of electro and pop sounds have earned them a cult following amongst dance music lovers who don't take themselves too seriously. If a little bit of Perspex Sex doesn't get you grinding with the cutie next to you, get yourself some Rohypnol.
June 30th
Beastie Boys
You shouldn't have to fight for your right to see these three do-it-yourself white-boy rappers - the Beastie Boys will be playing two gigs at Opener: this one on the main stage and a special second instrumental show the following day! Considered one of the most influential and ambitious rap-groups of the 90s, the Beasties cheeky b-boy satire, street beats and metal riffs produced the hit albums Licensed to Ill, Check Your Head, Ill Communication and Hello Nasty and gave a voice to an entire generation of seemingly talentless American white kids, who were finally allowed to be "cool" (as long as they weren't taken too seriously). Word is the Beasties are working on their new album, it's not what you think, and you'll have to be at Opener to know the new deal.
Muse
One of the most popular and original bands in the world will grace the Opener stage as Muse brings their emotive, passionate sound and and legendary live show to Gdynia. The band's fifth album, 2006's Black Holes and Revelations may have been the band's brightest, most dynamic set of material to date, and received the now-typical royal treatment from critics. Muse has also won multiple awards (multiple times) for Best Live Act, including the NME Awards, the Q Awards, and the Vodafone Live Music Awards.
Groove Armada
Jump on board the Groove Armada for a guaranteed great day out. These guys are festival pros and can get even the sober/unintoxicated festival-goers going wild on the dancefloor (viz. patch of muddy grass). "Shak'in that ass" is without doubt the most annoying song they've ever produced - but if the sexy Polish girls follow suit we won't be complaining!
July 1st
Bjork
One of the wildest vocalists in popular music, Bjork's genre-defying career has turned her into Iceland's most recognisable personality. Rising to prominence at a young age in Iceland before her avant-pop sextet, The Sugarcubes, got international attention, Bjork went on to collaborate with some of the biggest names in the house and dance music genre, including Nellee Hooper, Underworld, and Tricky. Having released the hit albums Debut, Post, Homogenic, Vespertine and the experimental vocal-only Medulla, Bjork is now working with Timbaland and Antony Hegarty on her new album.
Bloc Party
Equally influenced by Sonic Youth, Joy Division, Gang of Four, and the Cure, East London art-punkers Bloc Party mix angular sonics with pop structures. Their 2005 debut, Silent Alarm got rave reviews and was named "Album of the Year" by NME. Frontman, Kele Okereke is a striking lyricist and performer, and Weekend in the City - their second effort released earlier this year - reveals a wiser, more experientially-tempered Bloc Party, creating a greater emotional impact from their anthemic music.
LCD Soundsystem
LCD Soundsystem's personality, James Murphy, has got everybody riding his dick since his debut album dropped so many names, he was crowned one of the coolest people in the world. Exuding indie cred, Murphy's LCD Soundsystem project has become one of the most important bands in dance music going right now, and the recently released follow-up, Sound of Silver has kept them at the top. Their brilliant live disco, electro, punk-funk performances can compare only with Basement Jaxx or Daft Punk, and are guaranteed to get the crowd moving.
Beastie Boys
This special performance will be the second performance by the Beasties and the "grand finale" of sorts for this year's Opener festival, so don't miss it. Billed as an all-instrumental set, the audience should expect the unexpected from these mad jesters for the festival send-off.
Event Details
The action will take place Friday June 29th to Sunday July 1st at the airport Babie Doly in Gdynia, with a free bus service shuttling punters every half hour from the main train station. Tickets are a snip at 249 zloty for three days without a camping place, 269 with a camping place, or 130 for a one-day ticket. Last year all the tickets sold out so get yours now at the Opener Festival official website www.opener.pl
See you there!
Comments