Learn Polish in Krakow
No one can deny that spending the weekend in Krakow is a delightfully pleasant experience, and one bound to entail plenty of adventure, excitement and thrills - but it's all too easy to return from such a trip with no further insight into the Polish language, culture and people than before you set out. Certainly, as you butcher the Polish words for 'please' and 'thank you' at your beleaguered waitress on one of the Main Square's many cafes and bars, she's unlikely to be very impressed!
Taking the time to learn some of the Polish language will not only elevate you above the average tourist in the locals eyes, but it can also be an amazingly fruitful and fun experience in itself. In Krakow Polish is mostly taught by young and energetic native speakers how to pronounce those tricky Polish consonants (they're really not as bad as they seem!) and who will make you feel you're making real progress after just a few lessons. In fact, before long you'll be ordering your pierogi like a real Krakovian! And it's not just your language skills that will benefit either; during a course in Krakow you're bound to make friends, giving you a great platform with which to explore Krakow's famous tourist attractions and her even more famous nightlife. Don't forget that this is part of the joy of the learning languages abroad - the chance to really explore a foreign city thoroughly, and to meet new people along the way.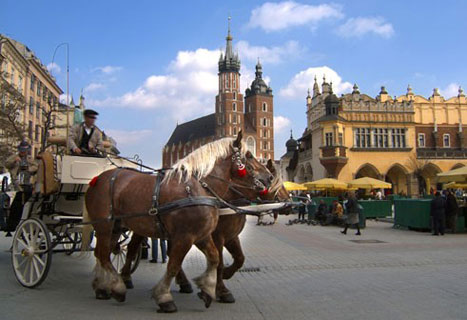 The language courses themselves range from absolute beginner to advanced, so don't be worried about finding a class to fit your level (usually a two-stage assessment will be done on arrival for non-beginners). In summer most Polish schools start a course every two weeks, and each two week 'session' includes 50 hours of expert instruction, with additional individual lessons laid on for those wanting to advance as quickly as possible. Of course it is possible to join back to back sessions, meaning you can study anywhere from two weeks to sixteen weeks during summer, or up to twelve weeks in winter. And after a busy summer the semester courses start, especially recommended for those who decide to put down their roots in Krakow.
Click on the link to see detailed offers of each of our partner schools: Varia and Glossa, or browse our services list to find just the programme.
Comments