Tie the Knot, Krakow Style!
Krakow has long held a reputation as a city of romance. Home of the majestic Wawel Castle, and situated on the lovely Vistula River, in the months of spring and summer, Krakow is the perfect setting for a beautiful wedding - or even in winter if your idea of a perfect honeymoon is snowboarding in Zakopane!
But if organizing a wedding is difficult enough on its own, organizing a wedding in another country (especially one with a language as difficult as Polish) can be overwhelmingly stressful. Luckily, we at Cracow Life can help you with all the tricky details so that all you have to do is show up, put on that beautiful white dress, and enjoy the day you've been waiting for for ages!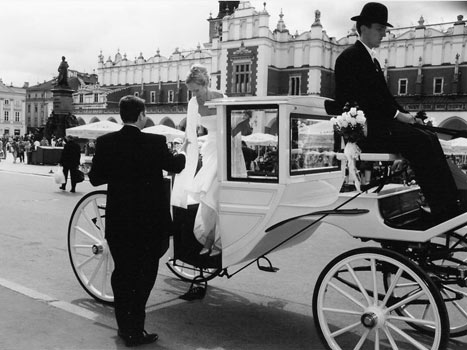 Above: Just like in the old days...
Whether you'd like a grand church wedding or a small private ceremony, a reception for half the city or just your closest friends, we can help you with booking the venue, booking the reception hall, booking a hotel in Krakow for you and your guests (or an apartment in Krakow for the in-laws and distant cousins), ordering a cake and flowers, or even organizing custom tours for you and your guests - just about anything you need! Want to go on a romantic hot air balloon ride on the Big Day? No problem!
Just send us an e-mail with your wedding dreams and we'll make them a reality!
And don't forget, Krakow is also the perfect place to stage your stag or hen night - with more bars per square metre than any city in Europe - and our friends at Crazy Stag do 'em better than anyone!
Comments