New Year's Eve in Krakow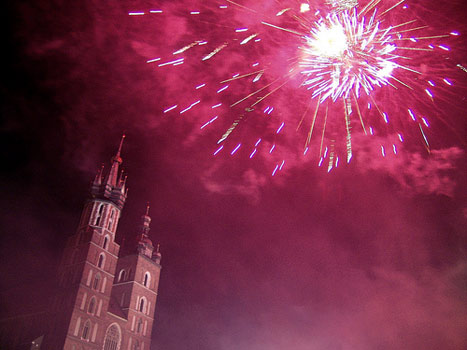 While some brave the cold and snow and venture to Krakow in December just to experience the beautiful Christmas Market, those looking for a different type of party would be wise to stick around for the New Year. In Krakow, New Year's Eve is a big deal, with its epicentre being the Market Square. On the evening of December 31st, thousands of Cracovians and visitors brave the cold (or put on a thick alcohol blanket to keep warm) and venture to the Market Square, where the evening begins with a series of free rock concerts by some of the biggest Polish stars. Right before midnight, the countdown begins, and at the sound of the bells from St. Mary's Cathedral a procession of fireworks lights up the night sky.
Those preferring a more elegant and warmer night out should make a reservation at their favourite restaurant or bar as soon as possible, as tickets go fast, especially to the more opulent affairs. Generally, a reservation entails a dinner or snacks, drinks, and of course the obligatory midnight glass of champagne. Reservations range from a couple hundred zlotys to the thousands, depending on whether you prefer black tie or black and tans. But more important than where you spend your New Year's Eve is who you spend it with, so be sure to practice your Polish pick-up lines before you're stuck by yourself for the midnight kiss!
Not sure where you'll stay for New Year's? You'll want a nice warm and comfortable place to hide from the cold in (not to mention to recover in the morning after New Year's), and there's nothing better than your very own apartment. The folks at Krakow Apartments can set you up right away, so be sure to book before you head to Krakow for all the holiday revelries!
Comments