Gay Tallinn
Despite being viewed as the most liberal and tolerant of the Baltic capitals, Tallinn - like Riga and Vilnius - still has a long way to go toward catching up with neighboring Scandinavian countries and Western Europe when it comes to the atmosphere surrounding homosexuality. While homophobia is not as entrenched in the media in Estonia as it is in...oh, say uber-Catholic Lithuania and Poland...it is still very much entrenched in the public psyche. As with most Estonian problems, communism can be conveniently blamed for this one as well. After all, homosexuality apparently didn't exist under Stalin; in fact, recently publicised Soviet secret police files have shown that no one in the entire USSR had sex at all from 1946 to 1956 (just kidding). Many elderly Estonians still carry this communist-era intolerance with them, viewing homosexuality as a disease. Homosexuality was not legalised in Estonia until 1992.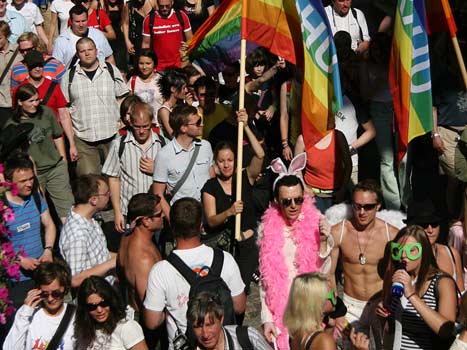 Since joining the EU, the bad track record of the Baltic countries with regard to sexual freedom has been exposed, thanks largely to incidents in Latvia which have gained international criticism. Riga's 2005 Pride Parade was attacked by feces-slinging hooligans, and 2006's event was cancelled outright. Vilnius failed this year (2007) in their first feeble attempt to hold a pride march after opposition from the government and the Church. Tallinn, meanwhile, has fared better by being the first Baltic country to have such an event in 2004. However, violence marred 2006's Tallinn Pride march when 15 people were injured by stick- and stone-wielding skinheads.
Nonetheless, big-picture advocates would point out that major strides have been made and things are moving forward. Several gay activist groups have been formed in Tallinn since 1990, and there is even a Gay and Lesbian Information Office on Tartu mnt in the Old Town. Since 1998, Tallinn has had a large and popular gay club, and today gay-oriented Kapp is one of the hottest clubs in town for people of all persuasions.
Tallinn Pride coordinator Lisette Kampus believes that Baltic people are generally very tolerant of sexual minorities: "It's not fair to say they aren't gay-friendly, they are. The objectors are a small minority who is really radically against gay issues, and they have a very loud voice. What differs us from Western Europe is that, there, society has made it clear that those types of attitudes are not okay. In the Baltics, nobody is reacting against these negative opinions."
Baltic Pride 2011 tooked place on 6th-11th of June in Tallinn. It is the 5th Pride to held in Estonia. In 2004-2007 Pride weeks with Pride marches took place every year. Those Prides brought about necessary discussions and guaranteed more visibility for LGBT people in Estonia. Yet, this year they did it a little bit differently.
Estonia is well known for being a singing nation. Following this tradition, a free open air concert toked place on the 11th of June 2011. It is an opportunity for everyone, regardless of their identities, to come together and show their solidarity toward LGBT people and support a caring and tolerant society.
Baltic Pride is a tradition initiated in 2009 by Mozaika (Latvia), Lithuanian Gay League, Tolerant Youth Association (Lithuania) and Estonian Gay Youth.
Though gay tourists coming to Tallinn may feel a marked difference in Estonia in terms of the country's openness toward gays, travellers generally have little to fear in terms of gay-bashing. Nonetheless, discretion is a good defense and one still employed by most of Tallinn's gay-oriented nightclubs, the number of which continues to grow, and there is no doubt that Tallinn outshines both Riga and Vilnius (perhaps both combined) when it comes to gay nightlife.
Gay or Gay-Friendly Clubs in Tallinn:
Kapp - Tallinn's oldest and most famous gay club is also one of the most exclusive places in town
G-Punkt - Discreet, back-door club favored by locals
Ring Club - Gay Club and sauna for men only! Famous for its hardcore sex shows
X-Baar - Local gay culture control room loved by locals
Other Gay-Oriented Services and Websites:
Sauna Club 69 - Popular sauna and pool facility for men only
Gay & Lesbian Info Office - Tangible info from real people
Tartu mnt 29
tel: +372 5811 6969
gay@gay.ee
www.gay.ee
Pink Baltics - The first gay travel company in the Baltics (in English)
www.pinkbaltics.com
Sven Vaher - Gay personals and forum for Tallinn area
www.svenvaher.ee
Baltic Pride - Info on annual Baltic Pride festival (in English)
www.facebook.com/BalticPride
Gayguide.net - Global gay guide network with info on Tallinn gay clubs (in English)
GayMap - Comprehensive travel guide (in English)
www.tallinn.gaymap.ee/
If you know of any related resources that should not be missing from this list, please let us know. Also, we encourage you to leave your comments about gay Tallinn below; we encourage different viewpoints and want to hear your thoughts about the gay cause in Estonia and Tallinn (though abusive or hateful comments will not be tolerated). Thanks!
Comments
Berti from Germany Reply Aug 6th, 2017
Wo kann man sich treffen in Ida -Virumaa
Vassili Šlüberg from Estonia Reply May 29th, 2017
Tere, Kas keegi teab kus on Tallinnas gay saun, kus saaks kas näiteks lõunaaeg lõõgastuda, või siis korralik privaatne meeste klubi? Parimat, Vassili Šlüberg
Christian Randolph from United States Reply Dec 2nd, 2015
Excellent. Any non bar way to meet people?
Tony from Finland Reply Jan 18th, 2014
Hello! for us the only club to visit in tallinn is club 69 and Xbaar, very friendly and a lot of fun. only sad that x bar is open only until 4 or something like this, and 69 till 8 in the morning, like i understand.
Nicel from Italy Reply Oct 10th, 2013
Me and my friend were this summer in Estonia, went to Tallinn and Tartu, in Tartu no gay life at all, but in Tallinn we visited 2 places, X-Baar, and Club 69, they are just 200m from each other, we went on weekend, so both places were full, X-bar is dancing, club 69 is bar with sauna and dark rooms, so we were cruising :D
Jamie from United Kingdom Reply Aug 2nd, 2013
We need more tolerance in the world.
morenomineiro from United Kingdom Reply Nov 29th, 2011
DO nOT GO TO G PUNKT, THEY DISCRIMINATE WHO SHOULD GO IN. THAT'S NOT ACCEPTABLE!
Erez Bialer from Israel Reply Sep 2nd, 2011
SHALOM from Tel Aviv :) I'm coming for a quick visit to Tallinn and I found your site very usefull! can't wait!
Peter from Sweden Reply Aug 30th, 2011
I was visiting Tallinn two weeks ago and i found the new and very informative gaymap about Tallinn, it was really useful when spending our time in the city for 3 days. The gaymap is available at tallinn.gaymap.ee webpage as well as for free in tourism information offices. i took the gaymap when i was visiting the tourism information in old town. fantastic! and Kapp is the new gay bar close to the tourism information: good food, great service and on friday there was a grazy party going on. suggesting.
Mike from United Kingdom Reply Aug 1st, 2011
Amazing two days in Tallinn! Found a bar round the corner from my hostel and noticed it had a sauna. So being curious I went to the bar and asked if there were any gay bars. The bar girl suggested X-Baar just up the road. Went there during the day and it wasnt busy but had a nice chat to the bar man who suggested other gay bars - The Kopp and Ring Club. Went to The Kopp but it wasnt busy but looked very stylish and nice. Couldnt find the Ring Club - it must be hidden away somewhere! There was also another gay bar over the road from X-Baar that you had to press a buzzer to enter but it was only open at weekends. I can't remember the name unfortunately. So that night I went to X-Baar and it was amazing. Bar staff was friendly and the men drinking in there were very chatty and interested to know about England. Overall, brilliant time in Tallinn. X-Baar is a definite place to go!!!
Rob from Canada Reply Feb 13th, 2011
Hello from Canada :) We will be travelling to Estonia and region in 2012, and I found your site very informative for planning. Thanks. Rob
evals501 from United States Reply Aug 31st, 2009
have not been to estonia but estonian men met in us are hot hot hot====will visit shortrly
Ping Shan from Singapore Reply Feb 7th, 2009
They guy above is wrong, Taipei has a very hot gay scene and Taiwan, though influenced by Confucionism values, has a very liberal attitude among the Asian countries aside Japan, Thailand and the Philippines. I have visited Tallinn and found that you may have more fun and relax in Taipei than in this beautiful city. Check the Taipei Gay Parade and you will realize w' I am talking about.
Han-Koh Chung from Taiwan Reply Oct 21st, 2007
I am a Taiwanese and I think your page is really cool. Taiwan is a place not friendly for gay people and I would really like to visit Estonia.