Minsk's Cultural Stars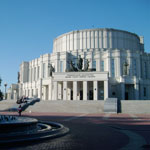 The Soviet Union was no slacker when it came to culture, leaving a strong legacy behind of pride in art, music, theatre, and dance. Along with these classic pursuits, Minsk has also evolved into a strong centre for contemporary culture including avant-garde art, experimental films, and a continuously evolving underground music scene. Minsk's many museums also offer a fine window into the tumultuous history of this fascinating nation. Check out our directory for some ideas on where to experience the best of Minsk culture!
Looking for something specific?
See on Map
Top rated culture in Minsk