Drop A Squat:The Story Of Metelkova Mesto
Metelkova is an internationally-renowned alternative culture community in the centre of Slovenia's capital, that often draws comparisons to Copenhagen's Kristiania. A self-declared 'Autonomous Culture Zone,' Metelkova Mesto occupies the former 'Fourth of July' military barracks originally commissioned by the Austro-Hungarian army back in 1882 and completed in 1911. The space consists of seven buildings and 12,500m2 - making it a sort of city within a city - comprising a former prison (now Celica Hostel), several clubs, live music spaces, art galleries and artist studios. Dedicated to organising social and cultural activities for the public, Metelkova has a nonstop events schedule and is arguably the best after-dark destination in Ljubljana for those looking to experience something wholly unique and unpredictable.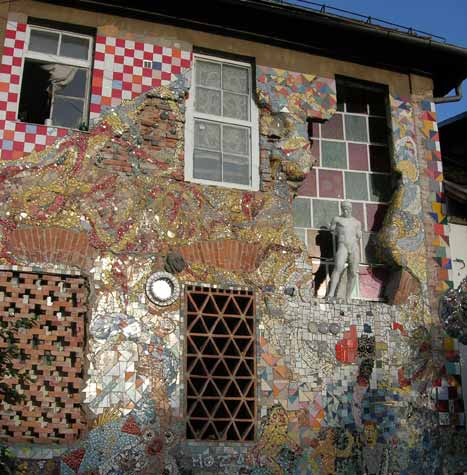 Since it was first created in 1993, Metelkova has consistently been the object of political jockeying, with the long-term status and survival of the community uncertain. Constantly threatened by the lure of commercial development, neo-conservative politicians and internal problems within the 'autonomous zone,' Metelkova has endured simply through the creativity, imagination, energy and determination of the many individuals who have fought to maintain the autonomy and diversity of community, often through physical, yet non-violent, resistance. The community's greatest defense has been the tireless virtue of the events, festivals, and clubs it organises. For years Metelkova hosted the only Women's Centre in Slovenia and is still today the only place in the country with community-run clubs for disabled people, gays and lesbians. Numerous campaigns against racism, domestic and institutional abuse have been organised and operated out of Metelkova. Ljubljana's only gay (Klub Tiffany) and lesbian (Klub Monokel) clubs are in Metelkova, which is also one of the few places in Slovenia to offer ethnic, sexual and other minorities the chance to socialise openly in a community. Many artists have their studios in Metelkova and the space's clubs play host to all range of music from hardcore to jazz to dub to techno. Celica Hostel is one of the most unique and consistently well-ranked hostels in Europe, and Metelkova's Alkatraz Gallery has one of the most diverse and creative contemporary art collections in former Yugoslavia.
For the casual visitor to Ljubljana, Metelkova is a great place to meet people and immediately get your finger on the underground pulse of Ljubljana. Remarkable simply for its existence, Metelkova is a refreshing break from the overwhelmingly homogeneous, clean and prim European atmosphere of Slovenia's capital; perhaps the only space that feels truly 'urban' in the city. During the day, Metelkova may seem a bit sleepy and surreal, but nonetheless has plenty of creativity on display visually. At night it becomes the most reliable place to find a party, with the-devil-knows-what happening in its over seven clubs and all over its common spaces. The best way to find out is to turn up. The 'Autonomous Culture Zone' welcomes guests and is at night a cheap place to have a good time under uncertain circumstances. Don't miss it, and importantly - don't fail to support this communal, creative space, if only with the strength of your energy and presence.

The History of Metelkova:
Metelkova as a cultural centre was first conceived in 1990 when the Network of Metelkova was formed and 200 partner organisations came together to propose a new, creative, peaceful use for the former military barracks. In 1991, following the Ten Day War and the Yugoslav People's Army's withdrawal from the site, the Network for Metelkova petitioned the newly independent Slovenian government for rights to the space. Favoring a car park or other new urban development over a rogue hippie commune, the City of Ljubljana decided in 1993 to demolish the old, unmaintained buildings. The Network of Metelkova and friends responded by squatting the site on September 10th, 1993 and creating 'Metelkova Mesto' - an independent (anti)cultural centre. Over 200 individuals got down to business creating living spaces, setting up concerts, exhibitions, readings and other events. Unable to extract the compound's new occupants, city officials responded by cutting off the water and electricity to Metelkova Mesto ('Metelkova City') and filing legal suits against its inhabitants. The new challenges only served to bolster the strength of the community, however, and Metelkova began to thrive more than ever before as a centre of cultural, political and artisitic activity.
With a change of governmental authority in Ljubljana in 1994, the squatters and city officials managed to mend fences and all court actions against the illegal occupation of the former military barracks were dropped. The Metelkova Development Plan was put into action with the citizens of Metelkova designing their own residential environment on their own artistic, imaginative terms. Community architecture and art brought ruined buildings back to life. International artists were welcomed to set up studios within the compound, the former prison was transformed into Celica Hostel, and several live music venues were opened. The Red Dawns International Women's Festival and the DrMrr OrtoPunk Festival became annually organised successes. Many other cultural organisations became tenants of Metelkova, including the KUD Mreza Association for Arts and Culture and the Society for the Protection of Atheistic Feelings (DZAC).
Metelkova once again found itself in the middle of a political power play, when then major of Ljubljana, Dimitrij Rupel, had the 'Old School' demolished in 1997. Plans were quickly made to rebuild the school, with German artisan group Axt und Kelle completing the project, which managed to collect funding from the German embassy and the flip-flopping City of Ljubljana. As part of their academic studies, the walls of the new building (dubbed 'the Little School') were painted with an elaborate mural by Tina Drcar and Bine Skrt, under the tutorship of Metelkova mentors, Dr. Gabrijelcic and Dr. Gruev. In 2002, Vida Stanovnik - the go-between for Metelkova and the major's office - reported the Little School as an illegal construction. Years of discussion and debate carried on between the State Inspectorate and City Council over the issue, with Metelkovians barred from proceedings. The cultural calendar held its yearly festivals and things carried on largely as usual until 2006 when the Inspectorate for the Environment tried more earnestly to carry out the demolition of Metelkova's Little School, but was prevented by the people each time. On August 2nd, 2006 the Inspectorate, aided by riot police, was finally able to demolish the school. Thanks to the collective physical protest of Metelkova's supporters, further action by the authorities was prevented. Once again, the citizens of Metelkova vowed to rebuild the school in a way that would reflect the community's political and cultural growth. The autonomy that defines Metelkova triumphed once again and continues today, though the future of the area is perpetually uncertain.
If you have any updated knowledge of the situation in Metelkova Mesto, we welcome and appreciate your comments below. Visit Metelkova's own website for more info.
Comments
Marko from Croatia Reply Sep 30th, 2011
Radikal Dub Kolektiv & BamWise was there
Tommy from United States Reply Aug 9th, 2011
Very cool spot. I partied a few nights at Metelkova before Metalcamp 2011. Great place to meet travelers and locals that really know what's happening in Ljubljana. I hope to visit it during the day when I go back.
Stefan from Romania Reply Jul 30th, 2010
Best place for ever!!!! I had a great experience there. PIVO PROSI!!! I love that place
Peter from Belgium Reply Dec 4th, 2009
In 1995, I participated to a volunteer camp to turn the prison into a youth hostel. Looking back at the conditions of living at the time, I never believed this would succeed. I am glad to see I was wrong...
Karin from Netherlands Reply Jul 30th, 2009
FANTASTIC place indeed. Me and my friends enjoyed it so much... we don't have such great alternative nightlive clubs at Amsterdam anymore. Keep it going fellows. It is GREAT indeed.
nomadsway from Germany Reply Nov 11th, 2008
I was staying for a month or a bit longer in December 1994 till January 1995 in Metolkava.I arrived some Days after the Roof of one Building had burnd and 2 or 3 People died in Fire.Its good to see that Metelkova is still alive and I hope Metelkova will survive for long Time.
Sasha from United Kingdom Reply Nov 6th, 2008
It is really weird to see this place as it looks like now. I lived there for a whole year (December 1986 - December 1987), and the place wasn't looking as interesting as it is now. It was still a military barack, and I was a conscript soldier in former Yugoslavia. I still wake up drenched in cold sweat after a dream in which I am back there. It was the most horrendeous experience I had in my entire life. Think living in some black & white horror Bertoluci movie. I'll definately visit the place next time I am in Ljubljana. I live in London, UK now.
Mark from United Kingdom Reply Oct 25th, 2008
Probably the best night life in Ljubljana.Long may it stay open.If it goes Ljubljana will have less appeal.It's bottom-up organisation and is working extremely well. It's probably not the best place for those overly conservative. If you want predictability hit the clubs/bars in the city centre instead.
NioN from France Reply Sep 15th, 2008
it's a very good place if you go in slov?©nia you need stop at metelkova!!! it's wonderfull and unforgettable :D
AURELIO from Spain Reply Sep 9th, 2008
I was living in ljubljana like erasmus student in 2003, and i kwnew metelcova city, i found a big surpraise with it because is the most different culture place that i never had found, morever, metelkova sing the most important build in ljubljana of his most recently past ex-yugoslave. Metelkova is diferent lik Spain. Esto se tendrÌa que nombrar monumento nacional, un saludo para la gente del ORTO BAR
Holly from United States Reply Aug 18th, 2008
So incredibly interesting! The photos blow my mind!
renee from Australia Reply Apr 18th, 2008
my cousin took me to see bands at the mesto when i visited slovenia in 2002 im so glad to hear its still going and hopefully i will get to visit again in the near future :)
Amy Fox from Ireland Reply Apr 8th, 2008
I was in Metelkova on Saturday 5th April 2008. I came with a group who are European volunteers and some of the people I was with had been there before & so walking into the are wasn't as intimidating.the place is striking to say the least and its so refreshing to find a place like this that continues to survive & offer a great alternative night out. I went into the building beside the outside food&drink place& had the best few hours chilling out with my friends, dinking lasko, listening to a really great DJ & watching a cool film.If I'm back this way again I will be visiting the mesto!