Budapest

Every city has its attractions, be they sacred...
2 min read
Leave a comment
Beguiling Budapest!
City slickers in Europe's Western metropolises could certainly learn a lesson or two by taking some time out in Budapest. Despite the hustle and bustle of this 1.75 million strong city, the locals have never lost their sense of perspective. Drinking outside in the city's many 'kertek' (beer gardens and terraces), or blowing bubbles in the famous Turkish bath houses - a legacy of Budapest's time in the Ottoman Empire - are as much part of daily life as traffic jams and a hard slog at the office. The best place to experience this chilled side of the Hungarian capital is undoubtedly amongst the leafy hills of Buda, where a stroll around the the Royal Castle, overlooking the lazy waters of the Danube and the iconic Parliament building, is enough to mellow the most uptight of fellows. Venture across the river and visitors will discover the more frenetic Pest-side, where wide boulevards and squares are lined with cafes and bars, and the city throbs to a magnificent backdrop of East-meets-West architecture.
Whether you're preparing to be beguiled by Budapest, or even if you've already fallen under her magic Magyar spell, Budapest Life aims to be your number one guide to the city. Maybe you're in town for big events, such as the Hungarian Grand Prix or Sziget Festival (August is a busy time in Budapest!), or perhaps you're here to enjoy the spas, bars, nightlife, restaurants and Hungarian culture - whatever your interest in Budapest, we'll keep you informed.
On a practical note, we've got loads of travel advice and information, the lowdown on accommodation, the latest city news, top tips, a five day weather prognosis and an infinitely handy online map; and on a historical note we'll help you become more knowledgeable than the average local on the life-shaping events of the Siege of Budapest and the 1956 Hungarian Uprising. After all that you should be prepared for any Budapest adventure... Especially if you've downloaded our PDF guide to take with you on the plane!
Continuing on from Hungary? Whether you're doing the Vienna-Bratislava route, arriving from Krakow, or heading on to Ljubljana and Zagreb... Our sister websites will give you all the info you need!
Budapest is one of the more reliably sunny cities in this part of the world, but even the Magyar climate has its limitations and if you're arriving in autumn then expect at least a little rain. No need to panic though, there's plenty to do indoors. The Turkish baths make getting wet fun, whilst the House of Terror makes staying dry depressing - but educational to say the least. If the sun does put his hat on then grab a chance for a last pint in the legendary Budapest beer gardens before winter arrives... Time well spent. It can take a little courage to visit Budapest in winter, as the temperatures here can be far from clement, with large snowfalls and bitter winds racing in from Ukraine more years than not. However most visitors would agree their temerity is rewarded by the discovery of a city free from the summer throngs (and indeed thongs) and yet still bustling with a lively events calendar. Of course if it's Christmas you're here for then a trip to the seasonal markets on Vorosmarty Square are well worth braving the cold for.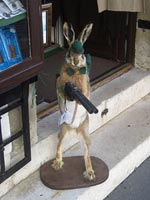 Did you know? The world famous Rubik's Cube, was invented in Hungary by one Professor Erno Rubik in 1974. Originally called the Magic Cube, the colourful box was renamed after its inventor by Ideal Toys company. Since being marketed globally Rubik's Cube is said to be the most popular puzzle of all time with 300,000,000 editions sold worldwide. Despite the mind-boggling 43,252,003,274,489,856,000 permutations possible on the Cube, research has proved that all Cubes can be solved within 26 moves!