Zakopane Poland: An Interactive Guide
Travellers who saw Zakopane in 1997 and again in 2007 will have witnessed a gargantuan transformation. Poland is one of the fastest developing countries in the EU, and it's places like Zakopane and nearby Krakow where you'll see the changes at their most striking.
Put simply, Poland's winter capital is prosperous again. This means that snow-surfers have a cornucopia of accommodation to choose from, whether it's luxury hotels you're after, cosy guest-houses or private apartments. The restaurant and bar trades are also flourishing, so you won't have to wander far to find a platter po goralsku (a la Highlander).
Speaking of highlanders, it's often the people that make a place, and Zakopane is no exception. Famed for their colourful costumes, eccentric singing techniques and phenomenal capacity for glugging vodka, the Gorale are a gregarious bunch. (If anyone challenges you to a lift-the-wooden-table-with-your-teeth-competition, don't fool yourself into thinking you can win - these guys have been doing it for centuries.)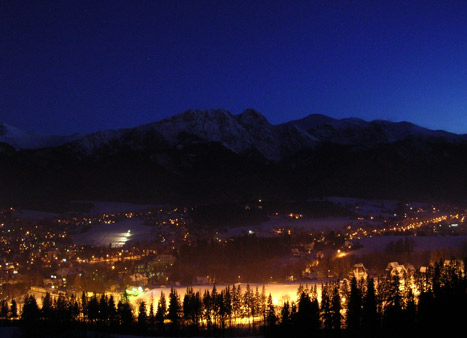 Here at Zakopane Life, we've got oodles of options for travellers who want to find out about life in the alpine lane. Basic tips on travel and on getting around Zakopane itself are complemented by a guide to the town's treasures, as well as a language section for the valiant.
If it's sport you're into, click onwards for our skiing guide to the Tatra mountains, coupled with notes on snow conditions and a weather forecast.
We may not have a chunky book to proffer, but we can pass on a free downloadable PDF guide - just click on the red box on the left for a concise account of what's hot and what's not in Zakopane Poland.
And if time is on your hands, why not rent a car and explore some of the rest of the region? Southern Poland is a treasure trove of both natural and man-made marvels. Prepare to be spellbound by Podhale's wooden churches or the equally amazing salt mines of Wieliczka. And when Mr Sun puts his hat on, travellers can take a trip downriver with a crew of Highland guides.
Last but not least, Zakopane Life warmly welcomes reader comments on bars, shops, hotels and restaurants, so feel free to have a bash!
Comments