Wroclaw Poland - A Survivor's Guide!
We at Wroclaw-life.com would like to extend you a big welcome to Wroclaw, Poland's most dynamic and friendly city! Maybe you're new in town, maybe you've lived here your whole life, or perhaps you've never been to Wroclaw before but are planning a visit - it really doesn't matter! Whatever your interest in this beautiful city we are here to help you make the most of it!
At Wroclaw-life.com we aim to become the number one source to every single aspect of life in Wroclaw: so whether you are a culture-vulture, a man of leisure, restaurant connoisseur, bar lizard or shop-a-holic, our ever-expanding listings will help you make the most of your stay and ensure that you access the very best of everything this city has to offer - and believe us that's a hell of a lot!
Not only are we committed to providing information for all your tourist needs, but with our regularly-updated news and events pages, our recently-added services section, a number of informative articles (Breslau, History, University, Odra - to name but a few) and our rather fantastic (even if we do say so ourselves) Wroclaw map, we aim to become an invaluable resource for anyone living and working here.
Of course we can't do this without your help and feedback, so please share your thoughts with us on any aspect of the site and how we can improve it. And remember a word of praise never goes amiss either!
Finally please bear in mind that we're here to promote and improve the city by giving its visitors and residents (ie. you!) a voice. Use the ultimate democratic tool, namely our review facilities to 'big up' or 'diss' all those places that deserve your praise/criticism. Whether you're the nightclubs expert or museum buff, if you speak you will be heard!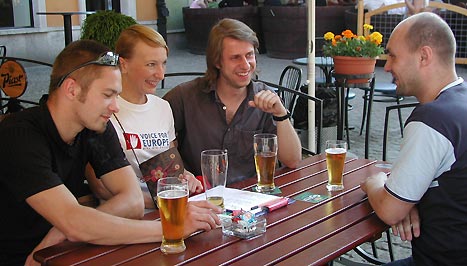 Comments