Odra - the life and soul of Wroclaw!
To try and imagine Wroclaw without the Odra (or Oder to give the river its common German name) is tantamount to thinking of Giza without its pyramids. The city is defined by this great sprawling river with its numerous tributaries and canals, as well as by the 12 islands and over 120 bridges that cross it - all of which bring so much life, character and charm to the Lower Silesian capital. With so many waterways and spans it is little wonder that Wroclaw has been dubbed as the 'Venice of Poland' - although new visitors to the city can take this with a pinch of salt and leave their canoes at home.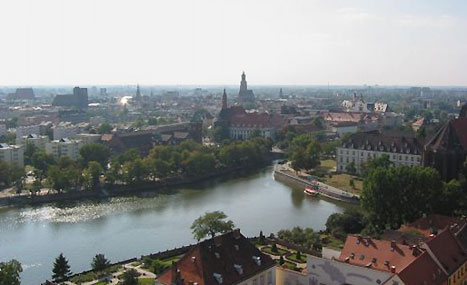 The Odra was known to the Romans as Viadrus or Viadua, and was first referred to as the Odera around 990, when it was documented as the western boundary of early Poland under duke Mieszko I. Over the centuries the river gained more and more importance to Wroclaw, both as part of the trading routes that linked Russia, Germany and Bavaria together (and as such made Polish merchants very wealthy!), and also as a source of life and energy. As early as the 13th century dams were constructed to protect the agricultural industry and water wheels and mills took advantage of the river's current to generate power.
Today Wroclaw has two ports on the Odra and the river continues to play a part in its burgeoning trade economy, forming one of the city's many great transport links.
The Odra is the second longest river in Poland, after the Vistula, covering 742km in Poland and 112km in the Czech Republic, from where it originates in the Oder Mountains. As it nears the Baltic Sea 187km of its length defines the modern day Polish-German border.
Comments