Pirita - Baltic Bliss
When you think of cities that boast great beaches you're more likely to think of Rio de Janeiro and Barcelona than Tallinn. However it is a little known secret that the Baltic coast boasts many a fine stretch of sand and the likes of Tallinn, Riga and Sopot have been popular holiday destinations for locals since the turn of last century.
Only twenty minutes ride away from the Old Town, the Pirita District can seem a whole world away. Three kilometres of white sand, backed by windswept palms, make the Pirita beach the most popular in the region, and on a hot summer's day Estonians hit the resort en masse for sunbathing, volleyball and swimming as well as more adventurous watersports like windsurfing. A far cry from life in the city!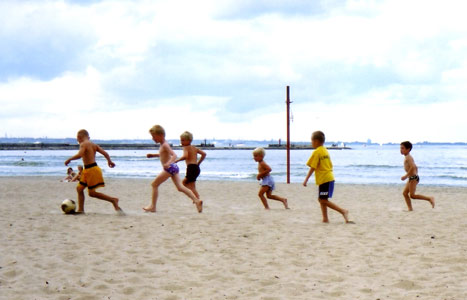 If you're already thinking of ditching the Balearics for the Baltics you probably shouldn't get carried away. Pirita's beach may be beautiful but it's not immune to North East Europe's climate, and to say that sunbathing opportunities are fewer and further between than in the Med. is something of an understatement.
Thankfully Pirita offers many more charms besides sand, sea and sexy girls in bikinis. Between the long stretch of beach and the Mervivalje Tee highway lies a beautiful area of forested parkland: if it's a little too brisk for swimming in speedos, then the many woodland paths provide great opportunities for cycling, rollerblading or just good old fashion walking. The beachfront's most prominent building, the Olympic Yachting Centre (built for the 1980 Moscow Olympics in which Tallinn hosted the yachting regatta) offers a host of diversions. The Pirita Top Spa Hotel boasts swimming pool, spa facilities and other luxuries, whilst outdoor cafes and harboured yachts evoke a taste of the high life... You can even charter one to nearby islands, just ask our friends at Sailing.ee.
If you get nervous about the high seas, then why not try a more low-key jaunt on the scenic Pirita river. You can hire out boats, canoes and pedaloes on the river bank and head upstream for a bit of outdoors adventure. The marshland to the North is a protected nature reserve and provides plenty of photo opportunities.
Back on terra firma and there's still a few gems left to uncover. Foremost are the famous ruins of St. Bridget's Convent. Built in the first half of the 15th Century the convent came a cropper in the Livonian War against Ivan the Terrible in 1577. Since then it has been an impressive skeleton on the landscape.
Also worth checking out if you are flush for time are the Botanical Gardens and Tallinn Television Tower, about 2km inland. The Gardens are a horticulturalist's dream with around 8,000 species of plantlife, whilst the Soviet eyesore justifies it's exsistence with amazing vistas over Tallinn and its environs from an 170m high viewing platform. On a clear day you can even see Helsinki!
You can reach Pirita from the Old Town by buses 1, 1A, 8, 34, or 38, or alternatively jump in a taxi.
Comments
wasn;t expecting to find such a nice beach in Tallinn Estonia! Great, an awesome city and a beach resort too:)
Reply