Party Time!
The Riga nightlife is deservedly considered amongst the best in Eastern Europe - and even on a par with the celebrated Tallinn nightlife. So what is it exactly that makes Riga's party scene worth travelling for? Well the high concentration of pubs, cafes and bars in the Old Town (many with outside seating in summer) is certainly a major draw and newcomers to the city will have plenty of fun if getting the drinks in is a top priority. British style boozers and Irish Pubs rub shoulders with swanky bars and trendy cocktail lounges so you're almost bound to find a place to call home.
For our money the Orange Bar is worth a look in, whilst PuPu can be great fun on the right night and the popular Skyline Bar in the Central District is rarely less than heaving. Meanwhile Martini on the main strip of Kalku iela boasts gogo dancers wiggling their botties on the bar. There's usually something going on here if nowhere else, although the manager is clearly aiming to draw in as many drooling stag lads as possible! For a more comprehensive guide to Riga's watering holes check out our nightlife directory.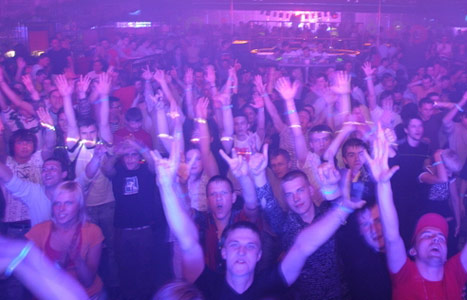 Of course no nightlife connoisseur will want to leave Riga without first having sampled some of the clubs. There's a decent number and range on offer, although discerning party-goers will have their choices limited by their own good taste. If you are something of a club snob then Nautilus is probably the best bet for you. There are the inevitable posers and hangers-on but underlying is a core of funky youngsters who actually know the difference between house and techno, adding some much-appreciated authenticity to a night out here. Meanwhile Club Essential is a bit bigger and cheesier, but well worth a visit, especially if they've booked a big name DJ. The likes of Deep Dish and Lee Coombs have manned the wheels of steel this summer! Bigger and cheesier still is La Rocca - a favourite with Riga's Russian community. The music policy is a bit more commercial, but you can't turn your nose up at Ferry Corsten who graced the decks there recently. The antidote to all this thumping bass is Pulkvedim Neviens Neraksta. Riga's most reliable nightlife player for 15 odd years, 'The Colonel', as it is affectionately known, has an atmosphere that's hard to beat and stays busy even during the week.
If conventional nightlife holds about as much appeal to you as a dip in the Daugava river in December, then you'll be pleased to know that Riga also has a scattering of hip alternative venues. Kick back and relax at the I Love You cafe or John Lemon bar, amongst fellow bohemians, before jumping up and down in a deranged fashion at the legendary Depo club. Mayhem guaranteed.
Bars galore, clubs rammed with beautiful people, and a small but healthy alternative scene... Are there any downsides to Riga nightlife? There certainly are. With an increasing number of cheap flights making Riga accessible from almost anywhere in Europe, more and more tourists are heading to this Northern gem. Unfortunately for the unsuspecting locals, and possibly you too, a large number of these additional tourists come in the form of British stag groups - drawn by the irresistable double whammy of cheap beer and good-looking women. These guys may just be here for some harmless fun - but class they ain't. If you don't want to spend your night talking to Bazza and his thirty drunken mates you should consider coming to Riga out of season, partying during the week, or at least sticking to the harder to find venues.
Meanwhile the Riga powers that be, who seem happy to speak out against stag tourism in order to appease weary locals, should perhaps think about closing down some of the many strip bars, go go joints and brothels that appeal to 'lads' in the first place - if they don't want their city to become famous for the wrong reasons. As stags bring in a considerable amount of money to the city however, the temptation is always to sell out for the quick buck, without thinking of the long-term ramifications.
Comments