Sukiennice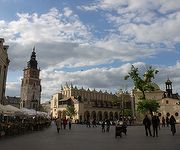 Website

Address

Rynek Główny 1
Local Life Krakow is about to select candidates for Best Places awards, dedicated to rewarding and encouraging excellence in products, service and ideas. You are helping us to make the best choice.


Sukiennice has 0 votes. Click here to see the results.


You can vote once a day for your favourite place.
Editor's review
Though an architectural marvel and a centre of Cracovian life in its own right, the Sukiennice (Cloth Hall) offers something else hidden inside its great hall - shopping! No visitor to Krakow will want to miss a chance to gaze at and purchase some genuine Cracovian souvenirs, like t-shirts, mugs, beer and shot glasses, wooden chess sets, or one of the thousands of pieces of amber jewellery on display. The good news is, it's right smack in the middle of Krakow's Market Square, so you couldn't miss it if you tried!
Editor
Editor & Krakow Local
Reviews