Translatorion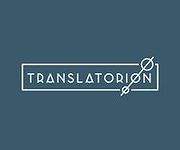 Phone

+48 783 500 669

Website

Address

Cieszyn
Local Life Krakow is about to select candidates for Best Places awards, dedicated to rewarding and encouraging excellence in products, service and ideas. You are helping us to make the best choice.


Translatorion has 0 votes. Click here to see the results.


You can vote once a day for your favourite place.
Editor's review
Translatorion is a pair of translators who have a lot in common: many years' experience, professional approach to the client, respect for language, and love for cats (and CATs).
This Translation Agency offers translations in the following language pairs:
Polish to English // English to Polish
Spanish to Polish // Spanish to English
Not a big company but an effective one – ensuring personal, direct contact and smooth, simple communication. As a pair of linguists, they're guided by linguistic accuracy and precision to provide you with clearly translated texts and help you put forward your message. They don't waste words – quality, professionalism, and punctuality are crucial to them. They're based in Cieszyn, a small town situated on the Polish-Czech border, but there are no geographic borders when it comes to their cooperation with clients.
Editor
Editor & Krakow Local
Reviews
We used this translation company - friendly and straightforward, they produced a high quality translation which maintained our voice & vision.
Reply
Praca biura Translatorion, to nie tylko doświadczenie, profesjonalizm, pasja tworzenia, ale i ważenie słów w najlepszym tego słowa znaczeniu!
Reply