Kiermash Local Design Market // Christmas Edition
Sat 14th
Dec
11:00 - 19:00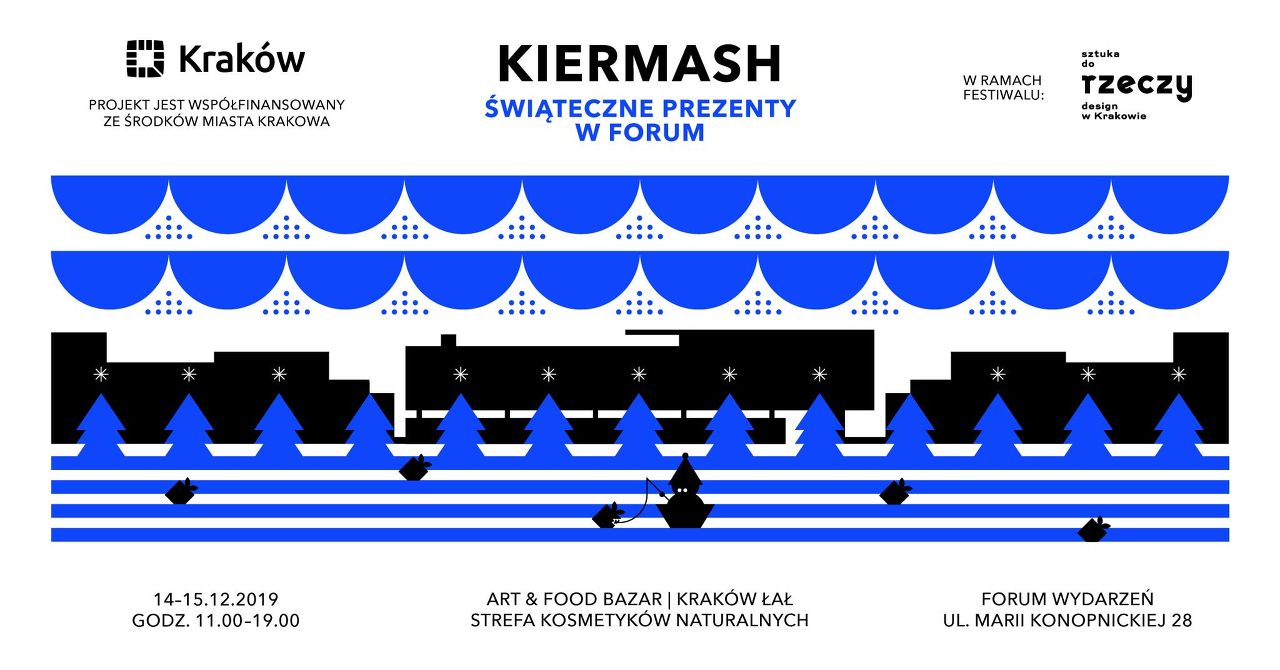 Imagining Christmas without a Christmas tree, beetroot or pierogi is as hard as imagining pre-Christmas Krakow without Kiermash!

21st Edition of Kiermash - the largest independent fashion and utility design trade fair in Małopolska will take place on 14th & 15 December in the well-known space of Hotel Forum Kraków.

Every Kiermash is unique in its own special way and this year won't be any different, you'll have a chance to buy much more than just clothes, accessories and gadgets directly from Polish designers. Looking for remarkable CHRISTMAS GIFTS? You have come to the right place.

Everything Polish and local, can it get any better? Christmas is right here ...
Kiermash #closertofashion #closertolocals


Kiermash #closertofood
Kiermash is not truly Kiermash without delicious food provided by the Art & Food Bazar. Local producers, fresh ingredients, best quality and international culinary inspirations. We're already hungry…


We don't forget about Kids!
Kiermash #closertokids
A lot of gift inspirations for Santa will be provided by Kraków ŁAŁ, where you can find stylish clothes, room furnishing, toys, jewellery and much more surprises


Kiermash #closertonature
Your daily skincare will benefit from natural cosmetics made with eco and vegan products available in our natural cosmetics zone


Kiermash #closertochillout
Right after shopping and food madness we're inviting you to our partner - BoConcept chill zone, where you can catch your breath and relax surrounded by genuine Scandinavian design



And all of that with good music!
Kiermash #closertomusic


We're not done with the surprises… Spacious interiors of Forum will be filled with scent of real, fresh Christmas trees from Leszczyna - a farm near Kraków. They will be sold in front of Forum - great reminder about Christmas and also Kiermash. After the fair trees used for decoration will get a second life thanks to the Zarząd Zieleni Miejskiej w Krakowie
Kiermash #closertonature


What more could you want?!


COME TO KIERMASH!
#kiermashpeople


pakamera.pl - online multibrand with Polish designers - has been a partner of Kiermash for several editions. During the December edition of Kiermash, pakamera.pl will be giving out eco-bags with graphics designed especially for this event.

For more news follow us on Facebook and Instagram:

www.facebook.com/Kiermash/

www.instagram.com/kiermash/
Kiermash vol XXI // Christmas Gifts in Forum
December 14 – 15 2019, 11:00 – 19:00
Hotel Forum
ul. Marii Konopnickiej 28, Kraków

Free Entry