17th Krakow Mountain Festival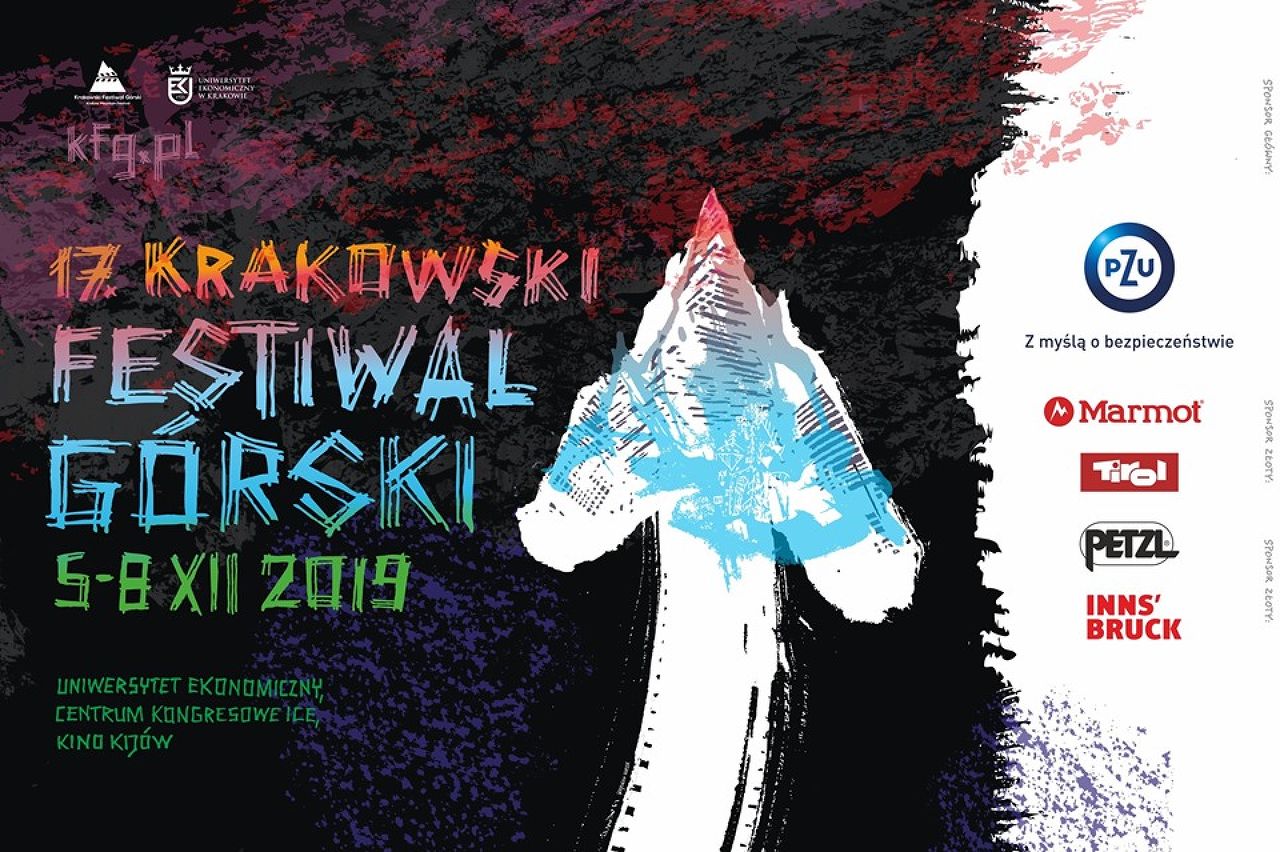 This is one of popular mountain/climbing events in Poland and one of the largest mountain festivals in the world. Attracting incredible talent from all fields (rock climbing, ice climbing, mountaineering, running, skiing, snowboarding, biologists, anthropology, photography, film/documentary making, directing etc.), it's no wonder that every year the Krakow Mountain Festival also attracts sell-out crowds.
The Krakow Mountain Festival and the peaks and valleys of the world which it celebrates are incredibly diverse, as are the reasons people are drawn to them. This festival is a reflection of just how powerful a force of nature these voluptuous giants really are. Creating life slowly, yet often destroying it in seconds. A remote safe harbour for rare animals and plants. A catalyst for philosophical enlightenment. An artists muse. A challenger, a competitor and a partner in endurance. An enemy and a friend. A home. A lifestyle. God.
The Krakow Mountain Festival expresses the infinite influence of these ancient peaks on unique people through a variety of mediums. This is a forum for shared and individual experience with an eternal entity that can belong to no man. Scroll down for the full program.
---

"Between the 5th and 8th of December 2019, climbers, adventurers and travellers from all over the world and from all corners of Poland will come to Krakow. We will discuss, share stories and admire photos from the most important expeditions that have taken place this year. It doesn't matter whether your passion is rock, ice or snow – we may be different but we are all united by one quality: curiosity of the world and love for pushing the boundaries. Are you one of us? So you can't miss this event!
Of course, we are talking here about the Krakow Mountain Festival that will take place for the 17thtime. It will happen in December because it's the best moment to sum up the whole climbing year. Rock climbing and big mountain seasons are over, while winter climbing hasn't fully begun yet. That's why we invite to Krakow famous climbers, mountaineers, trail runners and ski alpinists (and, of course, also other people connected with the mountains) to share with us stories of their adventures. We also invite you to come and listen to those fascinating tales but also to share your own experience with us. Only in this way we will be able to build a mountain community. The Internet will not manage to substitute this genuine experience.
What's new?
This year we will use new venues. The Festival keeps growing and its energy is too big to be contained only within the Cracow University of Economics. This year, thanks to closer cooperation with the Krakow City Council, the Festival will partly take place at the Krakow Conference Centre ICE. The most important events of the Friday night will be hosted in conference rooms and the theatre hall of this prestigious building.
A mountain film block – presented at the Kijów Cinema on Thursday (5th December) – will play the role of a nice warm-up before the weekend full of attractions. While on Saturday and Sunday, the majority of Festival events will move back to the Cracow University of Economics.
Who will visit us?
The Festival stage will host the very elite of rock and sport climbers, mountaineers, alpinists and big wall experts. Just to reveal a part of the secret… The long list of our renowned guests will include among others:
Thomas Huber
Andy Kirkpatrick
Marek Raganowicz
Anna Stöhr
Jakob Schubert
Said Belhaj
Dmitrij Golowchenko and Siergiej Nilow
Jim Herrington (photographer)
Krakow Mountain and Climbing Awards
For the second time, prizes for exceptional achievements in mountaineering and sport climbing will be awarded during the Krakow Mountain Festival. This year there will also be a new prize honouring exceptional mountaineering accomplishments whose character exceeds merely sport aspects.
International and Polish Film Competitions
Traditionally, one the most important points of the Festival will be mountain film competitions. Presented films will compete in two categories: the International Film Competition and the Polish Film Competition. We hope that some of the films will have their international or Polish premières at our Festival! Entries for the competitions are being accepted at the moment so don't loiter and hurry up to register!
Are you an explorer? Adventurer? Rider? Wanderer? Climber? Come and visit us at: KFG 2019 – Krakow, December 5-8, 2019 " - Festival Website
---
Program
---
Thursday, December 5
---
Kijów Cinema, al. Zygmunt Krasiński 34
19: 00-22: 00 - International Film Competition
---
Friday, December 6
---
ICE Kraków, ul. Maria Konopnicka 17
Theater Hall - S2
12: 00-15: 00
"Eco and sustainable outdoor" - lectures and discussions about the role that the industry and the outdoor community should play in the era of climate challenges
15: 00-22: 45
International Film Competition
Lectures - Jim Herrington , Andy Kirkpatrick
---
Area next to rooms S3 and S4
12: 00-21: 00
Bar, chill-out zone and sponsor presentation points, first aid workshops, Safe Kazbek, children's area
---
Cinema room S3a
12: 00-22: 30
International and Polish Film Competition
Cinema room S3b
12: 00-22: 30
International and Polish Film Competition
Lectures and workshops
---
S4a conference room
12: 00-22: 00
Lectures, workshops and literary meetings
S4b conference room
10: 00-22: 00
Workshops for children, panel discussions, workshops
---
Saturday, December 7
---
Cracow University of Economics (UEK), ul. Rakowicka 27
Didactic and Sports Pavilion
9: 45-21: 30
Fair of clothing and outdoor equipment
UEK, Main festival hall
10: 00-14: 30
Polish Film Competition
Lectures by Polish climbers
14: 45-22: 45
Lectures. Jakob Schubert, Anna Stöhr, Said Belhaj, Thomas Huber.
International Film Competition
KFG Awards: Performance of the Year, Mountains-Values, Climbing Legend
---
UEK, Sala no. 9
10: 00-22: 45
Workshops, lectures, discussions.
Polish Film Competition
---
UEK, Sala No. 8
10: 00-20: 00
Workshops, lectures, discussions
---
Sunday, December 8
---
Cracow University of Economics (UEK), ul. Rakowicka 27
Didactic and Sports Pavilion
9: 45-16: 30
Clothing and outdoor equipment fair
UEK, Main festival hall
10: 00-11: 15
Polish Film Competition
11: 30-16: 15
Lectures Dmitry Golovchenko, Marek Raganowicz
KFG Film Awards
17: 30-19: 30
The final of the boulder competition on the 100th anniversary of KS Korona
---
UEK, Sala no. 9
10: 00-16: 00
Workshops, lectures, discussions.
Polish Film Competition
---
UEK, Sala No. 8
10: 00-15: 00
Workshops, lectures, discussions