I, Sendler: Barakah Theater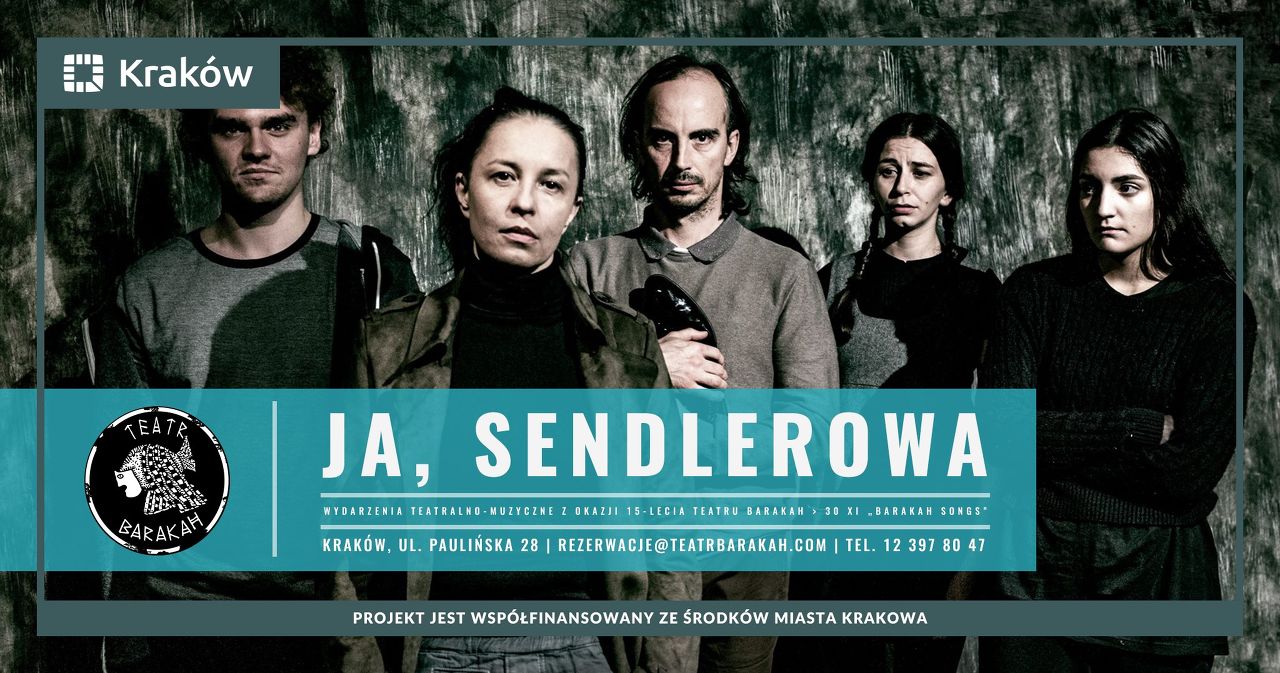 "I, Sendler. I declare war on Hitler! Oh yes! Come on! Combed in clove and all combed in clove. Such a shaft! What will a psychopath be here for me, introduced some of his principles of interpersonal hygiene. I won't leave it. Because anger burns in me, I'm pissed off because I don't really like it all very much and I'm not going to do anything about it. " Rescued children versus dead children. Bitter equations and statistics. The heroism of the person who saved many Jewish children, heroism being a drop in the sea of ​​blood. A woman leading an uneven fight against death, meanness, a pragmatic equation of strength.

Sendler appears as a symbol of intransigence in the world of risky choices, a symbol of the struggle for peace, personal independence, also as a symbol of interpersonal empathy fighting with a ruthless, cold machine. But "I, Sendler" Sendler #just #independent is also a story about taking over a personal story for a collective sense of comfort, a story about the ultimate loneliness of heroism, disappointment, and about the loneliness of man against the cruelty and indifference of the world. "
director: Ana Nowicka
text: Bartek Harat
music: Adrian Konarski
stage design and costumes: Monika Kufel
choreography: Kasia Kleszcz
cast: Ala Czarnik, Ola Konior, Monika Kufel Łukasz Gawroński, Karol Śmiałek
Release date: 11 Nov 2018
---
TICKETS: PLN 40/30

Purchase:
- http://teatrbarakah.com/barakah-wp/bilety / Mon-Fri. at 10: 00-17: 00 at the box office of the Barakah Theater at Paulińska 28 / before the concert (if any)

Booking:
rezerwacje@teatrbarakah.com / 12 397 80 47
---
---
Polish:
""Ja, Sendlerowa. Wypowiadam wojnę Hitlerowi! O tak! No chodź! W ząbek czesany i wszyscy w ząbek czesani. Takiego wała! Co mi tu będzie jakiś psychopata wprowadzał jakieś swoje zasady higieny międzyludzkiej. Nie zostawię tego. Bo płonie we mnie gniew, bo jestem wkurwiona, bo bardzo, naprawdę bardzo nie podoba mi się to wszystko i nie mam zamiaru nic z tym nie robić".

Dzieci uratowane kontra dzieci martwe. Gorzkie równania i statystyki. Bohaterstwo osoby, która uratowała wiele żydowskich dzieci, bohaterstwo będące kroplą w morzu krwi. Kobieta prowadząca nierówną walkę ze śmiercią, podłością, pragmatycznym równaniem siły.

Sendlerowa występuje jako symbol nieprzejednania w świecie ryzykownych wyborów, symbol walki o pokój, niepodległości osobistej, także jako symbol międzyludzkiej empatii walczącej z bezwzględną, chłodną maszyną. Ale "Ja, Sendlerowa" sendlerowa # sprawiedliwa # niepodlegla jest także opowieścią o przejmowaniu osobistej historii dla zbiorowego poczucia komfortu, opowieścią o ostatecznej samotności bohaterstwa, rozczarowaniu oraz o samotności człowieka wobec okrucieństwa i obojętności świata."
---