REALITIES: Patchlab Digital Art Festival 2019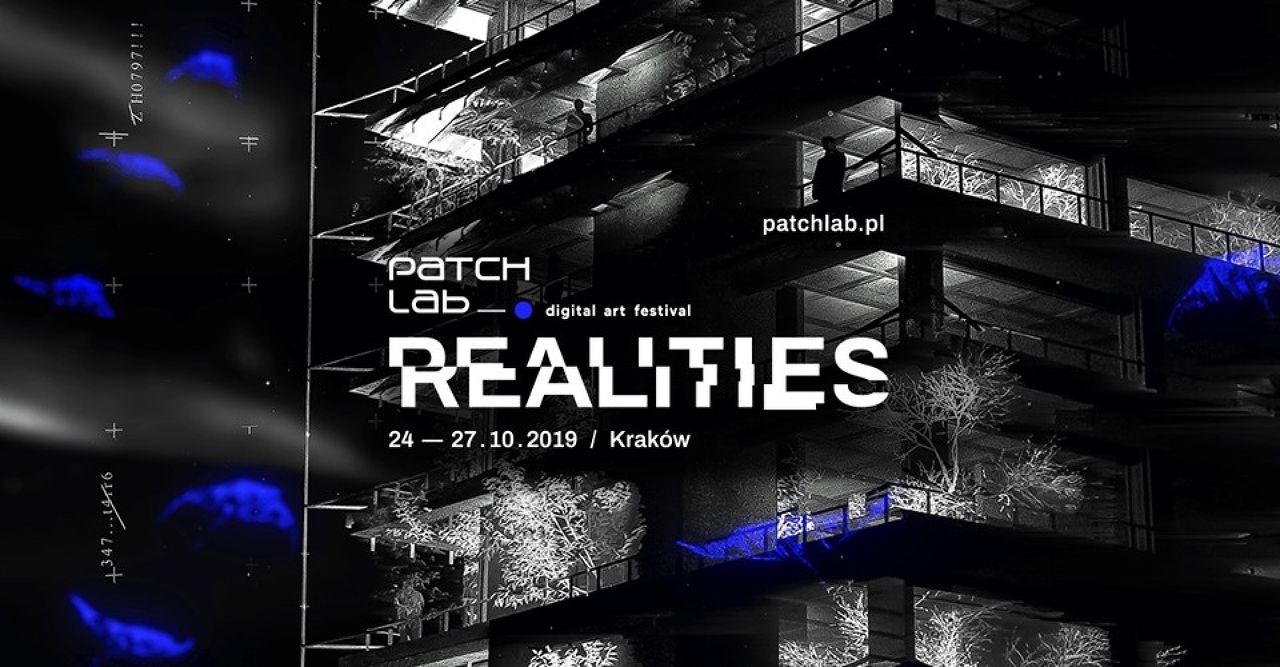 Immerse yourself in the parallel digital worlds. Under the theme of 'REALITIES', this year's Patchlab questions these parallel universes, the true cost, the true value and the multiple realities of the lives we live through them - experiencing & experimenting through 360° audiovisual shows, VR & AR, exhibitions, concerts, performances, dj sets, films, workshops & more.
24th - 27th October
Official Website // Facebook // Full Program // Artists // Festival Places
---
---

REALITIES. Patchlab 2019 Digital Art Festival
---
The theme of the 8th edition is REALITIES. Parallel to the increasingly polarized and climate hazard reality, man creates digital worlds. What they are and what functions they perform will be explored by the creators and artists of the festival, seeking answers to a number of questions. How digital narratives are based on reality and how much they are an extension of the creations of human dreams? How is personality being transformed in the digital world? And finally, do parallel spaces isolate from the physical world or rather broaden human perception and functioning in reality?
You will be able to look into parallel digital worlds, immersing yourself in virtual and augmented reality, in interactive films and immersion audiovisual shows in 360 ° format. There will also be a unique opportunity to create and see your own avatar. The festival program includes exhibitions of interactive works, VR and AR, performances and audiovisual concerts, DJ sets, workshops and meetings.
Below we announce the first part of this year's program.


/ EXHIBITION | 24-27.10

Galeria Bunkier Sztuki
vernissage 24.10 | 18:00
@Sufferosa | The Kissinger Twins (PL)

Wystawa @Sufferosa w ramach Festiwalu Sztuki Cyfrowej Patchlab

Małopolski Ogród Sztuki
vernissage 24.10 | 20:00

The Lacuna Shifts | DEPART (AT)
Faced2faced | Natalia Alfutova (RU)
Chernobyl VR Project | The Farm 51 (PL)
Hyper-Reality | Keiichi Matsuda / 松田K (UK)
Merger | Keiichi Matsuda (UK)
Average face mirror | Sarah Howorka (AT)
Enchanted Painting | Daan Kars (NL), Giulia Tosi (IT)
Mikifon | PanGenerator (PL)
Visage | Laszlo Zsolt Bordos (HU)
Pamięć Przestrzeni | Ari Dykier (PL)
Vitrails | Collectif Continuum (GR)
AR_U? | projekt AR Polsko-Japońska Akademia Technik Komputerowych
diSpray | Tomasz Miśkiewicz (PL)


/ AUDIOVISUAL PERFORMANCES
24.10 | 21:00 | Małopolski Ogród Sztuki
Faced2faced | Natalia Alfutova (RU)

AV Night
25.10 | 20:00 360° Gallery (HEVRE+1)
Croix | franck vigroux (FR)
Orage Magnétique | L'AGE D'OR (FR)
Noise Procedure | Stefanie Egedy (BR), Daan Kars (NL)
/ SCREENINGS
Małopolski Ogród Sztuki
24.10 | 20:00-22:00
25-27.10 | 16:00 - 20:00
Selection of computer animations awarded by the Ars Electronica Festival

/ MUSIC PROGRAM
24.10 | 22:00 | HEVRE+1
Festival opening party - Krakowitz (PL) & no-art (PL)

26.10 | 22:00
Patchlab Festival & Szpitalna1 present Zenker Brothers

Zenker Brothers (Ilian Tape / Munich)
Olivia (Unsound/Radar/Krakow)
Charlie (Szum/Krakow)
Daniel Drumz (U Know Me Records / Krakow)
Discomule (Unitrax/Krakow)
Anatomy of Mashup (Techno Rączka / Krakow)
Tving Stage Design (PL)

27.10 | 21:00 | Hevre+1
Festival closing party - DJ Zenhsin (AT)

/ LECTURES & MEETUPS
25.10 | 13:00
Wydział Intermediów ASP, Wzgórze Krzemowe
Spotkanie z rezydentami Galerii 360°
Thomas Köner (DE), Nicholas Carn (UK), Robert B. Lisek (PL)

26.10 | 16:00 - 18:00 | Małopolski Ogród Sztuki
Oprowadzanie z artystami po wystawie REALITIES

26.10 | 19:00 | Hevre+1
Patchlab Festival & 3D Community: Kraków
Chernobylite. Dorian Loewe i Wojciech Włodyga / The Farm 51
Character Artist & Animator w Awaken Realms - MASKS Agnieszka Pogan
XR Institut. Maciej Gniady, Michał Hyjek

/ WORKSHOPS
25.10 | 14:00-19:00
Pawilon Wyspiańskiego
Masterclass: Artist and promotion - The art of making an interview.
Host: Wiktor Obrok, Niezależna Szkoła Filmowa Offmaster

26.10 | 12:00-19:00
Arteteka Wojewódzkiej Biblioteki Publicznej w Krakowie
AR curious - Create your own AR project.
Host: Olga Wroniewicz, PJATK Warszawa

More program details: patchlab.pl

The project is co-financed by the City of Krakow.