ATTACK OF GIANTS / Insectivorous Plant Festival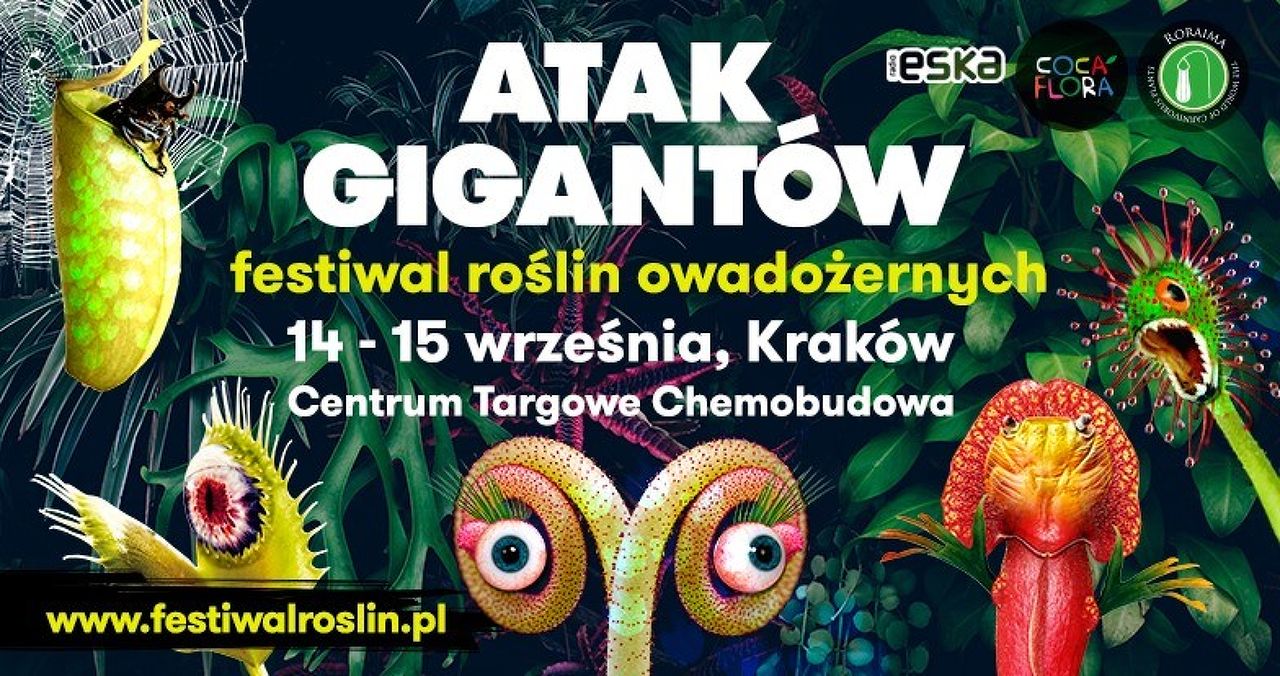 Enter the amazing, magical land! See spectacular green monsters in action! They can count, dance and even measure time!
Insectivorous Plant Festival is a gigantic show. The world's largest living exhibition, unique shows, lectures, madness of various attractions for both adults and children. Discover natural wonders, see phenomenal arrangements with specimens from nearly 40 countries!
Take part in a colourful, extremely fragrant adventure among thousands of the most magnificent flowers. The voracious nepenthes, agile flycatchers, majestic hoodlums and greedy sundries will finally show what they can do! The event is completely new in the world of entertainment. Has a unique style and character. Importantly, it also emphasizes the educational aspect of the participants.
Events accompanying the Festival:
International Exhibition of Orchids,
Bonsai and Succulents (entry ticket included in the price of entry to the Festival - no additional fees)
Timetable: Soon!
Participation in workshops, lectures and shows is included in the ticket price. No additional fees.
Place: Chemobudowa Trade Fair Center, Stanisława Klimeckiego 14, 30-706, Krakow
Opening hours: from 10:00 to 18:00 (Saturday) from 10:00 to 17:00 (Sunday)
Tickets: https://www.ebilet.pl/biznes/wystawa/festiwal-roslin-owadozernych/?partner=festiwalroslin
NOTE
You can buy an admission ticket for any day, e.g. Saturday, and use it only on Sunday (or vice versa) - at no additional cost. We collect this data only for statistical purposes. The number of tickets in the promotional price is limited! Additionally, with a ticket bought online you enter as a VIP, without any queues!
Normal: 25 PLN, Discount: 19 PLN, Family 2 + 2: 69 PLN, Family 2 + 3: 86 PLN
Prices at ticket offices: Normal: 35 PLN, Discount: 25 PLN, Family 2 + 2: 89 PLN, Family 2 + 3: 110 PLN
Discounted tickets are available to: children, pupils and students up to 26 years old, pensioners, pensioners and the disabled (persons using the discount must provide necessary documents such as ID cards, rulings, etc.)
Children up to 3 years old - free admission (guardians must provide a document confirming the child's date of birth)
Free parking!