Unsound Festival 2019: Solidarity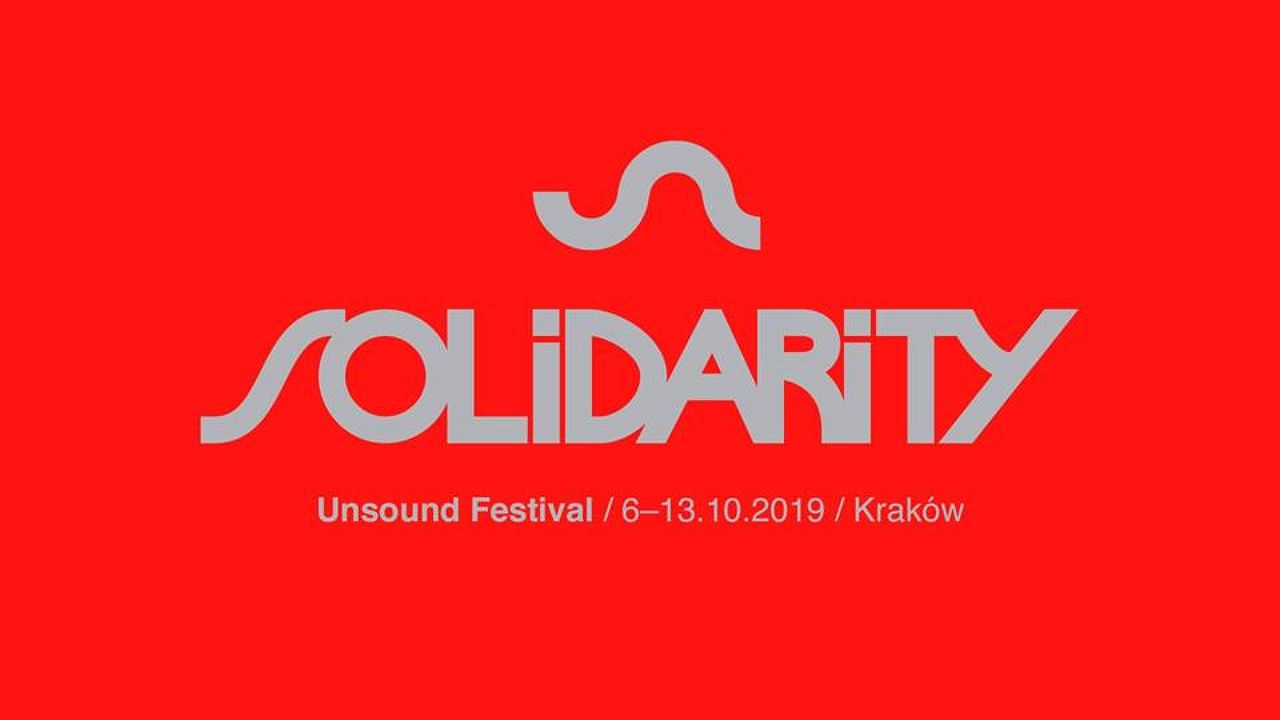 Krakow's Unsound Festival has, over the years, established itself as a mainstream event in the city's cultural calendar while at the same time maintaining its avant-garde integrity. It's not just about the range of acts that clamour to join the programme - though these are richly varied and can include anything from experimental to neoclassical, noise to dubstep, and electroethnic to unexplainable. It's also the quality of the festival that stands out, and the rich body of accompanying events such as workshops, panels, exhibitions and film screenings.
But don't just take our word for it. The influential online electronic music magazine Resident Advisor has ranked Unsound as the second-best festival in October (in the world), a first for any Polish festival. The magazine wrote: "Poland continues to stake its claim for a place among Europe's premier festival destinations, and perhaps the most intriguing of the nation's offerings is the seven-day Unsound Festival".
Each edition has been more ambitious than the last, and with it's 2019's poignant theme of 'Solidarity', we're sure that this year is no exception.
"At a time of widespread instability, solidarity is a word that belongs to no one group. It takes as a starting point the 30th anniversary of democratic elections in Poland, a result of protests that spread across Central and Eastern Europe. Thirty years on, the festival will explore what solidarity means today, in the context of the wider world and Unsound.
The theme considers how we might exist at a time when optimism itself can feel like an act of resistance, when history has not ended as Francis Fukuyama predicted, but assails us in a disorienting present through a 24-hour news cycle and the relentless churn of social media. With ecological, economic and democratic systems in crisis, how do we fight isolation and distraction, to collectively and positively imagine possible futures and shared purpose? How do we look for solidarity beyond borders and passports? What does solidarity mean in relation to ecosystems and the beings that inhabit them?
The theme is embodied in the very idea of what Unsound is - a festival around which a global community has formed, raising questions of how collective experience generates kinship and takes on wider meanings.
Solidarity will explore how music unites, both on a sonic level via its presence in a physical space or online, as well as culturally and politically, through scenes, collectives and movements. Are the platforms fostered by corporations ever really communities — and how are forms of solidarity commodified and rendered impotent? How can notions of empathy and collaboration be reconciled with the myth of the solitary creator? Does the present moment demand colour and light in response to the bleak, unstable reality around us? What is an alternative to algorithm-driven platforms that exploit artists financially? What forms might protest music take in 2019?"
Offical Website // Facebook Event
Music program:
○ 33EMYBW presents Arthropods (CN, world premiere)
○ 8ULENTINA (US) - dj
○ Anthony Pateras presents This Ain't My First Rodeo (AU)
○ Bastarda Trio (PL)
○ The Caretaker & Weirdcore (UK, world premiere)
○ CCL - dj (UK/US)
○ Deena Abdelwahed - dj (TN)
○ DJ Marcelle - dj (NL)
○ Dreamcrusher (US)
○ Eli Keszler & Nate Boyce present Pedagogy (US, European premiere)
○ Emptyset presents Blossoms - live (UK, world premiere)
○ Eris Drew b2b Octo Octa - dj (US)
○ Felicia Atkinson (FR)
○ FOOZOOL - dj (US)
○ Gabber Modus Operandi - live (ID)
○ Goat (JP)
○ HHY & The Macumbas + HHY & The Kampala Unit (PT/UG, world premiere)
○ Holly Herndon presents Proto (US/DE)
○ Hyph11E b2b Slikback D'Njau - dj (CN/KE)
○ Jasmine Infiniti - dj (US)
○ Jay Mitta & Ant Virus - live (TZ, European premiere)
○ JD Twitch presents Against Fascism Trax - dj (UK, world premiere)
○ Ka Baird (US)
○ Lingua Ignota (US)
○ LOFT (UK)
○ Lsdxoxo - dj (US/DE)
○ Luz - DJ - dj (BE/DE)
○ Manara - dj (UK)
○ Matias Aguayo presents Support Alien Invasion (CI/DE, world premiere)
○ Matmos presents Plastic Anniversary (US)
○ Mc Yallah & Debmaster (UG/KE/FR)
○ MCZO & Duke - live (TZ)
○ Monster DJ - dj (PL)
○ Moor Mother & London Contemporary Orchestra present The Great Bailout (US/UK, world premiere)
○ MSYLMA feat. Zuli, Karim el Ghazoly & Omar El Sadek (SA/EG/CZ, world premiere)
○ Nazira - dj (KZ)
○ The Necks, Ilan Volkov & Sinfonietta Cracovia (AU/IL/PL, world premiere)
○ Objekt × Ezra Miller - live (DE/US)
○ Olivia & Chino present Radiation 30376 - live (PL, world premiere)
○ Osheyack & Adam Dupré present Memory Hierarchy (US/CN, world premiere)
○ Paula Temple - dj (UK)
○ Population One aka Terrence Dixon - live (US)
○ Prison Religion - live (US)
○ Robert Henke presents CBM 8032 AV (DE, world premiere)
○ The Round Table Orchestra (PL)
○ SHERELLE b2b FAUZIA - dj (UK)
○ Sote presents Parallel Persia (IR)
○ Sunn O))) (US)
○ Teki Latex b2b Betty - dj (FR)
○ TETO PRETO (BR)
○ upsammy - dj (NL)
○ Violet - live (PT)
○ Vladislav Delay feat. AGF presents Rakka (FI)
○ VTSS - live (PL)
○ WIXAPOL S.A. presents PRZEŚNIONA REJWOLUCJA / DRAEMT-THRU RAVEOLUTOIN - live (PL, world premiere)
○ YEN TECH presents Hypercanto (KR/US/CN, world premiere)
○ Zimpel/Shackleton (UK/DE/PL, world premiere)

Talk program:
○ Ayesha Hameed (UK)
○ DeForrest Brown, Jr. (US)
○ Ewa Majewska (PL)
○ Jan Sowa (PL)
○ Jaśmina Wójcik (PL)
○ Jay Springett (UK)
○ John Higgs (UK)
○ Mat Dryhurst (US/DE)
○ Nathalie Olah (UK)

Film program:
○ Black to Techno (UK/NG)
○ Hail Satan (US)
○ Hi, AI - Love Stories From The Future (DE)
○ SIKSA. Stabat Mater Dolorosa (PL)
○ Solidarność według kobiet (PL)
○ Symfonia Fabryki Ursus (PL)