Bulwar[t] Sztuki - Boulevard of Art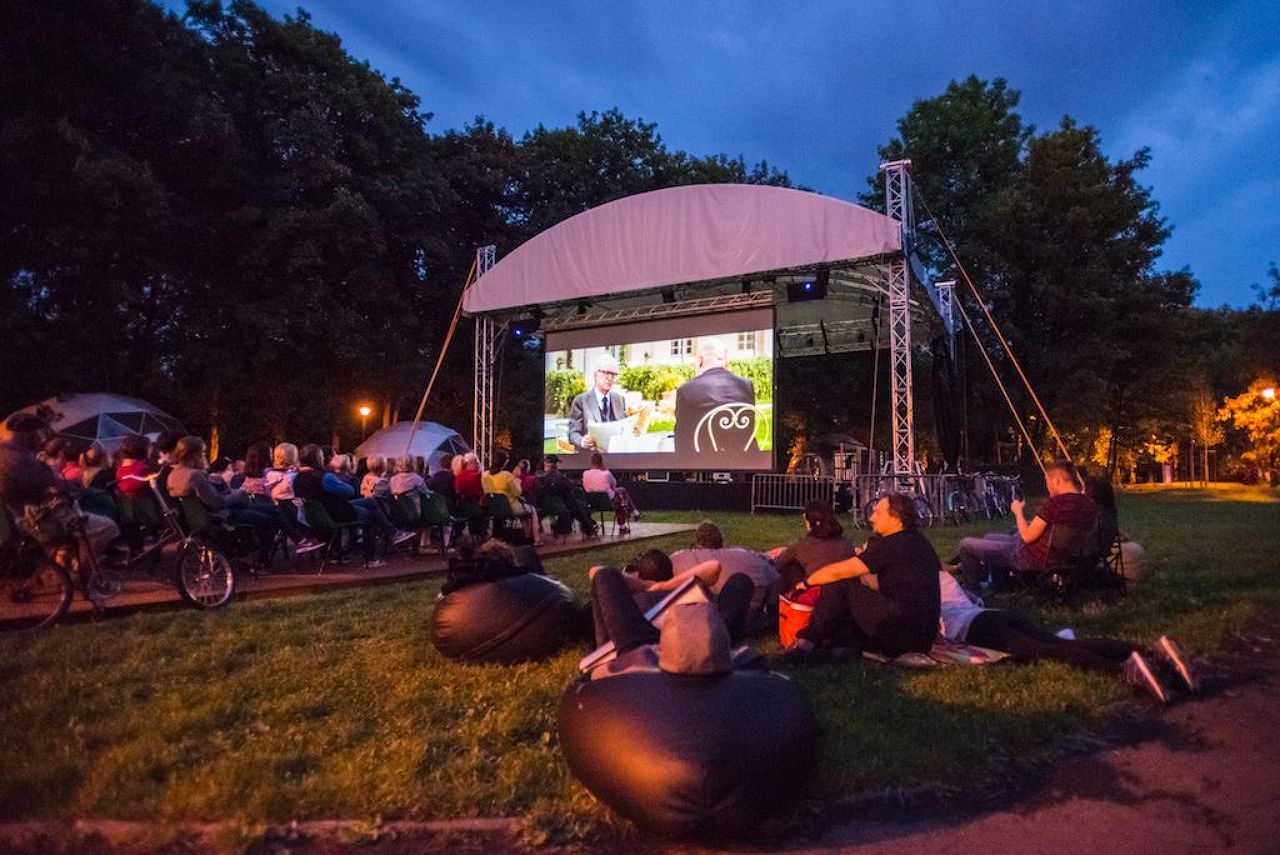 "Down by the banks of the hankey pankey where the bullfrogs jump from bank to bankey with a hip hop, belly flop one two three four five six seven eight" *punch friend in the stomach* "bellyache!"
Remember that fun children's hand clapping game with violent ends?
Well Bulwar[t] Sztuki might be on the banks of the river and there will be plenty of jumping around and hip hop, maybe even some belly flops and some hankey pankey... but definitely no punching your friends in the stomach. Replacing that is a summer filled with theatre, dance, music, singing, dancing, sport, outdoor activities, art - workshops, singing, dancing, concerts, performances, film screenings under the stars & so much more! This series of events runs from June 27 to September 1 this year.
This year's fourth edition is rather special as it celebrates two anniversaries: the 70th anniversary of Nowa Huta and the 15th anniversary of the Łaźnia Nowa Theater, who have their headquarters in Nowa Huta. It's all organised annually by Łaznia Nowa Huta and this time they will put on over 150 fantastic events at the Nowa Huta Reservoir, most of which are completely free!
Bulwar[t] is the largest holiday zone of art and relaxation ever created in Poland and absolutely everyone is invited to join the fun! With enormous crowds gathering to dance together in the open air, Nowa Huta has proved itself to be an undisputed phenomenon :) Boats floating lazily past, the young and the elderly relax, read, sunbathe, laugh, sing and play together during theatrical or musical evenings, chat with artists, enter the stage with courage.
Nowa Huta will be dedicated to an outdoor exhibition composed of archival photos of famous photographers Wiktor Pental and Henryk Makarewicz , who recorded the return of this district of Krakow. photographs they come from the Nowa Huta collection Fundacja i Imago Mundi - Ideal City. At the Avenue of Roses, on August 24, a performative reading of the collection of novels will be held Nowa Huta's Renata Radłowska , published in the book "Nowohucka telenovela".

The voices of women, both those originating from Nowa Huta and shown in photographs from the 1950s, as well as those included in the artistic program Bulwar [ t ] u will be heard loudly and clearly during this year's Boulevard . two excellent artists , who will perform in monodramas : Ewa Błaszczyk and Agnieszka Przepiórska (known, among others, for the bravura of these roles in " Pożar w brouel " ), Maria Skłodowska-Curie, for theperformance Agata Biziuk, and the rebellious energy of women will present the performance " #PUNK " prepared by nor chipaumire , artist from Zimbabwe and New York. Musically, the voice of women during the Święta Wanda festival was played during five concerts performed by exceptional female artists representing the music of sources and world music .

Theatrical Scene of the Summer Night is the most recognizable band Boulevard [ t ] u, and this year's novelty, apart from performances for adults, will be performances for entire families, which will be presented among others Teatr Figurki, Wędrowny Teatr Lalek Małe Mi and Teatr Uszyty. And on s price for adults, in addition to the aforementioned artists , the group IMPRO KRK will perform several times , the most unpredictable and devilishly funny group of actors-improvisers, they will also lead workshops on improvisation.
The fact that theatrical evenings gather crowds , no one is surprised. But we will meet no less viewers at the Lagoon at movie evenings! Not only are they under the open sky , thanks to the host of the Polish Film Academy, Łukasz Maciejewski - they are visiting star. As part of the cycle , on Thursday evenings, we will see the latest Polish film productions and guests of Łukasz Maciejewski there will be Grażyna Błęcka-Kolska , Julia Wyszyńska, Katarzyna Gniewkowska, Olga Chajdas , Grzegorz Zariczny or Tomasz Schimscheiner . On Sunday nights, the latest hits from world cinema await us, which will be presented under the Kino Bulwar [t] banner: Real Stories. Among them, among others Green Book , the Oscar winner for the best film in 2018 .
The music program is exceptionally rich this year , mainly due to C apell and Cracoviensis . S tripping with serious music will take place on almost every Sunday of holidays. Four centuries of classical music, absolute titan andtheir extraordinary masterpieces. Capelli's musicians will also conduct singing workshops and morning educational concerts, whose main character will be Stanisław Moniuszko and his Home Songbook . Or simply, you will be ableto sing alongside your music hits on the evening of vocal animations or go to the workshops of freeing your own voice conducted by the singer of the Magic Carpathians, Anna Nacher. With the accumulation of vocal, feminine energy, we will be dealing with the aforementioned Święta Wanda . The guests will be: Joanna Sławińska, Song Laboratory, Same Suki, Ola Bilińska and BABADAG and Mehehe .
Fans of jazz and klezmer music can not miss the evening with the Max Klezmer Band on July 13th, and all fans of the upside down - already famous all over Poland, dance parties on the Lagoon , which take place every Friday.Dances such as Ryszardy , Trio Cumbanchero, Waldemar Domanski, Lazy Swingers Band, Justyna Bardo and the band No Stress will play for the dance and many other.
Events The boulevard [ t ] u is not only a theater, film and music , but also a cycle of workshops from creative processing of things , culinary workshops and even meetings with astronomy . The employees of the Astronomical Observatory of the Jagiellonian University will tell us about the secrets of the Solar System. During other and many workshops, you will be able to develop interpersonal skills : working in a group, creativity, strengthening the bonds between adults and children . We will learn to release our emotions in dance , moving in five rhythms or getting to know traditions of movement k ultury shona from Zimbabwe (workshops with a chipaumire burrow). And finally, relax on yoga on the grass, tai chi or pilates.
A total of over 150 events, the entire program can be found on www.bulwarowa.laznianowa.pl , a pdf file can be downloaded at http://bulwarowa.laznianowa.pl/pobierzesz-program-2019/ or printed to be picked up at the Lagoon or at the Łaźnia Nowa Theater. Entry to events is free . Participation in the workshop requires prior registration, application at: bulwart@laznianowa.pl from June 25 to July classes and from July 25 to August. In July and August, the Łaźnia Nowa Theater will also be able to take part in the events accompanying the Boulevard of Art: concerts from the series "Fight for a song" and the opera "Dydon and Aeneas". Admission to these events is ticketed.
Links: