Letnie Tanie Kinobranie // Summer Film Festival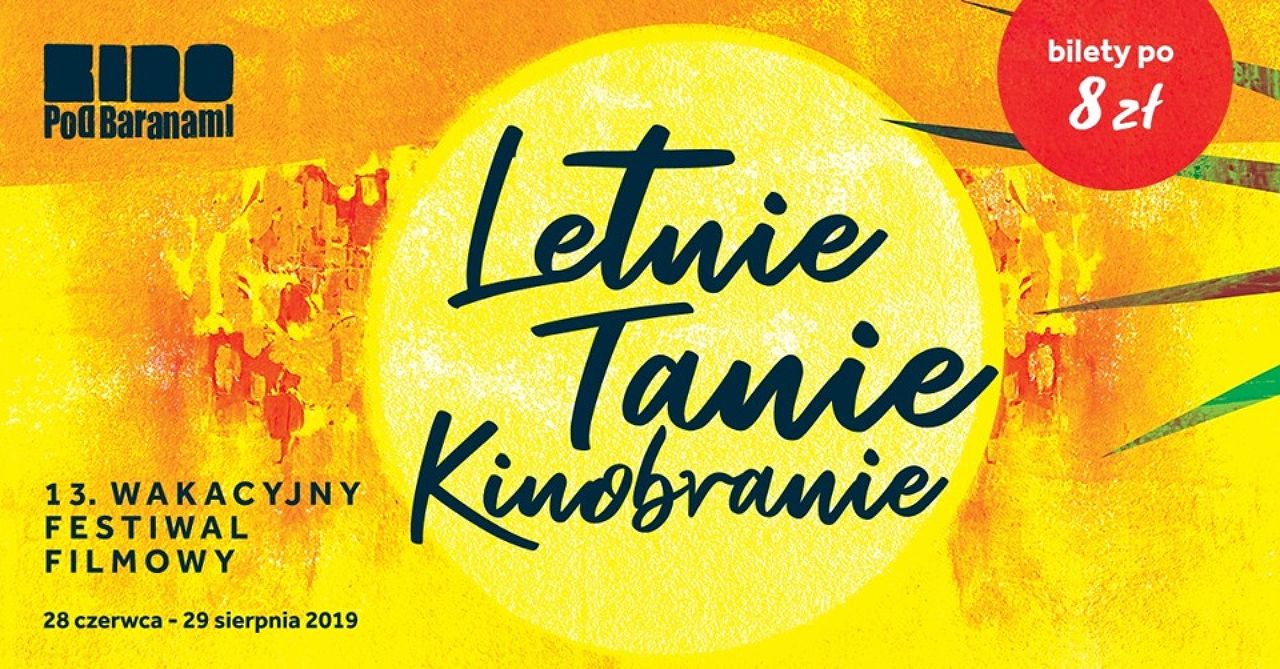 9 weeks, 9 thematic cycles, 140+ films, tickets for 8zl*, an open-air cinema at Palace Pod Baranami & a chill zone on the terrace.
With tickets from 8zl, the Kinobranie Summer Film Festival shuns an exclusive attitude to create a film festival of high class and quality with actual cheap tickets and we, the people, are so excited! Screening highly acclaimed modern films alongside independent pictures and cinema classics, get ready to fall in love as Kinobranie becomes your summer romance. It will run from 28th June till 29th August!
PS: After you've enjoyed your film you can enjoy 15% off the best pizza in town when you bring your ticket to Pizzeria Vicenti!
Week 1, which runs from the 28th of June to the 1st of July, kicks off the festival with a theme of "The Films Which Will Chill You Out". Our recommendations for this relaxing first week are childhood cult classic musical 'Singing in the Rain', gorgeous oil painted, Vincent Van Gough inspired animation 'Loving Vincent' and tropical award-winning music documentary 'A Tuba to Cuba'.
Week 2 (5th to 11th July) takes a violent nosedive into the depths of human depravity with 'The Films Which Will Distress You'. Fans of the horror/thriller genre will be in their element a timeless classic in 'A Clockwork Orange' complimenting a domination of releases from the last year such as dance nightmare 'Suspira' and a deeply unsettling new film from legendary Polish director Krzysztof Zanussi - 'Eter'
Week 3 (12th to 18th July) brings with it twists and turns in their next themed collection - 'The Films Which Will Surprise You'. This week is also almost exclusively comprised of films from the last year, with the notable exception of Pedro Almodovar's creepy 2011 creation 'The Skin I Live In'. Have a giggle with the true-ish story of quirky Queen Anne and her VERY devoted servant in British comedy 'The Favourite', or, alternately warm and cool your heart with the fable of a super endearing Italian peasant and a dreamy nobleman, united against an evil tobacco baroness in 'Lazzaro Felice' (Happy As Lazzaro).
For Week 4 (19th to 25th July), we all get to go on a well needed holiday with 'The Films Which Will Carry You Away'. We can start our recommendations for this week off as easily as slipping into a cool sea with long-awaited documentary 'Free Solo' which follows the life and times of genius/insane world-class rock climber Alex Honnold as he attempts the record-breaking, breathtaking and death-defying act of climbing arguably the most iconic granite wall in the world, Yosemite National Park's 3000 foot 'El Capitan'... without a rope. If you need to relax after that thrill ride, why not take a stroll around cobbled Italian streets, arm in arm with the charming Audrey Hepburn in eternal heart tingler 'Roman Holiday'. Or, go on an adventure with much beloved Serbian musician and director Emir Kusturica's Palm d'Or winning comedy classic 'Underground'
In Week 5 we're back from our vacation and ready to snuggle up on the couch with 'The Films That Will Warm Up Your Heart'. We get to hang with Audrey Hepburn once again as she plays a very different kind of princess to last week in everyone's favourite: 'Breakfast At Tiffany's'. Follow up the vintage cool New York vibe with the heat of New Orleans in 'A Streetcar Named Desire'. However, for the truest of loves, we all know you have to go to Italy. Bernardo Bertolucci's 1996 Tuscan journey of wanderlust and regular lust 'Stealing Beauty'.
Week 6 (2nd to 8th Aug) welcomes us to get off that couch and out into the world to enjoy the final month of summer with 'The Films Which Will Move You'. Grab a big handful of recent films and hit the streets charged with new life by films like 'The Dawn Wall', (we just love rock climbing documentaries), Marek Koterski's shock-therapy Polish comedy-drama '7 uczuć' (7 feelings) & silent but deadly Icelandic adventure film 'Arctic', which has been labelled 'one of the best films ever made about survival' by Indiewire.
Now you should be rested and relaxed, healed by love & filled with adrenaline - ready for Week 7 'The Films Which Will Change Your Life'. These brain busting selections include a 3 film 'Matrix' marathon presenting the full trilogy of back-bending films, Director Paweł Pawlikowski's highly acclaimed Polish masterpiece 'Zimna Wojna' (Cold War) and Alfonso Cuarón's recent Oscar Winner 'Roma'.
Week 8 (16th to 22nd Aug) heads into more lighthearted territory with a platter of modern comedies such as two of Wes Anderson's delightfully dry-witted offspring - 'Moonrise Kingdom' and 'The Grand Budapest Hotel', a dinner with friends where all the dirty secrets come out with the help of a dangerous party game in Italian comedy 'Perfetti Sconosciuti', and the bizarre just keeps coming with soul selling ape antics with an injection of dark humor from dystopian Boots Riley selection 'Sorry To Bother You'.
In our final and ninth week (23rd to 29th Aug) of summer screenings and of Lato itself, we leave our comfy cinema seats with a wonderful souvenir of our summer romance in 'The Films You Won't Stop Thinking About'. If you didn't catch it last year at the Krakow Film Festival, now's your chance to step into the misty world of Agnieszka Smoczyńska's tense and mysterious feature 'Fuga' ('Fugue'). Fanny and Alexander is the Ingmar Bergman classic which wants to lead you through the spooky story of two Swedish siblings and their complex, paranormally infused lives. And, last but certainly not least, the visual gets the final word through 'The Wild Pear Tree's incredible cinematographic journey through Turkish village life.
*all tickets are 8zl, except for the Special 10 for 10
Full Program (PDF) --> http://bit.ly/2RCSxr5