Kiermash vol. XII I / Winter w Forum
Sat 16th
Dec
11:00 - 20:00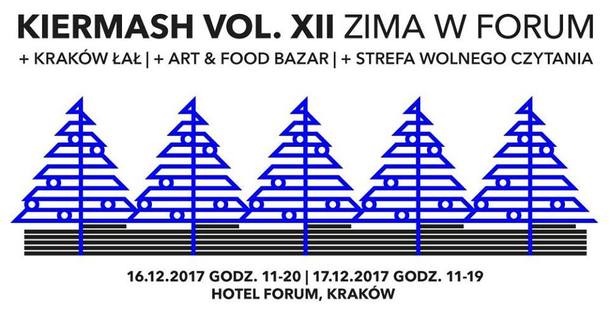 Kiermash vol. XII | Winter in Forum
+ Kraków ŁAŁ | + Art & Food Bazar | + Strefa Wolnego Czytania

December 16th, 2017: 11:00 AM to 8:00 PM
December 17th, 2017: 11:00 AM to 7:00 PM
Hotel Forum Kraków | Marii Konopnickiej 28, Krakow

❅❅❅ FREE ENTRY ❅❅❅

This exceptional event is all about fashion, style, heritage, quality and then some. Hotel Forum has been chosen by organisers to held this KIERMASH edition. Its amazing interior will complement displays of many independent fashion designers. The contrast of tradition meeting young and independent creative sprits is worth to experience.

During those 2 days our guests will be able to browse, try on and purchase one of a kind pieces, created by upcoming fashion designers. Altogether there will be over 150 stools offering handpicked, handmade and beautiful clothes, jewellery and accessories.

KIERMASH is there to unite creative minds, fashionistas and customers. Following footsteps of similar events held around the Europe we had filled the gap in Polish fashion industry. We are pioneers on our ground. We focus on fashion and design. We know what people expect from us based on our experience from previous KIERMASH editions. Each edition is focused not only on meeting those expectations but also on exceeding them. People of southern Poland have given us a flavour of their fashion tastes before therefore we can customise our exhibition accordingly. The whole project is so meaningful and popular that it had caught the attention of Cracow City Council, who have become official partner.

This is what Izabela Chyłek and Mateusz Kaczan, initiators of the project, have to say about it: 'KIERMASH is all about the fashion, which you cannot find on the high street. It is a mixture of best quality fabrics, exceptional craftsmanship and so very important - fair trade. Most of designers exhibiting in KIERMASH are only selling their collection via websites."