Disco Weekend z VOX FM 2017
Sat 22nd
Jul
16:00 - 03:00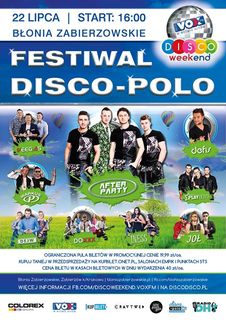 The fourth edition of our Disco Polo Festival is a solid portion of the excitement and scenic energy of the biggest stars of indigenous dance music.

In the company of our irreplaceable Patron, VOX FM radio we create for you a wonderful party, which thanks to well-chosen artists is a guarantee of fun! 2017 will be long in your memory. This year a lot of new curiosities and innovations. Especially for you we changed a lot, starting with the multimedia scene and ending with the formula of the whole festival! We guarantee a lot of interesting solutions both on and off the stage. Be sure that one thing will not change, the most important for us is the fun in disco rhythm. That is why, on July 22, we invite everyone to Zabierzow!

On the fields of Błonia you will see such stars as:

After Party - a band that very quickly entered the top of Polish dance music. After party gigs are a mega event and a mega show! Mega success of the band was to take a place at the Festival in Kobylnica where for the song ONLY ONE received a statue for the hit 2013 in the vote of viewers on POLO TV. During their concert, you will definitely hear such hits as mentioned "Only she is the only", "Fuck you", "She likes oranges", "Do not give up", "Banana Agnieszka" and mass, mass of many others. AFTER PARTY performed in Scotland, Sweden, Germany, England, Canada, and twice in the USA. And now you can see them live during the Disco Weekend with Vox FM.

Defis - This formation has been on the Disco Polo music market, after participating in the 2nd edition of the Disco Star television show in POLO TV, it is best known for such hits as "Unusual Color", "So Much I Wanted", "One Gest" "Still About you I have dreams "or" medicine on life ". In "Unusual Color" in 2015, Defis is not slowing down, and this year he was surprised by the duo with Marcin Miller, what will surprise you at the Zabierzowskie Błonie?
Markus P - musician, singer, showman, coming from Szczecin, last 17 years living in Chicago. Leader of the formation Markus P. Due to his rapidly growing musical career and growing popularity in Poland, he spends more and more time in his homeland. MARKUS P played and sang at the American piano bars, a gospel band leader in the American Protestant Church, and often performed as a session musician with visiting artists from Europe. He has led a number of prestigious events with musicians such as Stachursky, Feel, Weekend, Boys, Classic, Lady Pank, Danzel etc. He is a composer of many dance hits: "Wake Up", "Hula Ula", "Kici Kici Has" "There are boys here and there. Music is his passion, which he has given away all his heart and can be sure that a piece of his heart will give you back to Zabierzow.
Playboys - the leader of the Playboys group, as well as the author of music and lyrics, is the founder of the group, Jakub Urbański. In 2013 he came up with the idea of ​​writing the first song "Our night", which hit the network and turned out to be a hit, since mid-2014 the group is intensely performing and appearing at music festivals in the Kobylnica Festival. Playboys is the first Polish disco group that has performed in Norway and thus recorded its presence in the history of disco polo - previously none of them succeeded. The most famous playboys are "Lejde", " "Our Night", "I go to the dance floor", "How much I have to wait" - they enjoy great popularity! The group stands out from other disco polo bands because it uses live instruments on their concerts. Energy and unique atmosphere are just words that can not describe what is going on at their concerts, you will find out already on 22 July.
Veegas - a group representing dance music, its founder is vocalist Adrian Rybczyński. He is also a leader, composer of music and author of texts.VEEGAS is famous for its excellent show performances and extended guitar instruments distinguish the group from other dance teams. The priority of the performance is always contact with the audience. VEEGAS has produced such hits as "Plastic Ladybug", "Soft Blanket", "Bouquet of Roses", "Will Pump", "Beer Fuel" and "I Like Jeans (Snail)". VEEGAS is composed of: Adrian - vocal, Cuba - guitar, Arek - guitar, and they are the ones who will warm you up at this year's Disco Weekend with Vox FM, with the rest of the gentlemen already here with us and show no class.Event 22 July 2017 from 16:00 to 03:00

Regular ticket price; At the cashier on the day of the event 40 zł.

presale: $ 19.99 - II pool: 25 zł - III pool: 30 zł

Admission for persons up to 15 years of age free of charge.

Tickets are available on KupBilet.onet.pl, Empik and STS.