Conference on Law, Politics & Management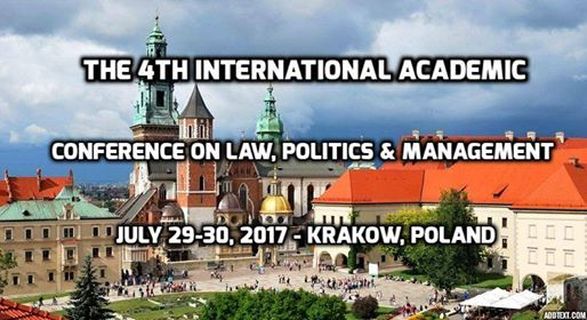 The 4th International Academic Conference on Law, Politics and Management (IACLPM 2017) will be held in Krakow, Poland on July 29-30, 2017. IACLPM 2017 is an annual International Academic Conference, which covers main fields of Law, Politics and Management. The mission of IACLPM 2017 is to provide a platform for researchers, academicians as well as other professionals from all over the world to present their research results in Law, Political Science and Management. This conference provides opportunities for the delegates to exchange new ideas and experiences, to establish business or research relations and to find partners for future collaboration. The goal of our conference is also to support, encourage and provide a platform for young researchers to present their research, to network within the international community of other young researchers and to seek the insight and advice of successful senior researchers during the conference.

The organizing committee is working hard to offer you a high quality of scientific and social programme and make the IACLPM 2017 a truly memorable experience for all participants.

We look forward to welcome you at the IACLPM 2017 in Krakow.