Concert for Nura: a mother from Aleppo
Tue 18th
Apr
19:00 - 23:00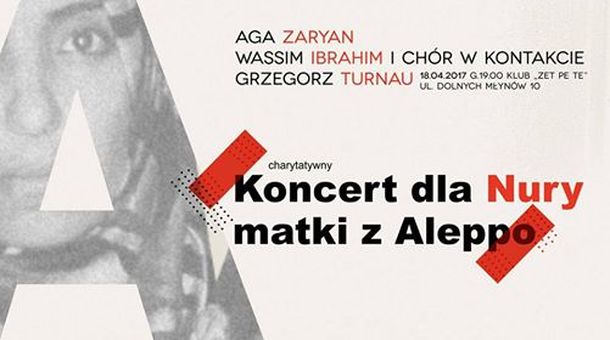 A group of citizens and residents of Krakow and the Polish Medical Mission / Polish Medical Mission invite you to a Charity Concert for Nury Nataah of Aleppo, April 18 @ Zet Pe Te, ul. Dolnych Młynów 10.
Performers:
Aga Zaryan
Grzegorz Turnau
Wassim Ibrahim along with Contact Choir from Kontakt. Przestrzeń ruchu i tańca.


Who is Nura?
She is 29 years old and comes from the east of Aleppo. Until recently she lived there with her husband and four small children Zahra, Sagar, Ahmad and Sheimą. In August 2016, her house was bombed.

Nura and her children were under the rubble. She was found with one of her children, Ahmad, in her arms, the boy died. Seven-year-Zahra survived the blast, as did five and ten-year old Sheima & Sagar, who sustained serious injuries. Nura was also seriously injured. Her bruised right arm had to be amputated above the shoulder. Nura is currently detained in Gaziantep in Turkey. She is one of the patients of Dr. Mansour Alaytrasha with Syrian organization 'Balsam Medical', which Polish Medical Mission supports.
Nura needs help urgently - she needs about 15,000 to cover the costs of a prosthetic hand and the restoration of its efficiency. That is why we - that is, a group of citizens and residents of Cracow, whom cannot remain indifferent to the tragedy happening in Syria - in cooperation with the Polish Medical Mission and with the support of 'Welcome to Krakow' and 'Scientific Circle of Students' and 'Students' Sociology' of the Jagiellonian University - decided to organize concert for Nury.
Zet Pe Te has donated a space for the charity concert, along with the support of MasterSound, who have supplied free publicity. The performance artists have waived their usual fees, and the proceeds from the tickets will be entirely intended for the purchase of a prostheses for Nura Nataah and the treatment of her 10-year-old daughter Sheimą

Join us on April 18th! Let's show the power of solidarity inherent in Crocovians. Let it be an event that for one day connects Krakow to Aleppo. Let's lend a helping hand to Nury and let us help her regain her hand!
Tickets available for purchase at: biletomat.pl/nura
Maybe you can't attend the concert but want to support the purchase of prosthetic hands for Nury Nataah?
Make a deposit to the account of the Association of Polish Medical Mission
Ul. Rejtana 2, Kraków, Pekao SA
Bank account number: 62 1240 2294 1111 0000 3718 5444
With the note "for Nura".
*** POLAND MEDICAL MISSION
Since 1999, the Polish Medical Mission helps victims of wars, disasters and catastrophes. Measures PMM based on the work of volunteers: doctors, nurses, paramedics, physiotherapists, and psychologists and medical analysts. PMM provides training to doctors from Polish hospitals in Africa and Asia. In the Middle East, helping refugees in the camps. Its mission is to improve the quality of life through health interventions and conducting humanitarian programs that build local capacity in requiring support communities around the world. Since December 2016. PMM leads #pmmdlaaleppo action in which support two hospitals in western Aleppo and Idlib, where a group of Syrian doctors from the organization Balsam Medical heals the sick and injured, victims of the Syrian conflict. For more information: www.pmm.org.pl